Spain Verdi, La traviata: Teatro Real Chorus and Orchestra / Nicola Luisotti (conductor). Semi-staged performane live streamed from Teatro Real, Madrid, 15.7.2020. (JMI)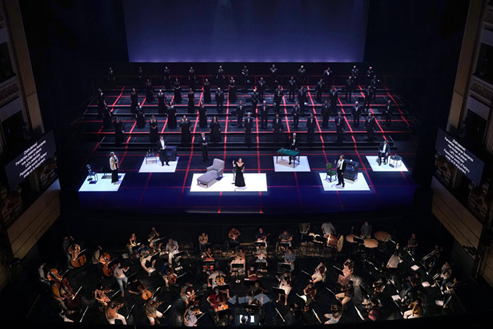 Production:
Stage concept – Leo Castaldi
Cast:
Violetta – Marina Rebeka
Alfredo – Michael Fabiano
Germont père– Artur Ruciński
Flora – Sandra Ferrández
Annina – Marifé Nogales
Gastone – Albert Casals
Dr. Grenvil – Stefano Palatchi
Douphol – Isaac Galán
D'Obigny – Tomeu Bibiloni
Gastone – Albert Casals
After a four-month hiatus due to the coronavirus, it seems that, although timidly, opera houses are beginning to reopen. There are still very few that have done so, however, and there are major security measures and notable changes in the shows being offered.
This is the case at Madrid's Teatro Real, which was the first house to open its doors with these performances of La traviata. I was initially surprised by the theatre's decision, unlike others who have even canceled their seasons until the autumn or beyond. It must be said that this reopening has been a success: it is a very elaborate show, and there is every indication that necessary security measures have been taken.
Performances of La traviata had originally been programmed between May and July, with two casts in which the presence of Nadine Sierra and Lisette Oropesa stood out. Unfortunately, they had to be cancelled, and in their place 27 performances of La traviata have been scheduled throughout July, including a live broadcast which is the one that concerns us here. Four different casts are being featured, and the opera has been done in what has been termed a semi-staged version, based on the well-known Willy Decker production.
The responsibility for this staging has been in the hands of Leo Castaldi, who did a fine job within the obvious limitations. The chorus was placed at the back of the stage with its members separated by a safe distance, while the soloists acted at the front with a few props and without ever being in physical contact. With all the limitations, things worked satisfactorily, and Teatro Real must be congratulated for its initiative.
The musical direction was entrusted to Nicola Luisotti, the main guest conductor here, who is always a guarantee of a fine performance in Italian opera and, especially, in Verdi operas. This has been the case once again, although at times it seemed to me that he slowed down the tempi. Both orchestra and chorus were excellent.
The part of Violetta was played by soprano Marina Rebeka, who gave a remarkable performance. She is a lyric soprano, with a well-handled, expressive voice, and was at her best in the second and third acts. The tessitura is somewhat tight for her in Act I, and she avoided the top note that can often close the act.
Michael Fabiano as Alfredo was the least convincing of the trio of protagonists. His voice has widened noticeably and is too tight at the top. He is still a remarkable singer and was at his best in 'Parigi, o cara', but I was not very convinced by the rest of his performance. Obviously, he eschewed the high C in the cabaletta of Act II.
Giorgio Germont was sung by Polish baritone Artur Ruciński, who once again offered a wide voice of unquestionable quality, although his singing has a tendency towards monotony with too few nuances and little emotion.
The supporting characters were well served.
The Teatro Real was full within the capacity limitations imposed by the health authorities. The public showed their happiness with the performance, with the biggest applause coming for Marina Rebeka and Artur Ruciński, and for Nicola Luisotti too.
I have been told that a couple of days ago Lisette Oropesa enjoyed a huge success in her first performance as Violetta here, apparently rising above all her colleagues in the role.
José M. Irurzun
For more about what is on at Teatro Real, Madrid, click here.