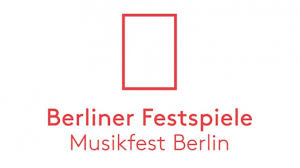 Beethoven and the Music of our times
Updated programme and new dates
The Musikfest Berlin takes place from 25 August to 23 September and is organized by the Berliner Festspiele in cooperation with the Berliner Philharmoniker Foundation. The new festival programme can be viewed online at berlinerfestspiele.de. Advance ticket sales and accreditation commence on 21 July.
The Berliner Festspiele and the Berliner Philharmoniker Foundation are delighted to be able to stage the Musikfest Berlin 2020 despite the restrictions posed by COVID-19. Unfortunately, the European-based and German guest orchestras will not be able to perform as previously announced, but will instead participate in upcoming Musikfest Berlin editions. The main features of the festival programme will nonetheless be retained, with the Philharmonie transforming into a meeting point between Ludwig van Beethoven and the music of our time. Compositions by Georges Aperghis, Milica Djordjević, Christian Jost, Wolfgang Rihm and Rebecca Saunders will be premiered at the festival. Berlin-based British composer Saunders will be the subject of a comprehensive portrait, with performances planned of 15 of her pieces. Interpreting these works are the great ensembles of contemporary music – Klangforum Wien and Neue Vocalsolisten Stuttgart, Ensemble Modern and Ensemble Musikfabrik, as well as the Karajan Academy of the Berliner Philharmoniker. The Berlin-based orchestras launch the new concert season with a series of 20th century works, and will take part in the festival's Beethoven focus under their chief conductors: the Berliner Philharmoniker, the Deutsche Symphonie-Orchester Berlin, the Konzerthausorchester Berlin and the Rundfunk-Sinfonieorchester Berlin will each perform one of his symphonies.
Promptly on 25 August and supported by BTHVN2020, Igor Levit embarks on a comprehensive cycle that features all of Ludwig van Beethoven's 32 piano sonatas spread over eight concerts in the Philharmonie's main concert hall. The Staatskapelle Berlin and Daniel Barenboim will perform the Musikfest's first orchestra concert on 29 August, with the programme comprised of Mozart's three final symphonies. The Cellist Nicolas Altstaedt will perform all of Bach's solo suites in the Philharmonie. The Trumpeter Marco Blaauw will accompany the film Moving Picture (946-3) by Gerhard Richter and Corinna Belz with music of the same name by Rebecca Saunders at an evening featuring Film & Live Music at the Zoo Palast cinema. The festival wraps up on 23 September with a chamber music evening dedicated to composer Wolfgang Rihm and the premiere of his new piece, Stabat Mater, performed by Tabea Zimmermann and Christian Gerhaher.
Prior to and during the festival, various digital formats will lead to or expand on the live concerts that can be found on Berliner Festspiele on Demand and the Berliner Festspiele Blog. Details concerning it will be published soon.
­
Information regarding advance ticket sales for the 2020 Musikfest Berlin can be found on our website. Advance ticket sales for Berlin-based orchestra concerts begin at a later date, namely in mid-August, and only via their respective channels. Please check the individual websites to find further information.
Musikfest Berlin online:
berlinerfestspiele.de/musikfest
facebook.com/musikfestberlin
instagram.com/berlinerfestspiele
twitter.com/blnfestspiele
blog.berlinerfestspiele.de
#musikfestberlin