Met Stars Live in Concert – 12 concerts from 18 July to 19 December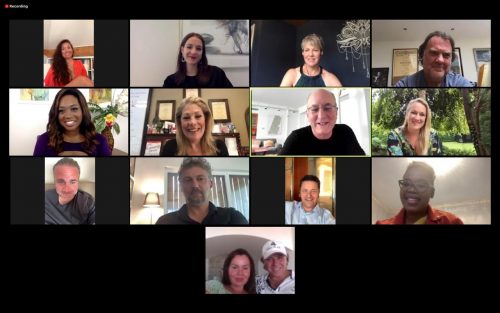 In a Zoom press conference, The Metropolitan Opera unveiled its plans for an upcoming series of 12 concerts featuring some of opera's greatest international stars.
Jonas Kaufmann review click here
Renée Fleming review click here
Roberto Alagna and Aleksandra Kurzak review click here
Peter Gelb, the Met's General Manager, introduced its new online recital program, Met Stars Live in Concert, and then asked the singers on the call to provide updates on what they have been doing since opera houses and concert halls around the world went dark. In so many ways, they are just like many of the fortunate in these times – coping with the mundane tasks of daily life and uncertainty about the future.
Zoom is a great leveler and snafus occur, even when there are savvy techies on hand to fix them ASAP. Piotr Beczała was missing in action at the beginning. Jonas Kaufmann ducked out to get a larger device, as his children tend to monopolize them. Power outages plague South Africa, but for the press conference's roughly fifty-minute duration, Pretty Yende was able to stay connected.
These are people who are used to being on the road most of the year with schedules planned years in advance. Some clearly embraced the forced pause in their busy lives. Jonas Kaufmann spoke of having the luxury of time to explore the repertoire of German Lieder with pianist Gerold Huber. Aleksandra Kurzak and Sondra Radvanovsky have cleaned and organized their homes. Diana Damrau and her husband, bass Nicolas Testé, became full-time teachers to their two children. Damrau spoke of how she felt no desire to sing arias, but instead found solace in songs from musicals and church music.
Beczała and Radvanovsky have both put the finishing touches on new recordings of verismo arias, which will be included in their joint recital in Barcelona in September. Such words were undoubtedly music to Gelb's ears, as he stressed that these recitals will feature selections from grand opera, of which the Met is one of its temples.
Angel Blue has spent the past few months at home in New Jersey, which for a time was one of the Covid-19 epicenters in the US. The specter of death has been a constant in her life over these past months, as seven family members are first responders. She has kept active brushing up on her French and creating Green Screen videos. There will undoubtedly be arias galore in her December recital in New York, but Blue hopes that it will in some way be a reflection on what it is to be an American in 2020.
It was a sentiment shared to some extent by Joyce DiDonato, who was in Spain, and Sonya Yoncheva. DiDonato said that her program will finger-point where she is at this time and place, and serve as well as a retrospective of her career. Yoncheva wasn't the only singer to express altruistic aspirations, and she put it in the simplest and most sweeping terms. Her goal is to heal the world, and she spoke of a soon-to-be-announced project with the goal of assisting artists in need.
A very lucky few are actually performing before live audiences at present. For Damrau, her first concert, an 8 July recital with harpist Xavier de Maistre at the Zurich Opera, seemed to come too soon. She expressed the amazement of singing before so many people, even with restrictions on the number of people permitted in the Zurich Opera House. Beczała participated from Zurich, where he and Camilla Nylund closed the Zurich season with a gala concert of operetta favorites on 11 and 12 July.
Bryn Terfel, a new father for the fifth time, will provide Christmas in Wales – hopefully with an orchestra – and nothing could be more traditional than the program that he described. And he challenged opera houses to consider presenting one-person operas. 'Think outside the box!', he urged, citing possible future performances of Sweeney Todd in Zurich, with the accompaniment of both chorus and orchestra being piped in from another location.
Apart from the thrill of hearing these singers in recitals, the Met has also tapped into the stifled wanderlust afflicting so many around the world by presenting the artists in enticing locations across Europe and the US. This frustration is especially acute for Americans, who not only face the prospect of the remainder of the year without live performances, but are banned from traveling to most other countries. Time spent at the end of August with Lise Davidsen in Oscarshall, the summer palace of the Norwegian Royal Family, will be a welcome respite. In New York, Christine Goerke will act as the host for all the concerts and the HD transmissions will be directed by Gary Halvorson.
With these recitals, the Met is launching a new platform to entertain as well as to stay connected with its fan base and hopefully attract new ones. Funding is key in these perilous times for arts organizations, but the price of admission for the recitals is reasonable ($20). There is, of course, a higher purpose, best expressed by Joseph Calleja, who participated from 'little Malta' as he put it. 'These past few months have demonstrated the importance of the arts and how they lift the morale of so many people around the world. Just one song makes a difference'.
Rick Perdian
Click here for more Met Stars Live in Concert information and tickets.