United Kingdom Dvořák, Strauss: Bavarian Radio Symphony Orchestra / Mariss Jansons (conductor), Royal Albert Hall, 30.7.2004 (re-broadcast on BBC iPlayer 23.7.2020). (MBr)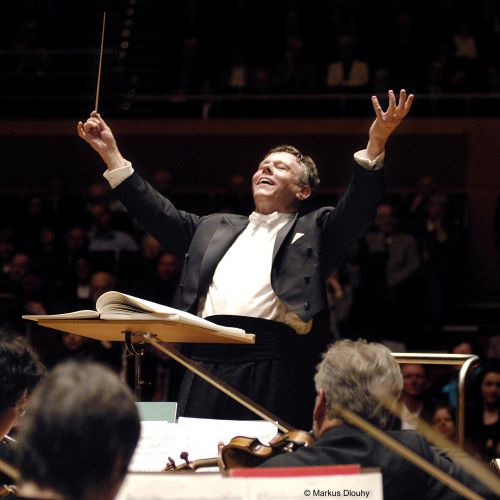 Dvořák – Symphony No.8 in G major
Strauss – Ein Heldenleben
I think if you were going to hedge your bets on a Mariss Jansons concert being streamed at this year's virtual Proms, his magnificent 2004 concert with the Bavarian Radio Symphony Orchestra would have been a good one. He had just become the orchestra's new music director, this was their first visit together at the Proms, the program played to both the conductor's and orchestra's strengths – what could possibly go wrong? A lighting malfunction during the battle of Ein Heldenleben, of course, where the orchestra was forced to play blind with only the diminutive figure of Jansons – lit like a small candle in a vast auditorium – to guide them through it.
Sixteen years later this concert still resonates in the memory, though I have only heard it over the years on a poor German radio broadcast tape. There have, of course, been plenty of unintended disasters at concerts before ­– the notorious premiere of Tippett's Second Symphony given by Adrian Boult in 1958 which entirely collapsed shortly into the first movement, and then there are the dubious disasters, such as the premiere of Ferneyhough's La terre est un homme which was rumoured to have been sabotaged by the Scottish National Orchestra. When something goes very wrong it can derail a concert – Kerstin Linder-Dewan's violin disintegrating at the Frick Collection in New York, for example, during a performance of baroque music. But these extra special, or notorious, events that happen at concerts are not always the reason why we remember them. It mostly comes down to the exceptional quality of the music-making, and this Jansons Prom had it in spades. What the incident of the malfunctioning lights demonstrated was that a supreme technician was guiding his orchestra, and his orchestra was an instrument of superb virtuosity.
I always had a somewhat complicated relationship with Mariss Jansons. Much of what he conducted could be impressive but some (Stravinsky, Bruckner, Beethoven) never really gripped me. His Richard Strauss, however, came from quite another world. Many performances of Ein Heldenleben I heard him conduct – including an exceptional one with the London Symphony Orchestra – left me convinced he had few, if any, rivals in Strauss. They were unique performances, where Jansons achieved miracles of balance in the instruments – no mean feat in this densest of orchestrated works – but the uniqueness in a Jansons Ein Heldenleben was also in what he did with Strauss's score.
For as long as I can remember Jansons conducting this work, he had inserted two unmarked timpani strokes – the first before M. 93 at the Im Zeitmass marking (which is not unnecessarily illogical), the second at the very end of the work when Strauss intends the music to fade from ff to p (Jansons's effect implicitly adds a kind of crescendo here). I can't find any historical context for this, nor any other conductor who does the same. I don't believe I noticed the first of the timpani strokes in my original review (I certainly didn't mention it) but given this section appears shortly after the blackout had appeared in the Albert Hall my concentration may have been elsewhere. In any event, it is in the broadcast here (at 1:28:53).
Andreas Röhn, the concertmaster of the BRSO in 2004, mentions in a short clip on this broadcast that the orchestra needed a conductor in the Kubelik tradition – less a tyrant, more a musician with a heart. Even though this was a very early concert which paired orchestra and conductor in a partnership which was to last almost twenty years until Mariss Jansons's death last year, what you hear in both the Dvořák and the Strauss is this orchestra's flexibility, and its ability to play like an enlarged chamber orchestra. Jansons – in a trait he shared with Claudio Abbado – used that to enormous advantage. Jansons managed to get the woodwind to penetrate through the orchestra (I described it as like a scythe in my review back in 2004) but there is absolutely no lack of individuality in the phrasing. What Röhn described as "heart" a listener might interpret as a completely aural experience: the snake-like hissing of cymbals, the horns which are warm to the touch, desks of woodwind which are like rows of tenors and sopranos in a choir. Jansons was unusually compelling in the love music of Ein Heldenleben – and there was already in 2004 a searing intensity, a ravishing voluptuousness to 'Der Helden Weltflucht und Vollendung' that showed uncommon understanding and symbiosis between conductor and orchestra. Those Bavarian strings would only get deeper over the years but were already wonderfully rich and dark here.
Ein Heldenleben is one of those works you either get or you don't – and that applies equally to the conductor as well as the listener. Despite Jansons's Latvian roots, his performances of it were usually strikingly Bavarian, even Austrian (he had, after all, been an early disciple of Karajan at Salzburg). Dynamics were scrupulous – very much in that Karajan mould – but when you came to the Blitzkrieg of sound the Battle demanded few could summon the apocalyptic terror of the orchestra at full tilt. This remains one of the great performances of this Strauss work from the Proms.
The Dvořák Symphony No.8 in G major I found back in 2004 a little less compelling, and today I don't think I feel much differently about it. In many respects, however, this now strikes me – which it probably did not at the time – as a very different kind of performance: it is less about the conductor and more about the orchestra. There now seems to me a conflict here – the Bavarian players tugging one way, Jansons the other. There is nothing particularly stormy or romantic about the Eighth and yet it does retain some Tchaikovskian and Brahmsian influences though these lean quite heavily towards the Bohemian. The orchestra seem a little more driven towards the kind of performance Kubelik might have conducted – trumpets, for example, and brass generally here, tend to pull back from Jansons's heavier direction towards something more fleet-footed. The deep strings now seem over played and almost contextually wrong for the bucolic pastoralism of the symphony. On the other hand, those silvery clarinets and floating, air-born flutes now seem a little out of place – even if they are completely right for the symphony. The problem I have with this performance today is I am a little unsure who is in control.
There were two encores (which I do not remember hearing). The first, Dvořák's Slavonic Dance in E minor, Op.72 No.2, was dashingly done. But, the second, an excerpt from Strauss's Suite from Der Rosenkavalier sounded sublime. Beginning with the ravishing opening bars of the Trio and ending with one of the waltzes (with an almost elegant Baron Ochs) this has the orchestra and conductor at their high voltage luxurious best.
Marc Bridle
Available on BBC iPlayer for two months.