United Kingdom National Theatre at Home – Anthony Shaffer's Amadeus: Performance of 2.2.2017 reviewed on 17.7.2020. (JPr)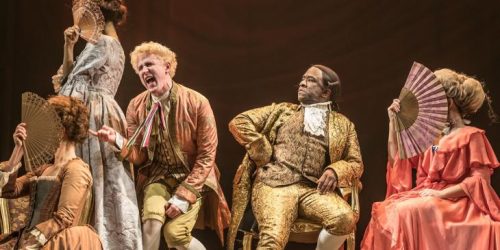 Production:
Director – Michael Longhurst
Designer – Chloe Lamford
Music Director & Additional Music – Simon Slater
Choreographer – Imogen Knight
Lighting Designer – Jon Clark
Sound Designer – Paul Arditti
Director for Screen – Tim Van Someren
Cast:
Antonio Salieri – Lucian Msamati
Wolfgang Amadeus Mozart – Adam Gillen
Constanze – Karla Crome
Venticelli – Sarah Amankwah, Hammed Animashaun
Joseph II – Tom Edden
Count Johann Kilian von Strack – Alexandra Mathie
Count Franz Orsini-Rosenberg – Hugh Sachs
Baron Gottfried Van Swieten – Geoffrey Beevers
Katherina Cavalieri – Fleur de Bray (soprano)
Teresa Salieri – Wendy Dawn Thompson (mezzo-soprano)
Salieri's Cook – Peter Willcock (bass-baritone)
Salieri's Valet – Eamonn Mulhall (tenor)
Kapellmeister Bonno – Andrew Macbean
Major-Domo – Everal A Walsh
Citizens of Vienna – Nicholas Gerard-Martin, Matthew Hargreaves (bass-baritone), Michael Lyle, Andrew Macbean, Robyn Allegra Parton (soprano) Eleanor Sutton, Everal A Walsh
Southbank Sinfonia
Lucian Msamati came to prominence as JLB Matekoni in the BBC's short-lived series The No.1 Ladies' Detective Agency (2008) and is already known to many for his roles in Game of Thrones, as well as, the TV adaptation of Philip Pullman's His Dark Materials. He has also been seen recently giving three remarkable performances, both online and on TV. There was a remarkably harrowing portrayal of a paedophile in Alan Bennett's Talking Heads. Following that there was a chance to revisit (on BBC Four) his gripping portrayal of Iago for the Royal Shakespeare Company's 2015 Othello and, more recently, his nuanced, and seething Antonio Salieri in the National Theatre's 2017 Amadeus.
I have some history with the RSC's Othello as I saw a performance at London's Aldwych Theatre in 1980 when they last cast a white actor – the late Sir Donald Sinden – 'blacked up' as Shakespeare's moor. Sinden's slow, over-deliberate, enunciation of 'Des – daaay – mooow – naaa' still resonates with me 40 years later. In director Iqbal Khan's fascinating part-updating Hugh Quarshie was a generally soft-spoken Othello that made his explosive outbursts of anger and violence even more unexpected and frightening. Msamati is the first black actor to play Iago and he gave – as is now to be expected from him – a compelling portrayal of Othello's ensign who 'acts' as his confidante and trusted advisor. Because Iago believes Othello has unfairly passed him over for promotion as his lieutenant, he plots to manipulate him into demoting his rival Cassio and also bring about the downfall of Othello himself. Msamati uses some amusing asides to the audience (as in Amadeus) to somehow make them all complicit in what eventually befalls Othello (or in Salieri's campaign against Mozart). Khan leaves us in no doubt of the effects of Iago's intrigues as Othello's heightened emotions and mental decline brings about Quarshie's terrifyingly realistic epileptic fit. Meanwhile Msamati's Iago is given his own interesting OCD issues to cope with throughout the play.
Therefore, the charismatic Msamati was an equally fascinating Salieri in Michael Longhurst's recent production of the late Anthony Shaffer's Amadeus at the National Theatre. This was a play I saw originally in 1979 with Paul Scofield (Amadeus) and Simon Callow (Mozart) and in Shaffer's subsequent 1984 adaptation for a multi-Oscar-winning Hollywood movie, but never since. Longhurst brings an intriguing musical theatre approach to this revival which was the first since the author's death. Everything is seen through the rather distorting lens of the resentful Salieri's memory as he relives events in Vienna of the 1780s. Perhaps we can put down all the historical inaccuracies in the play to Salieri's addled brain in old age?
Longhurst has the virtuosic members of the Southbank Sinfonia fully integrated into what we see. As Msamati's Salieri enjoys his favourite confections (here Krispy Kreme doughnuts) the musicians lick their fingers along with him; as he bargains with God accepting fame in exchange for a virtuous life, they bow their heads in silent prayer. Their 'role' is therefore partly as a Greek chorus, such as when they refuse Salieri's plea to play an excerpt from his opera The Stolen Bucket. All the singers are also thrust into the spotlight including Fleur de Bray as the soprano darling of the Vienna public (Katherina Cavalieri) who is pushed around on a portable dais and at one point gives a pin-sharp account of the Queen of the Night's aria from The Magic Flute. Often other key moments from Mozart's operas are played out to the rear on a skeletal representation of a baroque theatre. With some of Chloe Lamford's scenery, the orchestra, singers, and actors rarely still for any length of time there is a good sense of the feverish hustle and bustle of musical life in the late-eighteenth century Austrian capital.
From Msamati we see Salieri's Janus-like unctuous deference as Joseph II's court composer at the time of Mozart's arrival in Vienna. Then there is his inner turmoil when he realises that compared to Mozart's perceived gift from God – and his 'divine' music only he (Salieri) seems capable of appreciating –  he is just a journeyman composer who has been abandoned by that same God. We are introduced to this self-described 'patron saint of mediocrity' on what Salieri says is 'the last day of my life'. Later having tried to make a deathbed confession that he had poisoned Mozart he makes a failed attempt at suicide and lives on. Concluding how he now understands God's punishment and how after Mozart's premature death – we are told – due to 'kidney failure hastened by exposure to cold' and a pauper's funeral Salieri had lived on for more than three decades, '32 years of being called distinguished by people incapable of distinguishing'. Salieri remarks how posterity will be unkind to him and his music will be forgotten, acerbically railing how 'Every scrap of Mozart's music would sound everywhere and mine in no place on earth.'
Msamati's cod-Italian accent notwithstanding I felt the standard of acting overall in Amadeus was better than in the RSC's Othello where there seemed a number of competing styles of performance from old-school bellowing to the more natural conversational Shakespeare of Msamati's Iago, Quarshie's Othello, Joanna Vanderham's deeply-affecting Desdemona, and Ayesha Dharker's stunning vignette as Emilia (who plays such a pivotal role in the plot). Supporting Msamati in Amadeus was a talented ensemble with Adam Gillan as nothing more than a blond curly-haired overgrown baby who suffers from Tourette's (probably responsible for his often foul and scatological language) and ADHD. It is difficult to imagine him as a lone musical genius (Lorenzo Da Ponte is totally ignored!) but his overweening whinnying arrogance fully illustrates why Mozart might have exasperated not only Salieri, but the whole of Joseph II's Viennese court. (For me I couldn't help thinking of Harpo Marx and wondered where this Mozart's harp was?) Karla Crome as Mozart's wife, Constanze, was quick-witted, down-to-earth, and touchingly long-suffering. Some of the other roles are under-developed by Shaffer but as the haughty Austrian Emperor and his gaggle of obsequious court officials, Tom Edden, Alexandra Mathie, Hugh Sachs, and Geoffrey Beevers, often transcended what little help they get from the author.
The NT's Amadeus was undoubtedly a great theatrical experience and do see it if you do not know the play, but having returned to it after some 40 years I am not convinced I want to see it again. However, I look forward to seeing Lucian Msamati in whatever a post-Covid-19 future holds for him.
Jim Pritchard
This was the final National Theatre at Home offering but for all news about the National Theatre click here.
For more about the Royal Shakespeare Company click here.