Germany Met Stars Live in Concert [1]: Jonas Kaufmann (tenor) and Helmut Deutsch (piano). Live stream (directed by Gary Halvorson) from Polling Abbey, Polling bei Weilheim, 18.7.2020. (RP)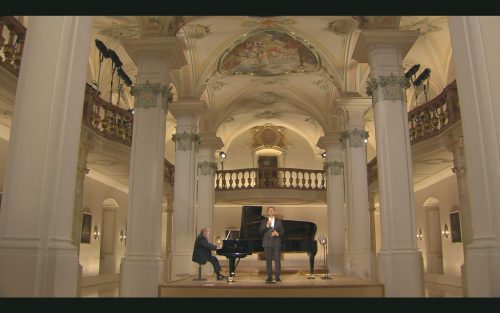 Puccini – 'Recondita armonia' and 'E lucevan le stelle' (Tosca); 'Nessun dorma' (Turandot)
Bizet – 'La fleur que tu m'avais jetée' (Carmen)
Gounod – 'L'amour, l'amour … Ah! lève-toi, soleil!' (Roméo et Juliette)
Meyerbeer – 'O paradis sorti de l'onde' (L'Africaine)
Massenet – 'Ah! Tout est bien fini … O Souverain, ô juge, ô père!' (Le Cid)
Ponchielli – 'Cielo e mar' (La Gioconda)
Cilea – 'L'anima ho stanca' (Adriana Lecouvreur); 'È la solita storia' (L'Arlesiana)
Licinio Refice – 'Ombra di Nube'
Giordano – 'Un dì, all'azzurro spazio' (Andrea Chénier)
Intermezzi from Manon Lescaut (Puccini) and Pagliacci (Leoncavallo)
The Metropolitan Opera launched its new pay-per-view recital series, Met Stars Live in Concert, with tenor Jonas Kaufmann performing at the Polling Abbey in Upper Bavaria. Accompanied by Helmut Deutsch, the German tenor sang a program of blockbuster arias from the Italian verismo period and nineteenth-century French opera. No complaints whatsoever about the recital for Kaufmann was in excellent voice, but the format was a bit of a jumble.
Kaufmann chose Polling Abbey, once home to the second largest library in Bavaria, for his performance. The monastery was dissolved in the early nineteenth century under military and diplomatic pressure from Napoleon, and its fate was entangled in the most extensive redistribution of property and territories in German history prior to the end of World War II. The eighteenth-century library, long devoid of books, was restored in the 1970s and is now a concert hall.
For all the recitals in the series, the proximity of venue to singer is key since flying isn't very attractive at the moment. The Met is going to take its audiences to some exciting destinations over the upcoming months. With wanderlust stifled at the moment, a bit more of the natural beauty, especially in a part of the world as picturesque as Bavaria in midsummer, would have been most welcome. We are as thirsty for travel and adventure as we are for live performance, and for many these go hand in glove.
Kaufmann was in excellent voice with his dark, burnished sound giving dramatic depth and urgency to every note that he sang. His high notes always rang, albeit not always effortlessly, but at this stage of his career that is beside the point. In fact, the imperfections in his singing tend to humanize this man upon whom nature lavished such a voice, a handsome, dashing countenance and talent galore. The bit of vulnerability, including vocal, that Kaufmann displays on occasion and his willingness to take a risk make him all the more captivating an artist.
The most magical moment of the recital was Licinio Refice's 'Ombra di Nube', written especially for the great Italian soprano Claudia Muzio in 1935. Kaufmann spun its haunting melody with a calm, almost serene intensity. The song's bittersweet sentiments are perfectly matched to this time. It was balm for the soul.
Arias, of course, were the draw for the intended audience, and there was plenty of raw tenor meat tossed to the lions. Favorites were a matter of personal taste. The words 'O dolci baci, o languide carezze' from Cavaradossi's aria 'E lucevan le stelle' were suspended in air as Kaufmann caressed each word. He repeated the effect in the soft, soaring opening phrases of 'O paradis sorti de l'onde' from Meyerbeer's L'Africaine. Throughout, the tenor made use of messa di voce (the singing of a gradual crescendo and decrescendo on a sustained tone), and it was a thing of beauty each and every time.
In the Italian repertoire, 'L'anima ho stanca' from Cilea's Adriana Lecouvreur and 'Un dì, all'azzurro spazio' from Giordano's Andrea Chénier were particularly impressive. Kaufmann employed a more tightly coiled sound in the Cilea aria that was not only vocally intriguing but added tension to the performance. Tenors with a third the voice end recitals with 'Nessun dorma': could we expect anything less from Kaufmann? It was only then that he spoke to those watching and, commenting on how it had been a privilege to sing for us, he wanted to give something back and would donate '$5,000 out of my pocket for all those other artists that unfortunately don't have the chance to perform in these times'.
Helmut Deutsch counts Kaufmann among his students. It was a delight to hear him play the piano reductions of the orchestral accompaniments for the arias, and an added bonus were piano versions of the intermezzi from Manon Lescaut and Pagliacci. A masterful musician, he conjured up the colors and vitality of a full orchestra with his swirling, complex and nuanced playing.
The broadcast had an autumnal feeling to it, which was the result of videos of Kaufmann singing arias from some of his starring roles at the Met, as well as a searing account of 'Vesti la giubba' from his much-acclaimed performances as Canio in Pagliacci at the 2015 Salzburg Easter Festival. Coupled with the photographs of Kaufmann in various roles and poses that were shown during Deutsch's piano solos, the program had the feel of a retrospective of Kaufmann's career.
I would have gotten my twenty bucks worth from this recital without any of the video clips or extraneous chat (Christine Goerke is the host for all these live streams). With his choice of arias, Kaufmann was directly pointing to the future. The Met, however, seemed more intent on reliving past glories, which anyone can experience for free on the terrific Nightly Met Opera Streams. In fact, a 1982 La bohème was an impediment to finishing this review, which of course reminded me that I had experienced Kaufmann as Rodolfo in Zurich about the time his Met career was just taking off.
Rick Perdian
For more on Met Stars Live in Concert click here.