United States Wagner, Tannhäuser: Soloists, Chorus and Orchestra of the Metropolitan Opera, New York / James Levine (conductor). Performance of 20.12.1982 and reviewed as a Nightly Met Opera Stream on 22.7.2020. (JPr)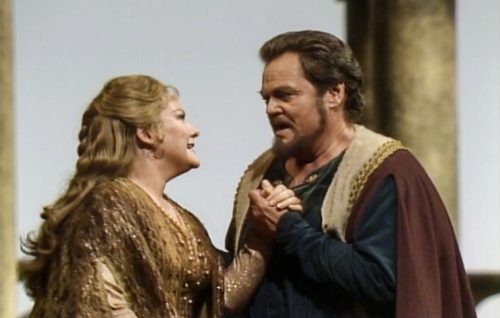 Production:
Production – Otto Schenk
Stage Director – Phebe Berkowitz
Set designer – Günther Schneider-Siemssen
Costume designer – Patricia Zipprodt
Lighting designer – Gil Wechsler
Choreographer – Norbert Vesak
TV Director – Brian Large
Cast:
Tannhäuser – Richard Cassilly
Elisabeth – Éva Marton
Wolfram – Bernd Weikl
Venus – Tatiana Troyanos
Hermann – John Macurdy
Walther – Robert Nagy
Heinrich – Charles Anthony
Biterolf – Richard J. Clark
Reinmar – Richard Vernon
Shepherd – Bill Blaber
Pages – Charles Coleman, Douglas McDonnell, Erik Peter Mortensen, David Owen, Jean-Briac Perrette, Victor Ruggiero, Eric Sokolsky, Konstantin Walmsley
These are difficult times for so many of us at the present time that I expect readers (and I know you are there!) will allow me to 'recycle' (in part) some comments from when I saw this same production in the cinema is 2015.
Had the image on my laptop frozen at any point during this Tannhäuser – it didn't and the quality of both picture and sound were more than satisfactory – I could have captured a screenshot of a Wagner production at any time from the early twentieth century onwards. In fact, this neo-Romantic Tannhäuser dates from 1977 and a mere five years on everything looks rather worn and dusty, though that might be because the recoding has not aged well. Brian Large's direction for the broadcast employed some judicious scene-setting longshots but mainly focused on the – often very convincing – individual performances and so director Otto Schenk and set designer Günther Schneider-Siemssen's Tannhäuser provides a handsome showcase for a medieval battle of wills between the flesh and the spirit, good and evil, tradition and change, damnation and redemption. It reinforced my appreciation that Act II influenced the debate about German Art and courtly love in Wagner's forthcoming Die Meistersinger von Nürnberg; but that discussion remains for another time.
Because they often put Patricia Zipprodt's sumptuous costumes (a riot of russet and gold) in the spotlight, the choral moments seem to have been conceived as a series of tapestry-inspired tableaux. At times it seems kitsch, whilst at others atmospherically poetic. Something else for consideration at another time is whether this opera – based on real people and historic events in actual places from centuries past (the thirteenth) – is much better in this romantic-realist setting rather than something from a disciple of Regietheater bringing a new, sometimes jolting, perspective to Tannhäuser (for a Bayreuth review click here). Apparently, the Hall of Song we see here is uncannily like the original in the genuine Wartburg Castle where Tannhäuser and his fellow minstrels competed for the favours of the saintly Elisabeth. Also, the stage pictures reflect medieval paintings of the Thuringian countryside where the castle still stands in Germany. Even more so, the landscape we saw in the second scene of Act I and during Act III looked as if it was one of the 'happy little trees' paintings of Bob Ross or something from his teacher, William 'Bill' Alexander.
How much of Otto Schenk's original production remained in 1982 is debatable and I suspect – in Phebe Berkowitz's revival – it is possible the principals might have been left to their own devices more. Yet even this approach – shorn of nearly all interpretive gimmickry – seemed entirely appropriate for the opera. The tensions and relationships, which slowly developed over the first two acts, reached a powerful climax when Tannhäuser, having sought repentance from the Pope for dallying with the love goddess Venus, returns from his Roman pilgrimage. He is redeemed by the intercession of the 'martyred' Elisabeth and dies before the sign comes from the Pope that his sins have been forgiven. Otto Schenk leaves us to make up our own minds over what we have seen – and perhaps it should always be like this? – taken simply is it just a morality tale, or something with more contemporary resonance concerning the struggle of a visionary artist (Wagner himself) to create something progressive and new in a (musically?) conservative society.
The Met uses Wagner's more richly scored 1861 'Paris version' which is influenced by his imminent Tristan und Isolde. It includes the bacchanale which – in a painterly grotto for Venus with a hint of a waterfall in the background – was sex-saturated; though Norbert Vesak's choreography is oddly chaste, despite all the splayed legs and hints of alternate-lifestyle gender couplings. The orchestral sound was sumptuous throughout, which perhaps was only to be expected with James Levine at the podium and at the height of his powers as one of the greatest living Wagnerian conductors of his generation. The only time, for me, Brian Large puts a foot/camera wrong was by focussing on Maestro Levine for most of the substantial, scene painting, overture. The cameras' attention should have been elsewhere – on the closed front curtains or a darkened stage – to let the music say all that was needed. Everything we heard once the action began from Levine and his remarkable orchestra was the perfect accompaniment for his principals and the (as always) stunning chorus (listen if you can to their magnificent 'Pilgrims' Chorus'). Levine's conducting was impassioned, refined in its textural warmth, had much nuance, and provided the almost-perfect counterpoint of an impulsive dramatic arc across the three acts that complemented the visual splendours of this unashamedly traditional – and mostly static – staging.
As an aside, it is a quirk of lockdown in the UK that I became reacquainted with the classic 1957 Bugs Bunny cartoon What's Opera, Doc?; visually what we see is based on Wagner's Ring cycle: Bugs is Brünnhilde and is pursued by Elmer Fudd wearing a magic helmet and brandishing a spear! However, the music we hear is mainly from Tannhäuser. Watch the opera if you know the cartoon – or vice versa – and you will be surprised how much music you will recognise.
A production like this therefore depends on its cast. This one will leave strong abiding memories and underlines – what I have written before in these 'down memory lane' Met performances – how there was a 'naturalness' to the acting and singing towards the end of last century that is rare in the early decades of our current one. Please someone correct me if I am wrong but I believe Jon Vickers was to have sung Tannhäuser in 1977 but withdrew from the role citing that – as with Siegfried – he could not agree with the character's actions either spiritually or morally. (I was present once when he said that in an interview when the fact that he probably did not have the vocal resources to do these roles justice was glossed over.) For me, the late Richard Cassilly was as close to what a Vickers' Tannhäuser might have looked and sounded like.
I don't believe I had ever seen and heard Richard Cassilly before, but he had plenty of vocal heft and stamina. There were some moments of refined grace when his voice revealed more colours than elsewhere; nothing better than his concluding 'Heilige Elisabeth, bitte für mich!'. Perhaps because it was Cassilly I realised I had never noticed before how much Wagner's opera owes to Beethoven's Fidelio, just listen to Tannhäuser's 'nach Freiheit, Freiheit dürstet's mich' in Act I and his 'Gepriesen sei die Stunde' duet with Elisabeth in Act II.
Cassilly's 'Rome Narration' was captivating and because of his crazy eyes he mostly looked like a grizzled Old Testament prophet. At times he reminded of Charlton Heston's Moses with hints of Orson Welles as Sir John Falstaff or Long John Silver, take your pick. Having been dismissed by the Pope, tortured by the rigours of his pilgrimage, and seemingly on the edge of insanity, Cassilly believably recounted Tannhäuser's travails with some expressive shading and considerable power.
There was more impressive Wagner from Éva Marton after her wonderful Elsa I recently caught up with (click here). Her Elisabeth was slightly more worldly-wise and not just an impetuous and strong-willed Teutonic virgin she is often portrayed as in this generation. This Elisabeth knew what she was getting herself into when she defied the wishes of a male-dominated society and this made her despair over Tannhäuser's betrayal all the more affecting. I have rarely ever seen a singer who got so 'invested' in the role she was singing as Marton. There were more genuine tears at the end of the second act and after a slow, deeply emotional, Act III 'Allmächt'ge Jungfrau, hör mein Flehen!' you could totally believe Elisabeth could die of a broken heart.
Once her voice warmed up Tatiana Troyanos caught the eye and ear as a sensually seductive Venus, and John Macurdy was a sturdy – rather one-dimensional – Landgraf Hermann though he seemed to be striving for bass notes that did not come easily for him. All the smaller roles revealed the strength in depth of the Met's ensemble in the 1980s and there was a remarkable Young Shepherd from a pure-voiced Bill Blaber.
Of the principal quintet of singers, it is only Éva Marton and Bernd Weikl who are still with us. Weikl's Wolfram was a remarkable portrayal of someone totally infatuated with Elisabeth who, for him. was the incarnation of the Madonna. Later this Wolfram showed himself to be chivalrously loyal in his support of Tannhäuser, if only by clearly being an intent listener to his revelations. Throughout Weikl – who I remember particularly as a cultured Hans Sachs – employed a smooth and cultivated Lieder-like baritone to eloquently shape Wolfram's lyrical lines.
Jim Pritchard
For what the Metropolitan Opera has to offer while there are no actual performances click here.