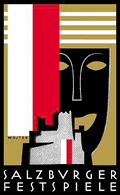 Austria 100th Salzburg Festival – Wagner & Bruckner: Elīna Garanča (mezzo-soprano), Vienna Philharmonic Orchestra / Christian Thielemann (conductor). Performance of 22.8.2020 reviewed as an Arte Concert free live stream from the Grosses Festspielhaus, Salzburg, on 26.8.2020. (JPr)
Wagner – Wesendonck-Lieder
Bruckner – Symphony No.4 in E-flat major (WAB 104)
I should have been hearing Christian Thielemann conduct Lohengrin this summer at Bayreuth but, of course, there has been no festival this year. Maybe everything will be back to 'normal' next summer but in a world where some countries suddenly demand to be disease-free the prospects are not looking great at the moment. All credit to Salzburg for putting on a shortened centennial season, thanks to observing strict hygiene practices, with extensive testing and limited venue capacity. Everything looked relatively normal with the Vienna Philharmonic Orchestra on the concert platform of the Grosser Festspielhaus (only one musician in their mask as before) but the brief look at the audience saw many more face coverings and several seats left empty.
How fascinating it was to see, once again, how Thielemann is such a laidback conductor. Probably all the work is done when rehearsing for his performances and he seemed in total control of the musicians massed before him. There is rarely – whether it was the Wesendonck-Lieder or the subsequent Bruckner – little more from Thielemann than the merest flick of his baton, some delicate hand gestures, or brief eye contact with various instrumental sections before him.
It was not long ago I saw and heard Elīna Garanča sing the Wesendonck-Lieder with piano accompaniment at Wigmore Hall (review click here) and began what I wrote then with how in a lecture I once gave about Richard Wagner I recalled how after his involvement in the failed Dresden revolution of 1849, he went 'on the run'. He ended up in Zurich taking advantage of the hospitality of Otto Wesendonck, a wealthy silk merchant, for both sanctuary lodgings … and his wife! Whether he was simply infatuated with Mathilde, or it was more than that, is debatable, but it brought the world Tristan und Isolde and his settings of five of her poems where two are clearly 'studies' for that 1865 music-drama. For him, Mathilde was Isolde! Intriguingly the background to this song cycle has recently had a music theatre exploration as Grange Park Opera's The View from the Villa (review click here).
Freed from the sparseness of singing with just a piano I enjoyed Garanča's sensual – and very operatic – singing of the Wesendonck-Lieder in their chamber-like Felix Mottl orchestrations of all, with the exception of Wagner's own 'Träume'. Thielemann's love of Wagner shone from everything the Vienna Philharmonic Orchestra did as together they embraced the music's filigree-like textures and their atmosphere. This allowed Garanča full reign to expressively characterise each individual song without needing to force her voice, which sounded as if it effortlessly soared over the orchestra.
In the meditative 'Der Engel' ('The Angel') Garanča's warm, resonant, slightly smoky, mezzo conjured up the image of the Angel first descending before conveying a spirit heavenwards. 'Stehe Still' ('Stand still') was impassioned and helped enormously by Garanča's total engagement with the words she was singing and drawing from these some genuine emotion. Just listen – and you still can – to the conclusion of 'Stehe still!' starting from 'Die Lippe verstummt' or the emphasis she put on 'von Smaragd' in 'Im Treibhaus' ('In the greenhouse'). She brought a sense of deep sadness to 'Unsre Heimat ist nicht hier!' ('Our homeland is not here!') and it was not simply a response to the notes as her voice rises at 'Luft' and later drops(!) at 'Tropfen' (to be repeated with 'Duft' and 'Gruft' in a most delicately-etched – and genuinely dreamy -'Träume'. In between 'Im Treibhaus' and 'Dreams' was 'Schmerzen' ('Agonies') which was sung with immeasurable yearning. Throughout Thielemann refused to indulge the music but let his wonderful musicians off his leash for a shimmering brief postlude (the soundworld of Tristan und Isolde) to 'Im Treibhaus' which was the Vienna Philharmonic at its best.
I understand Bruckner's Fourth Symphony is perhaps the composer's single most popular work. It was written in 1874 and revised several times from then until 1888. The nickname 'Romantic' was Bruckner's own idea because of his own programme for it. A December 1884 letter to conductor Hermann Levi finds Bruckner writing: 'In the first movement after a full night's sleep the day is announced by the horn, second movement song, third movement hunting trio, musical entertainment of the hunters in the wood.' I have read elsewhere about medieval knights out on a hunt and that combined with depictions of nature at its grandest, airiest, or most threatening, is apparently where the appellation 'Romantic' came from.
I cannot recall hearing this symphony before and for me it was typical Brucker; episodic and if in doubt he will repeatedly add in more horn calls and brass fanfares, with or without timpani. Nevertheless. there were some memorable sounds from Thielemann and the Vienna Philharmonic beginning with the first movement's opening horn call (naturally!) set against iridescent strings. The start of the second movement (Andante, quasi allegretto) was an elegiac cello melody, though it was not long before another powerful statement in the brass. Here Thielemann's conducting style was more economical than ever, despite some prominent use of his elbows. Yet more horn calls introduced the Scherzo that vividly brought us atmospheric sounds of the hunt, its beguiling trio section notwithstanding. For the Finale Thielemann took us deep into a Wagnerian forest. As impressive as Luc Mangholz's flute was in the Andante here he seemed to be lulling us into a false sense of (musical) security which turned out to be just the eye in another brass storm as the conductor lifted the orchestral brakes for the dramatic final coda.
I suspect in lesser hands this symphony could prove rather interminable but Thielemann avoided this by his intrinsic knowledge of the music (he was conducting from memory), as well as, a firm grip of the over-arching musical line and scrupulous attention to textural refinement. Of course, for the latter he had the inestimable benefit of the Vienna Philharmonic and can any orchestra sound better in Bruckner, or Wagner (and Mahler) for that matter?
Jim Pritchard
For more about Arte Concert click here.