Germany Wagner, Siegfried: Soloists, Orchestra of the Bayreuth Festival / Pierre Boulez (conductor). Filmed at the Bayreuth Festspielhaus in 1980 and reviewed on DG Stage on 28.8.2020. (JPr)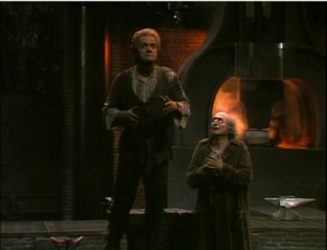 Production:
Stage Director – Patrice Chéreau
Set Design – Richard Peduzzi
Costumes – Jacques Schmidt
Lighting – Manfred Voss
Video Director – Brian Large
Cast:
Siegfried – Manfred Jung
Mime – Heinz Zednik
The Wanderer – Donald McIntyre
Alberich – Hermann Becht
Fafner – Fritz Hübner
Brünnhilde – Gwyneth Jones
Erda – Ortrun Wenkel
Woodbird – Norma Sharp
Anecdotally (or possibly apocryphally?), I have a connection to this Centenary Ring through a friendship with the great British Siegfried, Alberto Remedios, who told me a couple of stories about how he lost the opportunity to appear in it. Apparently, his audition impressed Wolfgang Wagner, but he told him – something like – a British singer could never sing Siegfried at Bayreuth. He had also annoyed Pierre Boulez in 1975 when he was unwell and wanted to pull out of Mahler's 'Symphony of a Thousand' that opened the BBC Proms season that year. He was eventually persuaded to sing but the recording that survives shows he was obviously not 100%. In hindsight Alberto would have sung the role infinitely better than Manfred Jung but would never have coped with Patrice Chéreau's 'take' on the character as a bullying, tree-climbing, man-child with ADHD!
Unfortunately, I have never read George Bernard Shaw's 1898 The Perfect Wagnerite (mea culpa!) and apparently his Marxist analysis of the Ring is significant to what we are seeing in Chéreau's staging. Where was any sense of the nineteenth-century social critique that we saw in the first two parts of the cycle? The flywheel seen before was present in Act I and Siegfried forged his sword with the help of an industrial steam hammer, but that was about it. Incidentally, how Alberto – who was a welder at Cammell Laird on Merseyside before taking up singing – would have loved to be able to just stand about – as most modern Siegfrieds now mostly do – and let something else do all the work!
Don't get me wrong there are anvils for Act I and Nothung will cleave a bit off the largest of the two at 'So schneidet Siegfrieds Schwert!' and at the start of the act there was a pantomime-like brown bear. In the second act there will be the oddest imaginable dragon, a huge effigy with flapping wings and the face of a gargoyle being trundled around on wheels by stagehands in black. Hardly avant-garde and whether it is the present influencing the past but – after watching this Siegfried – I reflected how old-fashioned it seemed and, must have, in 1976 too, or am I missing something?
Siegfried is often described as the Ring's scherzo and Boulez – whose Wagner was quick anyway – seemed to relish this and it was an exhilarating rollercoaster ride though the music. There are several instances – including the final duet – where Boulez rushes on headlong and the singers struggle to produce all their words. It is a beautiful-sounding Siegfried and if I was to hear it again, I could listen to the wonderful orchestra ohne worte (without words).
The large flywheel to the side we have seen before, as well as, some scrubland, rather than dense forest: Mime and Siegfried are clearly surviving on the fringes of society. We are quickly introduced to Siegfried, hyperactive, light on his feet, ultimately acrobatic, and strongly reminiscent of a curly-haired James Cagney (Google him!). He is another of Chéreau's characters who is quick to anger and if he had a pram, he would have thrown his toys out of it! Again (maybe it is just me?) but the shuffling, cringing, depiction of Mime with all the hidden menace behind his obsequiousness is surely – like Loge in Das Rheingold – a Jewish stereotype? With his shabby long brown coat, wire-rimmed glasses, and balding head he could have stepped straight into playing Fagin in Oliver Twist. By far and away Mime is the most fascinating – and completely thought-through – character in this Siegfried. It was masterclass to see and hear Heinz Zednik's Act I monologue ending how Sieglinde died when Siegfried was born ('Sie starb: doch Siegfried, der genas'). Later atop a stepladder with a pot on his head and waving a long wooden spoon this Mime raised a smile as he mirrored Siegfried's jubilation about his sword.
Chéreau emphasises the duality of Wotan and Alberich as Licht– and Schwarz-Alberich by having them both bearded and dressed alike at the start of Act II. Wotan in his Wanderer guise is oddly more interesting, being very conspiratorial and much more jocular. Fafner is lording over a massive horde of glittering gold. Mime and Siegfried enter and almost seem to spend more time climbing up trees than on the ground. Chéreau had the peculiar notion of putting the Woodbird in a small cage that Siegfried finds up one of the trees and this doesn't really work. Everything goes by in a headlong rush; Siegfried has little time to make a reed pipe to imitate bird song and finds a horn from nowhere. Once Siegfried dispatches the dragon, Fafner staggers around as the hulking giant from Das Rheingold, when he finally succumbs there is no evident cave and he is just left centre stage.
Is it smoke or clouds swirling at the start of Act III, whatever there is loads of it? Having Erda emerge – again veiled – wriggling from a cocoon was rather effective. Wanderer/Wotan is back to his previous grumpy, short-fused, incarnation. It is not often the case since, but we actually see Brünnhilde sleeping in exactly the same position and setting as at the end of the previous Die Walküre (review click here). Again, everything is a bit rushed including Siegfried's 'Das ist kein Mann!' which now was almost like Sprechstimme. After giving her a couple of quick pecks Siegfried tries a full-on snog as if giving Brünnhilde the kiss of life. She awakes and roams the stage as 'The Woman in White' exhibiting some of the hysteria Chéreau wants his leading female characters to exhibit.
Manfred Jung catches the eye with the physicality of his acting as a petulant adolescent; sadly his singing is stolid, lacking any lyricism or radiance, but to his credit he gets through the role tirelessly (though this is a filmed version remember!) and doesn't mess anything up. Whether in 2020 a singer would be allowed to sing Brünnhilde as Gwyneth Jones does, I am not sure. After waking up she just sings louder and louder, words become somewhat unintelligible, and it is all rather relentless until 'Ewig war ich, ewig bin ich' near the end; though there is still time for a final rather shrill-sounding top note (though I was left wondering whether her voice was captured at its best in these recordings).
Having already written about Donald MacIntyre's Wanderer and Heinz Zednik's Mime, the cast was completed by Hermann Becht's tragicomic, rather gruff, Alberich, Fritz Hübner was a true cavernous bass and brought real pathos to Fafner, Ortrun Wenkel was intriguingly portentous as Erda, and Norma Sharp sounded suitably chirpy and accurate as the Woodbird (not the one in the cage!).
Reminder: on the DG Stage pages (click here) for this Ring cycle it announces that 'Together with the festival management, the Friends of Bayreuth have set up an emergency fund for artists of the Bayreuth Festival. Artists and performers who are in need as a result of the Corona pandemic are to be supported by this fund. Income generated from the sale of these DG Stage-Bayreuth Festival tickets will also benefit this fund' and this is all very worthy. Also if you click here you can see the 1983 film The Making Of The Ring – Wagner's Tetralogy by Pierre Boulez & Patrice Chéreau (both this and the entire cycle are still available on DVD).
Jim Pritchard