Germany Wagner, Das Rheingold: Soloists, Orchestra of the Bayreuth Festival / Pierre Boulez (conductor). Filmed at the Bayreuth Festspielhaus in 1980 and reviewed on DG Stage on 25.8.2020. (JPr)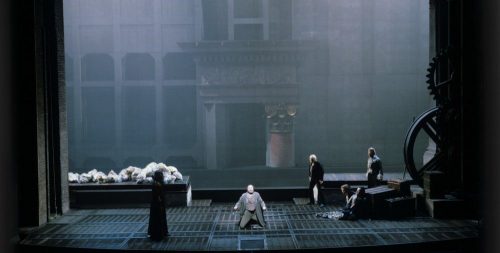 Production:
Stage Director – Patrice Chéreau
Set Design – Richard Peduzzi
Costumes – Jacques Schmidt
Lighting – Manfred Voss
Video Director – Brian Large
Cast:
Wotan – Donald McIntyre
Donner – Martin Egel
Froh – Siegfried Jerusalem
Loge – Heinz Zednik
Fricka – Hanna Schwarz
Freia – Carmen Reppel
Erda – Ortrun Wenkel
Alberich – Hermann Becht
Mime – Helmut Pampuch
Fasolt – Matti Salminen
Fafner – Fritz Hübner
Woglinde – Norma Sharp
Wellgunde – Ilse Gramatzki
Flosshilde – Marga Schiml
There was been so much debate about Patrice Chéreau and Pierre Boulez's Centenary Bayreuth Ring cycle (Jahrhundertring) – at the time and in the subsequent decades – that anything I might add to that must seem rather superfluous. However, it was so very significant that the opportunity to watch it all again made it a must-see. Obviously, this production was not conceived especially for television, but became famous as a ten-part 'serialisation' on BBC Two beginning in October 1982 which proved my first introduction to Wagner at Bayreuth. I never saw this Ring cycle in the Festspielhaus, nor the subsequent one from Sir Peter Hall, but I have seen every other new Ring there since the late 1980s at least once. As with almost every new Bayreuth Ring, the lead-up to 1976 was far from smooth and at relatively short notice the responsibility was given to 31-year old French actor, theatre director, producer, and filmmaker, Patrice Chéreau. Apparently, he knew nothing about these Wagner works and had only previously staged two operas, by Rossini and Offenbach.
The rest is history and what – in typical Bayreuth fashion – was a scandal in its first year and provoked vociferous opposition to Chéreau's staging, had by the end of its 16th – and final – iteration in 1980 become the stuff of legend on the Green Hill.
The recordings are showing their age and are definitely not high-definition and the operas were filmed in an empty Festspielhaus in 1980. Chéreau apparently made some changes for television and the video director, Brian Large, clearly was able to employ a few camera tricks not possible to him had it been recorded live in the theatre. In Das Rheingold some smoke effects can be seen for the first time in this cycle and there are additional images for the scene changes when the Bayreuth audience would only have seen a closed curtain. The sound is fine with the transparency Boulez wanted to achieve aurally evident and no singer was overwhelmed by the wonderful orchestra in a typically fleet-footed account of the score from the much-missed French conductor.
In close-up all the singers in this Das Rheingold seem to have benefitted from Chéreau's much-admired individual direction and his interpretation is clearly grounded in a detailed study of the text. Despite a non-traditional mise-en-scène (Richard Peduzzi's and Jacques Schmidt's costumes) we still see the interpersonal dramas unfold as we always expect them to.
Perhaps for the first time in Ring history– but certainly not the last! – Chéreau presents us with a parable of the Industrial Revolution in the nineteenth century and how its effect on society has not always been for the greater good. Das Rheingold begins around the time Wagner composed it and features an Old World capitalist Wotan clashing with the New World modern one in Alberich. As is often the case, the interpretation of the staging lies with the viewer.
We begin Das Rheingold at an enormous concrete dam on a moonlit night with the three Rhinemaidens dressed as 'ladies of the night' and teasing Alberich beyond his endurance. The central section of the dam lifts to reveal the Rhinegold, here large chunks of glittering gold. The gods have eighteenth-century dress, including frock coats and powdered wigs. They represent the old older in a world that is evidently more corruptible and so in a spiral of decay. There are hints of machinery and some packing cases, but Scene 2 is dominated by a (deliberately) partially-obscured Valhalla which – to me at least – has a hint of the façade of the Festspielhaus. As we move down to (and later up from) Nibelheim we have interpolated images of a long metal staircase as in an industrial building before encountering the Nibelungs, factory owner Alberich's cheap labour, who are slaving away and hoping for a better world. Alberich's transformation into the – albeit rather small – fantastical dragon is quite subtle and its tail twists round Loge; though if you blinked you might have then missed the minuscule frog.
The giants are great hulking creations and some conveniently bagged up gold is brought up to conceal Freia between two surveying poles before Fafner dispatches his lovelorn brother Fasolt by beating him with his huge arms. There is some more impressive stagecraft as the veiled Erda appears and disappears as if by magic, leaving Wotan – in the absence of a rainbow bridge – to drag Fricka and the other reluctant gods into Valhalla. Loge is left to theatrically close the show by pulling a curtain across. He is the most contentious character, as eschewing any sense of flamboyance, surely this slippery, wheedling, conniving version of Loge is a – seemingly hunchbacked – Jewish stereotype?
As for the singing the biggest disappointment was Donald McIntyre's anodyne Wotan which never rises to any great heights in Das Rheingold and it reminded me that this underwhelming reaction was exactly what I experienced when hearing him sing the role at Covent Garden. It is not that there are not some interesting moments as he begins with 'Der Wonne seligen Saal' as if genuinely waking up from a deep sleep to greet his new-build Valhalla, and near the end at 'Furchtbar nun erfind' ich des Fluches Kraft!' he compellingly internalises the true impact of Alberich's curse.
It is an otherwise exceptional vocal ensemble who are all dramatically credible: there is a fine roistering trio of Rhinemaidens; Hermann Becht was a bitter and dangerous Alberich; Hanna Schwarz brought her deep, dark, contralto to Fricka and it is a voice type that is extinct in 2020; Ortrun Wenkel was equally sepulchral as Erda; a young Matti Salminen and Fritz Hübner were well-matched as Fasolt and Fafner; Carmen Reppel was a suitably distraught Freia, and the other well-sung gods included a sweet-toned Siegfried Jerusalem in an early Bayreuth appearance as Froh.
On the DG Stage pages (click here) for this Ring cycle it announces that 'Together with the festival management, the Friends of Bayreuth have set up an emergency fund for artists of the Bayreuth Festival. Artists and performers who are in need as a result of the Corona pandemic are to be supported by this fund. Income generated from the sale of these DG Stage-Bayreuth Festival tickets will also benefit this fund' and this is all very worthy. Also if you click here you can see the 1983 film The Making Of The Ring – Wagner's Tetralogy by Pierre Boulez & Patrice Chéreau (which like the entire cycle is still available to buy on DVD).
Jim Pritchard