United Kingdom Edinburgh International Festival 2020 – My Light Shines On: (SRT)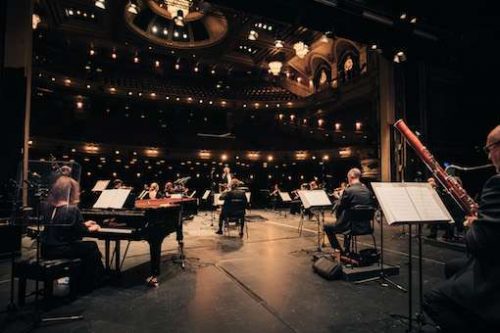 Mahler – Symphony No.7: Royal Scottish National Orchestra / Thomas Søndergård (conductor). Reviewed on the EIF's YouTube channel from the Edinburgh Festival Theatre, 20.8.2020
Beethoven – Piano Concerto No.2: Scottish Chamber Orchestra / Paul Lewis (piano & director) Reviewed on the EIF's YouTube channel from the Edinburgh Festival Theatre, 20.8.2020
How many times, since the pandemic began, have you come across a digital piece of the 'new normal' and thought to yourself, 'Oh well, it's better than nothing'? The family reunion on Zoom: excruciating in places, but better than not seeing them at all. Streamed operas or concerts online: a treat for now, but nowhere near as good as seeing them in the flesh.
That melancholy thought was prominent in my mind when I watched the Edinburgh International Festival's online effort for 2020. Like almost everywhere else, Edinburgh has had to can its festival, making the city centre a rather glum place this month. No EIF, no Fringe, no Tattoo… It seems selfish to observe it when so many people have much bigger problems, but the festival is the highlight of my year, and it breaks my heart to have it so comprehensively taken away.
At least the EIF have done something to try and fill the gap with My Light Shines On, a series of specially commissioned performance films on the EIF's YouTube channel. However, watching their two big orchestral films just sent me deeper into a profound depression about the state to which our performing arts have been reduced.
A case in point is the RSNO's Mahler 7. They were part-way through a cycle of all the Mahler symphonies with their Music Director, Thomas Søndergård, and you could argue that it is a shrewd move doing the Seventh in this format: after all, it's still the problem child among the set, and it's probably still not great box office. However, regulations mean that, even in this format, they cannot put the full orchestra on stage, so they have performed Klaus Simon's arrangement of the symphony for a chamber orchestra. I counted 32 musicians, all in their two metre gaps, and they looked lost on the vast stage of the Edinburgh Festival Theatre, extended into the auditorium, even though it is already the biggest stage in Scotland!
Problems are legion, central to which is the sound. The instruments sound as spread out as they are. There is little focus to the blend: instead it sounds like a bunch of soloists playing at the same time. Furthermore, there is little sense of power. With (mostly) only one wind or brass instrument each, and with a tiny band of strings, it sounds almost like a parody of Mahler, and Simon's arrangement doesn't help, doing away with critical instruments like the mandolin and timpani(!) and replacing them with an overactive piano.
None of this is anybody's fault – Søndergård can't have imagined getting to this instalment of his Mahler cycle like this – and everyone involved did the best they could in the circumstances; but watching it left me deflated and feeling rather blue, precisely because this is the best anybody can do in today's circumstances.
The Scottish Chamber Orchestra have fewer problems in this regard: their size means they could fit a pretty normal sized orchestra onto the Festival Theatre stage in the same way, and Paul Lewis sitting among them (but not too close, of course!) did a good job of Beethoven's Second Piano Concerto, the period strings and natural horns making a big difference. The lack of blend was apparent here too, though, as was the lack of ambition. Why pick this, frankly Beethoven's least interesting concerto, when the same size of forces could have done one of the later – and, let's face it, greater – concertos instead?
There is some hope in the shape of the Chamber Music Soundscapes. These are some rather lovely little films showcasing ensembles playing a vast range of music, with a new one becoming available every day. My favourite has been the Elias String Quartet playing Sally Beamish and Haydn alongside some traditional Scottish folk tunes. There are plenty of riches to explore there, and maybe the lesson is that chamber music – naturally small anyway – works better than any contortions with bigger ensembles.
So, I am afraid it's only two cheers from me. The chamber music is great, but you will need to be a cheerier sort than me to enjoy the orchestral offerings. Though maybe you'll think it's better than nothing…
Simon Thompson
My Light Shines On is available on the Edinburgh International Festival's YouTube page CLICK HERE.