France Met Stars Live in Concert [3]: Roberto Alagna (tenor) and Aleksandra Kurzak (soprano), Vienna Morphing Quintet (Yuuki Wong, Lucas Medlam [violins], Tomasz Wabnic [viola/director], Moritz Ebert [cello], Felipe Medina [double bass]), Alexander Wladigeroff (trumpet). Broadcast live in HD (directed by Gary Halvorson) from Le Chateau de la Chevre d'Or, Èze, France, 16.8.2020. (JPr)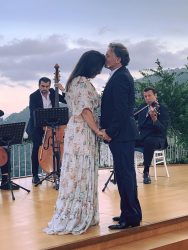 Puccini – 'Vogliatemi bene' (Madama Butterfly), 'Ch'ella mi creda libero e lontano' (La fanciulla del West)
Gounod – 'Ah! lève-toi, soleil!' (Roméo et Juliette)
Rossini – 'Una voce poco fa' (Il barbiere di Siviglia
Donizetti – 'Caro elisir' (L'elisir d'amore)
Mascagni – 'Tu qui, Santuzza?' (Cavalleria rusticana)
Verdi – 'Ave Maria'; 'Già nella notte densa' (Otello)
Lehár – 'Lippen schweigen' (The Merry Widow)
Quirino Mendoza y Cortés – 'Cielito lindo'
Denza – 'Funiculì, Funiculà'
After the first two rather downbeat – for various reasons – concerts in this Met Stars series Roberto Alagna and Aleksandra Kurzak raised the bar and what they did will be hard to top, even though there are many stellar names still to appear. It was not perfect by any means but there was some fine singing and excellent musicianship from members of the Vienna Morphing Orchestra, all extremely accomplished musicians. Just wallow in Yuuki Wong firing up our imaginations with shimmering imagery from his violin and the equally virtuosic contribution of his colleagues in setting the scene for the opening duet ('Vogliatemi bene') from Puccini's Madama Butterfly and then providing a plaintive prelude to 'Ah! lève-toi, soleil!' from Gounod's Roméo et Juliette. So much better than just piano accompaniment and hopefully it is not too late to see more of this in future concerts.
We still have Christine Goerke 'introducing' what we saw from New York and this seemed – with respect – more irrelevant than ever. What is missing is preparing the watching audience for what we are about to hear (and couldn't the singers do more in this regard?) and possibly – rather than a brief snippet from an interview with Alagna and Kurzak from their 2019 Met Carmen – there could be newly recorded (or live?) interviews with those we are watching about how life has been for the singers and their hopes for the future. That, at least, would allow for some acknowledgement of the current state of the world with things edging back to normal in some countries; although France, for instance, still has problems with the aftermath of their first wave of the coronavirus pandemic. All we had was Goerke's closing 'Please stay safe, please stay healthy'. There was only one very short interval and a single excerpt from a past Alagna and Kurzak performance at the Met when we saw and heard a tender 'Parle-moi de ma mère' from their Carmen together.
What a glorious setting there was for this eclectic musical programme and I have seen Le Chateau de la Chevre d'Or in the medieval city of Èze described as sitting 'between the sky and the Mediterranean Sea'. That is how it seemed as the sun set on what must have been a balmy – 'very warm' according to Alagna – day and we found ourselves on a terrace overlooking an azure blue Mediterranean. The sun had nearly gone by the time the pair sang 'Già nella notte densa' ('Now the dark night') from Verdi's Otello, giving it so much atmosphere that it will live long in my memory.
Goerke in her final contribution previewed Lise Davidsen's forthcoming recital by saying how she has been described as 'The great Wagnerian promise of her generation': not a promise but a fact is that Aleksandra Kurzak is currently one of opera's finest sopranos. Although it is possible that what she achieved in a wide range of repertoire maybe equalled in coming weeks, I doubt anyone will sing better than her. For Rosina's cavatina 'Una voce poco fa' (Il barbiere di Siviglia) Kurzak's charming voice sailed through the coloratura with great technical assurance and it displayed a remarkably even range, as well as, showing how her voice possesses extraordinary warmth. Not only that she is a consummate actor-singer and even she could make me forget that Butterfly must sing 'Love me with a tiny love as you would a child'(!) and, as a result, Kurzak persuasively brought a 15-year-old Japanese geisha to life.
By contrast Alagna – who for over three decades has been one of the 'superstar' tenors of his generation – took a while to warm up his voice to the apparent temperature of his surroundings. I always enjoy listening to Alagna because of his obvious engagement with all he is singing. I just wondered whether singing outdoors had a negative effect on his vocal cords as he could occasionally be heard trying to clear any fleeting difficulties. He was rather stolid during the Butterfly duet and, for me, the sun didn't shine sufficiently during 'Ah! lève-toi, soleil!'. He was vocally – and visibly – more relaxed for some very amusing interplay between his tiddly Nemorino and Zurzak playing hard to get as Adina in a comic duet from L'elisir d'amore and this included Alagna's interpolated 'It's now or never'! Wrenched from La fanciulla del West 'Ch'ella mi creda' is not one of my favourite Puccini arias although Alagna was now approaching his impassioned best. He was soon heard at his absolute best during two further duets; firstly, the confrontational 'Tu qui, Santuzza?' (Cavalleria rusticana) and then 'Già nella notte densa'. The former had some vehement accusations and counter-accusations before ending with Santuzza's 'A te la mala Pasqua, spergiuro!' ('A curse on your Easter, you betrayer!') that Kurzak uttered to chillingly visceral effect. The closing duet from Otello Act I made me hope I might get to see Alagna and Kurzak sing the roles of the Moor and Desdemona live on stage sometime in coming years. This husband and wife team believably recounted how another married couple first fell in love and romantic feeling was palpable when Alagna expressed how Otello feared he may never know the happiness again he is feeing now and Desdemona prays for their love to remain unchanged. Oddly, Kurzak sang a deeply poignant 'Ave Maria' – that Desdemona sings knowing her death is imminent – before their love duet.
After a suitably lilting 'Lippen schweigen' from Lehár's The Merry Widow intriguingly sung in French (a first for me!), everything ended in upbeat fashion with exuberant, fun-filled, performances – with added trumpeter, wooden spoons for Kurzak, and a large tambourine for Alagna – of a Mexican favourite 'Cielito lindo' (with its familiar 'Ay, ay, ay, ay'-ing) and 'Funiculì, Funiculà' allowing some Neapolitan fun and frolics. This meant that our 75 minutes in the irresistible company of Roberto Alagna and Aleksandra Kurzak ended with, hopefully, wide smiles on the faces of all those looking in.
Jim Pritchard
For more about Met Stars Live in Concert click here.