Germany Wagner, Die Walküre: Soloists, Orchestra of the Bayreuth Festival / Pierre Boulez (conductor). Filmed at the Bayreuth Festspielhaus in 1980 and reviewed on DG Stage on 26.8.2020. (JPr)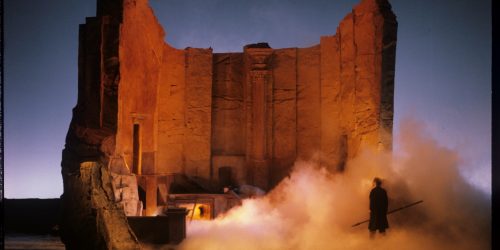 Production:
Stage Director – Patrice Chéreau
Set Design – Richard Peduzzi
Costumes – Jacques Schmidt
Lighting – Manfred Voss
Video Director – Brian Large
Cast:
Siegmund – Peter Hofmann
Hunding – Matti Salminen
Wotan – Donald McIntyre
Sieglinde – Jeannine Altmeyer
Brünnhilde – Gwyneth Jones
Fricka – Hanna Schwarz
Gerhilde – Carmen Reppel
Ortlinde – Karen Middleton
Waltraute – Gabriele Schnaut
Schwertleite – Gwendolyn Killebrew
Helmwige – Katie Clarke
Siegrune – Marga Schiml
Grimgerde – Ilse Gramatzki
Rossweisse – Elisabeth Glauser
Wagner's Ring – or maybe Patrice Chéreau's – continues with Die Walküre: his exploration of Victorian England continues, however, the negative effects of the evolution of technology, machine manufacturing, and the dominance of industry across the late-eighteenth and early-nineteenth centuries is now largely ignored. This – with the hindsight of forty years – was more like Downton Abbey, just a costume drama following the lives and loves of those upstairs and downstairs in an English stately home.
For the first scene we are in the courtyard of Hunding's factory, with its central dead, twisted tree and, oddly, a small water hole where Siegmund takes a drink. Hunding is a thoroughly nasty piece of work and will enter surrounded by his henchmen and servants. It not particularly clear how Siegmund fits into all this but he is on the run from something; whilst Sieglinde is a woman who has suffered much physical and emotional abuse. She relishes the prospect Siegmund offers of escape from her current predicament and this Sieglinde becomes increasingly hysterical and this verges near the end of Act I on erotomania. For once I got the impression Hunding knows about the sword imbedded in the tree and its back story. Nothung appears to emit its own light and for the 'Spring Song' at the rear of the stage the building comes apart to reveal some shrubbery. Siegmund and Sieglinde do not run off but enthusiastically embrace and fall to the ground with the lights going out only just in time before they get too carried away!
At the beginning of Act II there is a doorway, a mirror, and dominating everything is a Foucault pendulum. (If you know the memorial plaque to the 1876 Bayreuth Ring in the Festspielhaus you might recognise this doorway.) Wotan is the lord of the manor and Fricka, his elegantly coiffured – though much put-upon – lady. Brünnhilde – if we ignore her helmet and breastplate – is buttoned-up in a rather plain dress and also suffers from Wotan's physical violence. If we didn't know the unfolding story, then we could be watching a comedy of manners.
Perhaps my adverse reaction to Donald McIntyre's Wotan in Das Rheingold (click here) was not so much his performance, as Chéreau's idea of the character in not allowing him any redeeming features whatsoever. Almost throughout he is self-pitying, irritable, prone to fitful bursts of anger, and morose. He lets Hunding plunge his spear into Siegmund's chest while he stabbed his own spear into his son's back. Then he stands by impassively as Hunding applies a coup de grâce to the prostrate Siegmund. Earlier, the scene when Brünnhilde entered to tell Siegmund he would die in battle and that she must take him to Valhalla (the famous Todesverkündigung) proved to be the highlight of this performance. This gripping confrontation was redolent of religious imagery as Siegmund stripped to the waist, was washed by Brünnhilde, before being enveloped in a white shroud.
For Act III centre stage is a large ruined building atop a rocky outcrop and, I know I might be getting this totally wrong, but couldn't that be Wahnfried (the Wagners' home in Bayreuth) after the bombs hit it in World War II? The Valkyries drag their dead heroes around the stage. Perhaps the recording has not captured how they sung as well as it might, but there is little balance to eight – often piercing – voices and Gabriele Schnaut's Waltraute always sounded so prominent it was as if she was auditioning for one of the bigger Wagner soprano roles she was famous for in coming years.
The hint of fatherly affection Wotan expresses at 'Leb wohl, du kühnes herrliches Kind' seems to come out of nowhere given all that has gone before. When he kisses his errant daughter and puts her into a deep sleep, there were – at last – a greater variety of vocal colours from McIntyre which went a long way to make up for the rest of his Die Walküre, when his singing had been mostly grey and monotonous. The opera ends with some very evocative stage pictures – that will live long in the memory – as the sleeping Brünnhilde, a downbeat Wotan, and the ruins are engulfed in copious reddish smoke.
Boulez's Die Walküre sounded lucid, and he successfully papered musically over the longueurs in Act II considering how little help he was being given by his Wotan. There was just the impression beginning to form in my mind that all Boulez was really doing was providing a soundtrack to what we were watching, rather than impose himself on the music as might have happened in the theatre.
I rarely comment on the actual physical appearance of singers, always restricting my comments to their acting and singing. However, Peter Hofmann and Jeannine Altmeyer must be the handsomest Walsung twins on film; he was ardent and bronze of body and voice throughout and her 'Der Manner Sippe' was intense and 'O hehrstes Wunder!' jubilant. Matti Salminen was the most black-hearted, baleful, Hunding imaginable. Hanna Schwarz was an impressively dark-toned Fricka, less imperious than most and it came as a surprise to see her on her knees pleading with Wotan and not browbeating him into submission. Gwyneth Jones's Brünnhilde wonderfully portrayed all of the warrior maid's vulnerability and humanity and sang well up to a point. It was when Jones was singing most fervently that – although the high notes were always hit full-on – her voice became unruly and some words unintelligible.
Reminder: on the DG Stage pages (click here) for this Ring cycle it announces that 'Together with the festival management, the Friends of Bayreuth have set up an emergency fund for artists of the Bayreuth Festival. Artists and performers who are in need as a result of the Corona pandemic are to be supported by this fund. Income generated from the sale of these DG Stage-Bayreuth Festival tickets will also benefit this fund' and this is all very worthy. Also if you click here you can see the 1983 film The Making Of The Ring – Wagner's Tetralogy by Pierre Boulez & Patrice Chéreau (both this and the entire cycle are still available on DVD).
Jim Pritchard