United Kingdom VOCES8 Live from London – Horizons: The Swingle Singers, with sound engineer Max Hunter. VOCES8 Centre, London, 22.8.2020. (CC)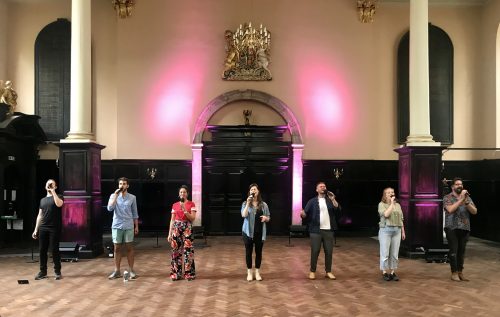 There is a lovely homely video to begin this event. 'At home with the Parrys' video, with Ben and Imogen Parry: Ben, who was part of the Swingles' line-up (he left in 1992), and his daughter Imogen, a member of the current group. They spoke, among other things, of their close relationship of ex-Swingles, and an awareness of legacy of previous generations of Swingles. A lovely half hour of nostalgia, tales and the vibrant present and future.
The group uses looping, which expands the sound palette upwards from the original seven voices: The Swingles are the only group in this festival to use microphones. They have to listen with in-ear monitors – each singer has his or her own mix. We are a very long way from the cable microphones of the original Swingles.
Live looping allows the group to record itself in the moment and then layer up the voices, creating a whole choir from just seven members. That they can not only 'layer up' but also create a whole plethora of 'instrumental effects' with such utter professionalism is remarkable. It is their calling card, their USP if you like, but it never ceases to amaze.
Surely deliberately dressed in a lovely variety of colours, the concert began with a lovely pop song, 'Tokyo Sunrise' starring soprano Federica Basile (one of the newer members of the group – she joined in July 2018) followed by a terrifically invigorating rendition of Peter Gabriel's classic 'Red Rain' from Ollie Griffiths. The variety of musics is another intrinsic part of the group's success and they move easily from Fleetwood Mac ('Loving you', featuring tenor Jon Smith) to where it all started, the so-called 'Swingle Classics': Ward Swingle's arrangements of Bach, here a terrifically restful 'Air on the G String' followed by the Badinerie from the Orchestral Suite, BWV 1067 (it's originally for flute and orchestra). This latter featured the astonishing vocal acrobatics of soprano Joanna Goldsmith-Eteson.
Talking of songs of excruciating difficulty for most mortals, the song 'Hemlock' contains not only rhythmic traps but interactions – imitations – between the two sopranos that need to be executed, as here, with split-second accuracy.
Lovely to hear a Swingles original song, this one about childhood and the sense of wonder it brings – 'Narnia'. Sounding a little like something from The Lion King, this was very invigorating. We certainly need that at this time – and the Swingle Singers tackled this, too, focusing on the light at the end of the storm ('it's always blue above the clouds'). Led by Oliver Griffiths, 'After the Storm' offered a pool of peace, somewhat blown out of the water by the American tenor Jon Smith terrifically free voice, ultra-fast ornaments.
Radiohead's '15 Steps' certainly does have the range – who knows what that high note is that Imogen Parry has to hit. Another original song followed, Burden, although given that the Swingles suggested a drinking game (drink once every time you hear the word 'Burden') perhaps it should be renamed 'Bourbon'. There was also, incidentally, a custom cocktail recipe for this concert, fully customisable, called 'The Horizon'.
The encore was an Afghan melody called 'Lovers' Desire' in which the florid tune sang in octaves to a slow rhythmic background created the perfect end.
The Swingle Singers are at the online a cappella festival Vox Virtual (click here) soon, at which they premiere a new, original song. Their concert is on 28 August and will be streamed live via YouTube and Facebook (they are very techie – they are even on TikTok, although not on Snapchat, for those to whom that means something). They also have a presence on Patreon, where they send out a new track every month.
Next up for Live in London is The Gesualdo Six. Their Hyperion disc, inspired by the service of Compline, 'Fading', is mightily impressive, so this will be one to watch.
Colin Clarke
For more about The Swingle Singers click here.