United States Met Stars Live in Concert [2] – Renée Fleming (soprano) and Robert Ainsley (piano): Live stream (directed by Gary Halvorson) from Dumbarton Oaks, Washington, DC, 1.8.2020. (RP)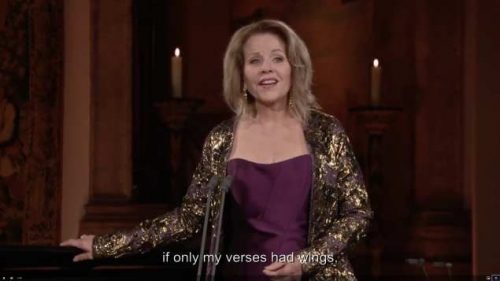 Corigliano – 'And the people stayed home'
Handel – 'Calm thou my soul … Convey me to some peaceful shore' (Alexander Balus), 'To fleeting pleasures make your court' (Samson), 'Endless pleasure, endless love' (Semele)
Hahn – 'Si mes vers avaient des ailes'
Canteloube – 'Malurous qu'o uno Fenno' & 'Baïlèro' (Chants d'Auvergne)
Massenet – 'Adieu, notre petite table' (Manon)
Korngold – 'Ich soll ihn niemals, niemals mehr sehen' (Die Kathrin)
Strauss – 'Da geht er hin' (Der Rosenkavalier)
Leoncavallo – 'Musette svaria sulla bocca viva' (La bohème)
Cilea – 'Io son l'umile ancella' (Adriana Lecouvreur)
Puccini – 'O mio babbino caro' (Gianni Schicchi)
Arlen – 'Over the Rainbow'
Brahms – 'Wiegenlied' Op.49, No.4
Dumbarton Oaks was the location for the second Met Stars Live in Concert with Renée Fleming and Robert Ainsley. Located in the Washington's Georgetown neighborhood, Dumbarton Oaks was the home and garden of Robert Woods Bliss and his wife, Mildred Barnes Bliss, who gave the property to Harvard University in 1940. The historic estate has a long association with classical music, notably Igor Stravinsky's 'Dumbarton Oaks' Concerto, which was commissioned by Mildred Bliss and first performed in 1938 in the mansion's music room with Nadia Boulanger conducting.
Fleming has been one of the Met's most glittery and bankable stars since her debut as the Countess in Le Nozze di Figaro in 1991. She has given more than 250 performances in 22 roles at the Met, her most recent as the Marschallin in Der Rosenkavalier in 2017. A return is imminent, however, as Fleming recently announced that she will be back in the house in 2022 in a new opera by Kevin Puts based on the Academy Award winning film The Hours. Fleming will create the role of Clarissa, with Kelli O'Hara as Laura and Joyce DiDonato as Virginia Woolf: three women of different generations whose lives are joined through Woolf's novel Mrs. Dalloway.
The recital opened with a song written expressly for her by John Corigliano to a text poem by Kitty O'Meara. It begins with the line 'And the people stayed home', and goes on to paint a post-pandemic future of hope and healing. The poem has gone viral, with its author even garnering a write-up in O, The Oprah Magazine. Fleming instilled the song with fervor, never permitting it to slip into sentimentality. It was followed without pause by a haunting performance of 'Calm thou my soul … Convey me to some peaceful shore' from Handel's Alexander Balus. As Fleming noted, the two arias, composed centuries apart, impart the same emotion.
Fleming indulged the audience in expressions of pleasure in two more Handel arias, 'To fleeting pleasures make your court' from Samson and 'Endless pleasure, endless love' from Semele. She bestowed each with lightness, buoyancy and joy, adding additional luster though exquisite ornaments and graceful trills. The most stunning combination of voice and character of the arias which followed was in 'Adieu, notre petite table' from Manon. A rarity, 'Ich soll ihn niemals, niemals mehr sehen' from Die Kathrin, is a heartbreaking lament of a young woman who will never again see her soldier lover. The passage of time was marked with wry irony in 'Da geht er hin' from Der Rosenkavalier. In these arias, undoubtedly chosen with care, the passage of time rested lightly on Fleming's golden soprano.
The Met team applied a softer touch to the taped video interludes than they had with Jonas Kaufmann's recital from Bavaria. A brief biographical segment documented the early years of Fleming's career. Highlights from some of her most celebrated performances were also neatly stitched together to provide viewers with a taste of Fleming's voice, glamour and potent stage persona at the height of her powers. The only complete operatic scene was the finale of Tchaikovsky's Eugene Onegin with the late Dmitri Hvorostovsky.
Her accompanist was Robert Ainsley, a graduate of the Met's Lindemann Young Artist Development Program and director of Washington National Opera's Cafritz Young Artist Program and American Opera Initiative. He played with sensitivity and refined musicianship, especially in the Canteloube songs and the Korngold aria, the latter of which was spellbinding.
From the first notes that she sang, Fleming set a wistful mood that in many ways spoke, at times overtly and at others more subtly, to the moment. The recital ended with two classic songs – 'Somewhere over the rainbow' and Brahms's 'Lullaby' – concluding the recital with the same message of comfort and hope with which Fleming had begun it. This lovely, heartfelt musical escape is available for viewing until 12 August.
Rick Perdian
For more on Met Stars Live in Concert click here.