United States Rossini, Il barbiere di Siviglia: Soloists, Chorus and Orchestra of The Metropolitan Opera / Ralf Weikert (conductor). Performance of 3.12.1988 reviewed as a Nightly Met Opera Stream on 22.8.2020. (RP)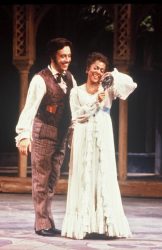 Production:
Production – John Cox
Sets – Robin Wagner
Costumes – Patricia Zipprodt
Lighting – Gil Wechsler
TV Director – Brian Large
Cast:
Figaro – Leo Nucci
Rosina – Kathleen Battle
Count Almaviva – Rockwell Blake
Dr. Bartolo – Enzo Dara
Don Basilio – Ferruccio Furlanetto
Berta – Loretta Di Franco
Fiorello – David Hamilton
Sergeant – Charles Anthony
Ambrogio – Edward Ghazal
Kathleen Battle was one of the Metropolitan Opera's shiniest stars in the 1980s and early 1990s and, after making her house debut as the Shepherd in Tannhäuser in 1977, she went on to sing 244 performances at the Met. She was fired in 1994 by Joseph Volpe, then general manager, from a production of Donizetti's La fille du régiment a week before opening night, for her 'unprofessional actions during rehearsals'. In an instant, her international operatic career was over, proof of the old adage that a halo only has to slip so far to become a noose.
This 1988 telecast of Il barbiere di Siviglia displays the delicate beauty, shimmering voice, exceptional artistry and potent charisma that made Battle such a favorite. Her Rosina is pert and mischievous but always elegant and glamourous. The first notes that she sings, when echoing the Count's serenade, were stunning, while the performance ends with Roman-candle-like bursts of high notes in the final ensemble. In between came limpid tone, melting phrases and exquisite ornamentation. It was a small voice, and there was always much debate over whether it was suited to the cavernous Met, but audiences don't cheer for something they can't hear.
Leo Nucci was 46 at the time, and his Figaro, if not youthful, was worldly, wily and expertly sung. By this stage of his career, Nucci had outwitted innumerable Dr. Bartolos, and he faced a formidable one in Enzo Dara, who sang the role over 400 times in his career, including 41 Met performances. Reviews from the time show that Dara didn't impress the critics, but on the small screen he all but stole the show with 'A un dottor dell mia sorte' as the words tripped off his tongue at lightning speed.
For many, Rockwell Blake's voice was an acquired taste, but he was one of the most heralded Rossini tenors of the day. While his voice lacked the lustrous beauty that the current crop of star lyric tenors seems to have in spades, Blake had a formidable technique and dashing stage presence. He and Dara supplied the bulk of the laughs in this rather straitlaced spin on Rossini's comedy.
Don Basilio was Ferruccio Furlanetto, who made his Met debut as the Grand Inquisitor in Don Carlo in 1980 and quickly became an audience favorite. More wonderful than his aria 'La calunnia' was the gleam in his eyes as he took his solo curtain call.
The cast contained two Met stalwarts who enlivened many an evening with their endearing characterizations: Charles Anthony as the Sergeant and Loretta Di Franco as Berta. In keeping with the tone of the performance, Di Franco gave a droll, rather than over-the-top comedic, take on Berta. Her account of 'Il vecchiotto cerca moglie' in which Berta muses over why people in love act so crazily – but at the same time wishes she wasn't so old so she could find out for herself – brought hearty applause and at least one enthusiastic bravo.
The critics didn't warm up to conductor Ralf Weikert either, but the noted Mozart and Rossini specialist led a fast-paced, sparkling account of the score. The Met orchestra performed with its customary brilliance, especially the boisterous woodwinds who stole the spotlight from time to time.
This was John Cox's first production for the Met, and it would be seen for 25 years with a remarkable progression of Rosinas, beginning with Marilyn Horne who starred in the 1982 premiere. I saw neither her nor Battle in the role, but the Rosina of Frederica von Stade and of Ruth Ann Swenson (whose Met halo also abruptly slipped) linger in the mind, as well as the delightful and devilish Don Basilio of Samuel Ramey. Juan Diego Flórez as Count Almaviva in his 2002 debut season was a revelation. I don't believe I had ever seen a singer who was so handsome and gifted with such a beautiful voice on the Met stage; he was as agile physically as he was vocally.
Cox staged all of the action on a revolving set, which permitted one scene to flow seamlessly into another in a lovely progression of rooms and panoramic scenes of the skyline of Seville. None garnered applause, but the horse that drew the band of musicians on stage in the opening scene did. Critics noted that Cox had updated the action by a century to the time of Rossini. Would we even notice today? It was a perfect jewel of a production, true to the libretto and human-scaled, which by then were becoming ever rarer at the Met and elsewhere.
Rick Perdian
For more on the Metropolitan Opera, click here.