United Kingdom VOCES8 Live from London – Fading: The Gesualdo Six (Guy James, Andrew Leslie Cooper, [countertenors], Joseph Wicks, Josh Cooter [tenors], Michael Craddock [baritone], Sam Mitchell [bass]), Owain Park (director). VOCES8 Centre, London, 29.8.2020. (CC)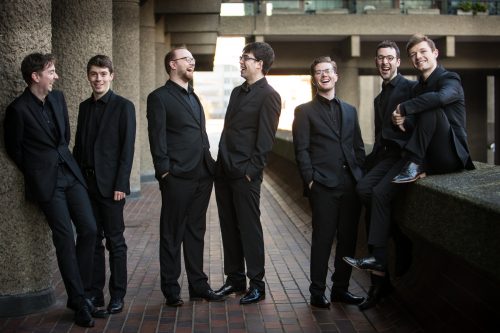 Tallis – Cantiones sacrae: 'Te lucis ante terminum'
Gesualdo – 'Illumina faciem tuam'
Seers – 'Look down, O Lord'
Park – 'Phos hilaron'
Marsh – Arabesque No.3: 'Fading'
Byrd – Lullaby, 'My Sweet Little Baby'
Gombert – 'Media Vita'
Hildegard von Bingen – 'O Ecclesia'
Pärt – 'Morning Star'
Alison Willis – 'The Wind's Warning'
Tormis – Four Estonian Lullabies: 'Marjal, aega magadam'
Blok-Wilson – 'Little Rose, O Dark Rose'
Marenzio – 'Potrò viver io più se senza luce'
Rheinberger – 'Abendlied'
The most recent concert in VOCES8's Live from London series welcomed in one of the most exciting of up and coming vocal ensembles. The Gesualdo Six came about through a group of students coming together to perform Gesualdo's Tenebrae Responses; their director, Owain Park, has also written for VOCES8.
The Gesualdo Six began its programme with the Compline hymn 'Te lucis ante terminum' by Thomas Tallis. There is a luminosity to The Gesualdo Six's sound that is incredibly uplifting. Hearing Gesualdo's 'Illumina faciem tuam', with its fascinating harmonies, next to a piece far nearer to us in time, Jonathan Seers's beautiful 'Look down, O Lord' only confirmed the elder composer's visionary status.
Fascinating to hear music by Owain Park, his setting of one of the earliest of all hymns, 'Phos hilaron' ('Hail, gladdening light'). Soft accompanying chords form a crepuscular halo supporting the countertenor Guy James's solo line. Dubai-based British composer Joanna Marsh composed 'Fading' as one of four Arabesques written for the King's Singers in 2015. In it she sets a text by Arab poet Abboud al Jabiri. A choral meditation on ageing, Marsh creates a poignant sense of the knowledge of the inevitability of time. Again, careful placing at once re-perspectivises Byrd's 'Lullaby' while, here, allowing it to appear as a sort of extended coda to the Marsh.
Described as 'the acme of the Franco-Flemish style' by Michael Craddock, the baritone of the group, Gombert's 'Media Vita' comprises six completely independent lines, all petitioning God not to deliver the supplicants into the 'bitter pains of death'. The achievement of The Gesualdo Six was to shape the piece so perfectly, relishing every example of 'false relations' to the fullest. From six independent lines to one: Hildegard's 'O Ecclesia', a reminder of the sheer beauty of this composer's melody in this hymn to Saint Ursula. And how the close dissonances of Arvo Pärt's 'Morning Star' take on added meaning after that solo line …  Pärt composed his piece for the 175th anniversary of Durham Cathedral – the piece sets a text inscribed above the tomb of St Bede in Durham Cathedral.
Using the singers to set up an atmosphere of whistling wind, Alison Willis's 'The Wind's Warning', a piece that won the 21 and over category of the Gesualdo Six' composition competition, sets a text by Ivor Gurney. A deliciously extended countertenor melody, memorably performed here by Guy James,
The next two pieces were for four voices: Veljo Tormis's 'Marjal, aega magadam' and Gerda Blok-Wilson's 'Little Rose, O Dark Rose'. They are on the surface contrastive, the gentle but slightly unstable Tormis next to the hushed Blok-Wilson, but both play with the emotive dissonance between peace and its destabilisation.  Differing versions of a fading of the light inform the final two pieces: Luca Marenzio's powerful 'Potrò viver io più se senza luce' and the internally lite 'Abendlied' of Josef Rheinberger. Clearly informed by earlier choral thought (and hence linking nicely to the Marenzio), Rheinberger's piece has a voice of its own, its close wrought with profundity.
Much of this programme will be familiar to anyone who has bought the Gesualdo Six's Hyperion disc, Fading.
Colin Clarke
For more about VOCES8 Live from London click here.