Australia The Australian Ballet's The Merry Widow (based on the operetta by Victor Léon and Leo Stein with music by Franz Lehár): Dancers of The Australian Ballet, Opera Australia Orchestra / Paul Murphy (conductor). 9.5.1018 performance (directed for the screen by Simon Francis) from The Joan Sutherland Theatre, Sydney Opera House, and new to Sky Arts on 2.8.2020. (JPr)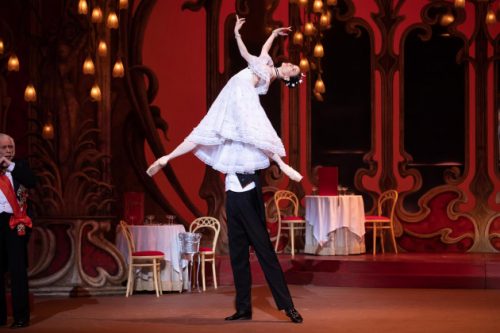 Production:
Music arranged and orchestrated by John Lanchbery
Scenario – Robert Helpmann
Choreography – Ronald Hynd
Costume and set design – Desmond Heeley
Original lighting design – Francis Croese
Cast included:
Hanna – Amber Scott
Count Danilo – Adam Bull
Valencienne – Leanne Stojmenov
Camille – Andrew Killian
Baron Zeta – Steven Heathcote
Njegus – David McAllister
It was the summer of 1976 (and at the London Coliseum, I suspect?) that I first saw The Australian Ballet dance The Merry Widow, their first full length original ballet, then not yet a year old. I remember very little of it, but what has stuck in the memory is when the 'Merry Widow' herself, Hanna Glawari, made her first appearance on an extravagant curling staircase which is part of Desmond Heeley's resplendent costume and set designs that atmospherically – if slightly cartoonishly – conjure up the glories of La Belle Époque. Why do I only remember this? Probably because that figure moving elegantly down that staircase in her glittery black gown was none other than Dame Margot Fonteyn making a special guest appearance with the company. Against all the other – often more garish – colours on stage, Hanna's appearance in black makes her out as the worldly-wise woman anyone familiar with the original operetta knows she is.
This revival was dedicated to Heeley who died in 2016 and, truthfully, his designs did make me think of the sets and costumes for the Marx Brothers's Duck Soup. Heeley's Parisian embassy for the poverty-stricken Balkan principality of Pontevedro reminded me so much of the presidential palace of the equally impoverished Freedonia in that wonderful 1933 comedy film that also features a 'merry widow', Margaret Dumont's Mrs. Teasdale.
For this ballet version of Franz Lehár's 1905 operetta, most of the original romantic entanglements and farcical elements of Victor Léon and Leo Stein's adaptation of a comedy by Henri Meilhac have been kept intact in Robert Helpmann's scenario. In place of all the business with a fan belonging to Pontevedrian Ambassador Baron Zeta's errant wife Valencienne, the key prop now is a large reddish handkerchief that Hanna once gave Count Danilo. We see this onstage in an Act I dry ice-infused dream-like sequence as Danilo meets Hanna (in a dirndl) for the first time and is given the handkerchief as a keepsake. Quoting Shakespeare 'The course of true love never did run smooth' and in typical romcom fashion there are a number of pitfalls to Hanna and Danilo's reunion. Running parallel to this are the secret assignations between the French attaché Camille de Rosillon and Valencienne. If you are new to The Merry Widow, I would suggest it would be good to read a detailed synopsis as only then will you really know who is who and what's going on.
It is all extremely good-natured and conspires to keep the pairs of thwarted lovers from getting together until the very end. Act II is set in the gardens of Hanna's villa and there are some joyful national dances. In the background is a small pavilion which allows – after an extended duet – for some discreet canoodling between Valencienne and Camille before they are discovered; though by that point Hanna has swopped places with Valencienne. The best is left until last with the extravagant, bright red, Act III Chez Maxime set with its gleaming mirrors at the back reflecting all the gaiety and colourful costumes it showcases, as well as, the Art Nouveau lights hanging down from above. Providing something of a colour contrast are the men in their top hats and tails, the cancan dancers in tangerine, and Hanna now appears as an ostrich-feathered vision in white. After a deeply poignant pas de quatre (almost a pas de cinque if you include Baron Zeta), Valencienne is reconciled with her husband, whilst the Baron seems to welcome Camille into something of a ménage à trois. It will not be long before the curtain falls on Hanna and Danilo finally kindling their romance to the familiar strains of the 'Merry Widow Waltz' as – Shakespeare again! – 'All's Well That End's Well'.
John Lanchbery and Alan Abbott adapted the score of the operetta for ballet and retained the style of Lehár's original orchestration. The arrangement includes nearly all of the well-known tunes and we hear 'Da geh' ich zu Maxim' ('I'm Off to Chez Maxime') and the 'Waltz' very early in the first act and then Danilo begins a reflective adagio solo to the famous 'Ich bin eine anständige Frau' (known as 'Vilja Song') before he waltzes with Hanna as he remembers their first meeting. Birmingham Royal Ballet's Paul Murphy was the experienced guest conductor of the Opera Australia Orchestra, and – as heard through TV speakers – the music sounded as if it sparkled and was as light and frothy as you could expect any performance of The Merry Widow to be.
Whether Ronald Hynd's choreography has aged as well as Heeley's designs, Lehár's music, and he has at 89 years young, I am not so sure. Clearly, it has all been lovingly restaged with the help of Marilyn Rowe (Australian Ballet's first Hanna) and choreologist Mark Kay. The lasting impression of Hynd's steps is of a Slavic feel, with emphasis on the mazurka, polka, and csárdás. However, in place of the natural rise and fall of the waltz, Hynd has interpolated repetitive lifts – to increasingly diminishing returns – for the ballerinas throwing their heads back. In addition, we get lots of arms raised, legs in attitude, and spinning.
Sadly, neither Amber Scott (Hanna) nor Adam Bull (Danilo) created a living, breathing person, however accomplished their dancing was. Truthfully, Bull was too tall for Scott and it made some of their partnering look a little more awkward than it should have been. Therefore, without all the insouciance and charisma his character required, the long-limbed and athletic Bull impressed more in his solo moments. Scott imbued her Hanna alternately with what-might-have-been wistful regret, or the joie de vivre of a life lived to the full. Scott and Bull excelled in their joyful Act II pas de deux though whether Fonteyn in her late fifties skittered around the stage in 1976 with as much aplomb as Scott, I have my doubts.
Leanne Stojmenov and Andrew Killian were the secondary couple in this girl loses guy/girl gets guy ballet; Valencienne and Camille. They are flirting from the very first moments they are together on stage in Act I and these lovers probably get the most lyrical and romantic pas de deux in the whole ballet at the end of the first act, which Stojmenov and Killian perform superbly. It also falls to Stojmenov to catch the eye during the final act with some balletic fireworks – that Hynd's choreography generally lacks – and this fine classicist impressed with her rock-solid fouettés.
The good news is that the entire company embraced the spirit of The Merry Widow with evident gusto and made watching it fun. Another standout dancer was Luke Marchant who showed his explosive virtuosity during the Act II folk dances before camping it up at Chez Maxime as the overly officious maître d'. Luxury casting saw The Australian Ballet's artistic director David McAllister in the role of private secretary Njegus and ballet master Steven Heathcote as Baron Zeta. These roles are not particularly well-developed by Hynd and Njegus was a bit of a bland jobsworth and Baron Zeta a one-dimensional, cuckolded old buffoon
Jim Pritchard
For more news about The Australian Ballet click here.