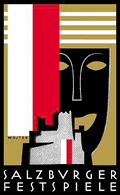 Austria 100th Salzburg Festival – Tchaikovsky: Anna Netrebko (soprano), Yusif Eyvazov (tenor), Szilvia Vörös (mezzo-soprano). Mozarteum Orchestra Salzburg / Mikhail Tatarnikov (conductor). 25.8.2020 performance from the Grosses Festspielhaus, Salzburg, reviewed on ARTE Concert. (JPr)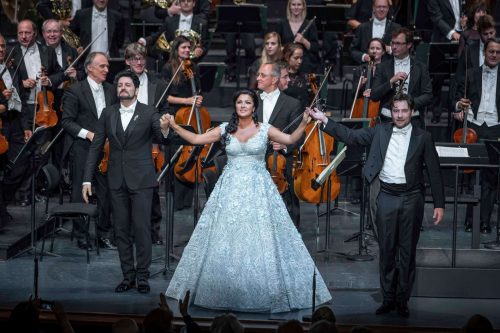 Tchaikovsky 
Introduction; Scene and Duet 'Ostanovites', umolyayu vas' ('Stay, I beg of you!') (The Queen of Spades) – Anna Netrebko, Yusif Eyvazov, and Szilvia Vörös
'Rose Adagio' – The Sleeping Beauty
Tatyana's Letter Scene – Anna Netrebko; 'Kuda, kuda vy udalilis' ('Where, oh where have you gone') – Yusif Eyvazov; Polonaise (Eugene Onegin)
Duet 'Tvoe molchan'e neponyatno' ('I do not understand your silence') – Anna Netrebko and Yusif Eyvazov (Iolanta)
Anna Netrebko and her husband, Yusif Eyvazov, are not keeping idle now there are increasing opportunities to perform live to audiences in selected countries in Europe and elsewhere in the world. Pioneering this recently was the 100th Salzburg Festival that went on throughout August with a strict testing regime, social distanced audience, some mask wearing, and short interval-less concerts. These were broadcast in various ways or streamed with or without a paywall giving opportunities to those – like myself – who had never been to the Salzburg Festival before to experience something from it and have their 'wish I was there' moments.
The free concerts on ARTE Concert (click here) are still available – many for several further weeks – and this all-Tchaikovsky concert (directed for TV by Elisabeth Malzer) can be viewed until 29 September.
I understand from what I have read elsewhere that this event was planned rather hastily and for the audience in the Grosses Festspielhaus there were no translations available in the programmes, nor I guess any surtitles. One of the downsides to ARTE Concert is – unless I am missing something – the lack of subtitles. Not such a problem in more familiar mainstream fayre, but for duets and arias in Russian this was a slight drawback to an otherwise memorable 75 minutes.
The Mozarteum Orchestra Salzburg announced themselves as an accomplished ensemble in the scene-setting 'Introduction' to The Queen of Spades that revealed all the brooding dark hues of Tchaikovsky's music with its ominous undercurrent that was – of course – a recurring feature of nearly all we heard during this truly gala occasion. Given the absence of a translation the lengthy conclusion to Act I was a little difficult to follow without a detailed knowledge of the opera. Apparently, Liza is singing about her unhappiness over her engagement to Prince Yeletsky. There has been a brief encounter with Herman in the park that has stirred something in her. To her surprise, Herman appears on her balcony claiming he is will shoot himself because of her betrothal to another and he begs Liza to take pity on him. Having hidden Herman, Liza opens the door to the old Countess, who tells her to shut the windows and go to bed. After the Countess has gone away, Liza implores Herman to leave but is betrayed by her feelings and the two embrace. I hope this this helps anyone still to watch this concert.
Anna Netrebko appeared almost subliminally to the side of the orchestra and throughout the evening she would proceed to roam around the platform, not in diva mode but totally in character and fully expressing all the meaning of what she was singing about, even if you didn't know any Russian. Netrebko has a captivating stage presence and her voice is beautiful, touchingly expressive, characteristically dark, with the lustre and amplitude of her sound is something to marvel at … and celebrate. Throughout The Queen of Spades extract – and in everything she sang – Netrebko was totally engaged with the music. Of course, the chemistry between this Liza and Herman (when he appeared) was palpable and a slimmer-than-ever Eyvazov continues to impress with his ardent, sturdy tenor, refined legato, and reliable top notes. Kudos to Szilvia Vörös who did not seem overawed in her brief vignette as the Countess. The passion was ramped up to such an extent that Netrebko and Eyvazov ended in each other's arms having a full-on snog, thank goodness they are married!
Netrebko's solo moment was Tatyana's Letter Scene from Eugene Onegin. No guessing that we fully believed that Netrebko was pouring her feelings out in a letter to Onegin. Revealing she loves him and can never feel that way about anyone else, begging him to understand and hoping he reciprocated. Watch this if you can, not just for the splendour of Netrebko performance, but for the subtle harp intro and the virtuosic playing of oboist Isabella Unterer and horn player Rob van de Laar.
Eyvazov's opportunity to shine came with Lensky's aria when fearing death, his life flashes before his eyes and he recalls past times and his love for Olga. Eyvazov's singing – if I can be permitted a minor criticism – is occasionally too introspective though here he was at his most impassioned and thoroughly deserved the thunderous ovation he received at the end.
Netrebko and Eyvazov ended with the love duet from Iolanta and perhaps – because this is a rather odd one-act work – the lack of the words in English didn't seems such a hindrance. The synopsis of what we heard was something like: Iolanta, a princess, awakes and Count Vaudémont, who has asked her to give him a red rose as a keepsake, realises she is blind when she twice proffers a white one. Iolanta does not understand light, vision, or blindness. After Vaudémont explains this all to her, they fall in love. I totally 'bought into' all this hokum and it was a triumphant ending to the concert with both voices ringing out at their absolute best. To finally prove that Netrebko had eschewed all sense of 'showing off' just witness how sensitive – in totally keeping with the story – Netrebko's acting was at the close of the duet as her hand most affectingly searched for her lover's – in this case, husband's – face.
Throughout. Mikhail Tatarnikov brought out the best from the Mozarteum Orchestra Salzburg and did not overly indulge his soloists which was good to see and hear. The orchestra shone in their non-vocal contributions. A(nother) spellbinding harp intro ushered in The Sleeping Beauty's 'Rose Adagio' which was given a sparkling performance, yet was full of intricate musical details. Later, there was a rumbustious and exhilarating Eugene Onegin's Polonaise that really challenged the musicians because of a very brisk tempo (or so it seemed to me).
Jim Pritchard