United Kingdom BBC Proms Live – Last Night of the Proms: Golda Schultz (soprano), Nicola Benedetti (violin), BBC Singers, BBC Symphony Orchestra / Dalia Stasevska (conductor). Broadcast live (directed for TV by Matthew Woodward) from the Royal Albert Hall, 12.9.2020. (JB)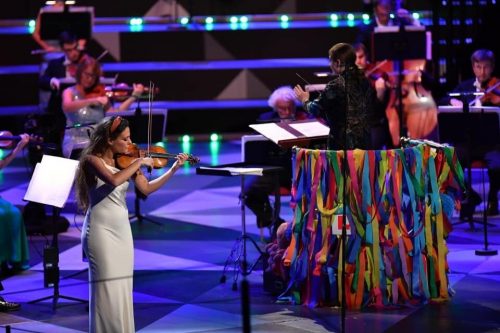 Mozart – The Marriage of Figaro (Overture); 'Deh vieni, non tardar'
R. Strauss – 'Morgen!'
Andrea Tarrodi – Solus (BBC commission: world premiere)
Sondheim – A Little Night Music – Night Waltz; 'The Glamorous Life'
Sibelius – Impromptu for strings
Vaughan Williams – The Lark Ascending
Errollyn Wallen – Jerusalem – our clouded hills (BBC commission: world premiere)
Henry Wood – Fantasia on British Sea-Songs (i. 'The Saucy Arethusa', ii. 'Tom Bowling', iii. 'Jack's the Lad', iv. Sequence of sea songs from around the UK v. 'See, the conqu'ring hero comes', vi. 'Rule, Britannia!')
Elgar – Pomp and Circumstance March No.1 in D major, 'Land of Hope and Glory' (arr. Anne Dudley)
Richard Rodgers – Carousel – 'You'll never walk alone'
Parry – Jerusalem
Unknown – The National Anthem (arr. Britten)
The old adage of taking the horse to the trough was very much to the fore at the Last Night of the Proms. Let no one ever forget that the Proms were an 'Auntie' BBC invention. Or that she was doing a damned good job. Even Boris Johnson intervened in the excitement (who he? Ed) For all its finer points, there were moments that felt like a last night of prompts. Read on.
O dear Auntie! Is it possible that no one has told you that to be all things to all men you have to be called Paul, be slightly pissed while pretending not to be, while toddling down the road toward Damascus and suddenly, shockingly, realising everything you believed in was utter nonsense, and so substituting it with another outrageous load of enthusiastic nonsense. Then there was the business of being a citizen of no mean city which he mentions in all his publicity letters to the Boroughs of the time: Corinthians, Romans, Ephesians, and others. Today that would be a bit like being a Cardinal in the Vatican City.
Still, the Last Night of the Proms (LNP) has always been about celebration. Lots of that to report on. As well as daftness. Not short on that either.
The BBC Symphony Orchestra was shrunk to 65 from its usual 300. Then spread across an augmented Royal Albert Hall (RAH) platform for social distancing with BBC Singers fanned out in front of the band. Though that was not entirely clear. Anyway, that all looked great. Except the men need to lose some weight in both band and chorus. I too need to join them myself in this discipline!
Dalia Stasevska who is Finnish and young, and the BBC Symphony Orchestra's Chief Guest Conductor, was on the podium for the night and conducts with her whole body. She's tiny and hyperactive. Which is fine: orchestras need something to keep their mind on the music or they get bored. And whatever else this concert was, it was not boring. Did I mention that Auntie likes to keep LNP young?
The concert began with what the BBC call The Marriage of Figaro (Le nozze di Figaro) Overture, neatly and nicely played by the Orchestra with Dalia Stasevska bouncing all over the place. Then followed the Countess's aria, 'Deh vieni, non tardar' – a real sod of an aria because Mozart (wicked sense of humour) wanted to punish the soprano because he hated her. South African soprano, Golda Schultz, embraced this punishment heroically. Truly. No kidding. She sounded pained as well as giving – exactly what Mozart prescribes. She then sang a number from Stephen Sondheim and that too was velvety. We're told that Sondheim celebrated his ninetieth birthday in March and is threatening to write another musical. Fasten your seatbelts for that.
Then came Golda Schultz's greatest moment of the evening when she sang Richard Strauss's 'Morgen!' which could have been written for her beautiful voice, straight from her heart to yours. The Reverend Richard Coles, who was in a box with Adjoa Andoh and long-time Proms presenter, Katie Derham (best hairdo and dress) reminded us that this poem had been set to music as a birthday gift for the composer's wife. Strauss's lines seem unending and Ms Schultz's melodic line sounded richly effortless and without anything so clumsy as control. Magnificent.
Auntie had the very bright idea of linking through Zoom various households who were tuned into the programme. Some were both ear- and eye-catching. One such was Jacob Collier with his mum, Suzie. Jacob is the most beautiful young man you ever saw, with amazing bone structure and great natural charm to go with it. He hit fame as a treble, especially when he sang Miles in Britten's The Turn of the Screw. Even at that prepubic age he was stunned how Britten could change through harmony an ordinary sounding phrase into an extraordinary sounding one. Encouraged by his mum, he began to experiment with composition. Suzie is a violinist, conductor, and educator. Jacob has two elder sisters. An extraordinary and seemingly happy household.
Another Zoom contributor is David James, ex-Liverpool football player. (I confess that I am the President of the Royal Society for the Prohibition of Talking About Football: just made that one up). However, I really do reach for the programme-change zapper at the first mention of football. But David looks like he would be an ideal pub pal – quietly introvert but with buckets of charm. And besides, his left hand is clutching the neck of a cello that he says that now he is through with football (cheers!) he wants once again to take up this instrument and get better at it (two cheers!).
A stroke of near genius from Auntie was to regularly connect us to the nearby gardens of the Royal Hospital Chelsea where the whole kerfuffle was shown on a giant screen to an invited audience – I am not clear who issued the invitations – including the Chelsea Pensioners themselves, some of whom of course are survivors of WWII. They looked none too pleased at the treatment of Jerusalem – more of which in a minute.
Nicola Benedetti gave a most moving account of Ralph Vaughan Williams's The Lark Ascending, a violin concerto based on George Meredith's pastorale poem. The whole concerto is based on a fragment of a few notes which then get variation treatment. In the wrong hands this can get bogged down into dull repetition. Not so with Ms Benedetti: the loving care with which she led us from one RVW phrase being woven into another was breathtaking. She sounded as though she was making it up.  And I can think of no better phrase to describe her magic. I have made a note to watch out for other opportunities to hear her amazing command of her instrument.
Henry Wood was the founder of the Proms. This was the man who introduced England to music from 'abroad'. He had a missionary zeal to create an audience for music which they didn't know. That included most music! And radio was not in full swing when he began. But following good advice from his impresario friends he would offer (i) music the audience would probably know with (ii) music they might know and most daringly (iii) music they probably wouldn't know. The trick was to balance the three categories. He gradually filled the Queen's Hall (bombed in WWII), then with the arrival of the BBC programming the concerts really began to pay. Interestingly, he insisted that the players tuned their instruments at European pitch which was a semitone lower than English pitch. So, he found a wealthy sponsor to subsidise instrumentalists who couldn't afford this change. No wonder he was eventually rewarded with England's CH – Companion of Honour – the country's highest recognition (long after his knighthood). Jacob Collier and mum would have been in their seventh heaven too. They waved their flags at the mention of his name.
 Sir Henry's arrangements in a suite of British Sea Songs has not dated. That is because they were dated at the time of composition. Like his much younger contemporary, Benjamin Britten, he knew that by twisting the harmonies of the well-known and peppering new harmonies with some witty instrumentation, you would be going straight to the hearts of your audience. (Writing this, it occurs to me to ask are Henry's Sea Songs where Ben got the harmony/instrumentation knack?)
I have to thank Lady Trombone for being aboard 'The Saucy Arathusa' as well as Lady Cello for quietly keeping 'Tom Bowling' in line. And the whole band for that rousing 'See, the Conqu'ring Hero Comes'. That's where Sir Henry pulls out all his mischief stops.  It would take a perverse listener to read anything politically incorrect into these Sea Songs. Jacob Collier and mum must have been on their second visit to their seventh heaven.
The Swedish composer, Andrea Tarrodi, was commissioned to write a new piece, given its world premiere at this Prom.  In a video link, she calls it 'Solus' which incorporates Latin for sun as well as soul. She said she wanted to incorporate eternity as well as the specificness of today. Does she succeed with these awesome demands she set herself? As you might expect, the answer is what it has to be: both yes and no. That is what must inevitably happen when you explore eternity with the present moment. There is a very good time for all the percussion players, laid out across the huge space. Social distancing really helps in this situation. The wind parts are imaginatively written using the whole array of mutes these players can call upon. The bassoon has been much abused in classical music by being cast as the clown of the orchestra. Admittedly it does make a good clown. But its mellowness gives it its unique expression. And that is particularly true of the double bassoon. Lady double bassoon looked at though she was having a wonderful time. Thank you, Andrea Tarrodi for your exploration. And thank you BBC for inviting her.
Sibelius's Impromptu for Strings keeps us up in that rarefied, icy atmosphere, but Sibelius causes us to hear that the ice also has its unique glow of warmth. I came late in life to the genius of Sibelius. Aware of my ignorance, William Walton thrust into my hands a box of Sibelius symphonies. Give me a call when you've listened to these my boy he said, adding They have been a constant inspiration to me. Well to me too William, as I opened my ears to what was a new experience. This Impromptu was originally a piano piece, later rearranged for strings. The BBC strings with their excellent Finnish conductor were spot on. I was only sorry that we couldn't have an encore with the moving pathos of Sibelius's Valse Triste.
Daftness took over for the final part of the Prom, saved only by Ben Britten.  I hd forgotten that 'Rule Britannia!' drags on for three or four verses. Or that it involves the evening's solo singer as well as the chorus. At least when Bryn Terfel sang in 1994 and 2008, he sang the second and third verses in Welsh. Democracy momentarily restored. Does anyone know the English words to those second and third verses? Come to think of it, that would be a good question for a pub quiz. No one will probably ever boom out this trash like the Voice of the British Empire herself, Dame Clara Butt.  Her recordings will set   modern stereo on fire. Which is a kind of fun. I don't know if she ever sang at a Prom. If so, it would have been a challenge to the hall!
There were a number of disasters during the evening, but the top booby prize has to go to Anne Dudley's reorchestration of Elgar's Pomp and Circumstance March No.1. Now it's true that Elgar didn't always get his orchestrations right. My own orchestration master, Henry Geehl, was working as a reader for Novello music publishing. Elgar had submitted in the adagio of a solemn movement, a tune which he marked for tuba solo. Mr Geehl got on the phone to the composer to see if this is really what the composer wanted. The tuba has a distinctly lavatorial sound when you play it with its mute. Who the hell are you? roared Elgar. Mr Geehl explained he was the reader at the publishing house. When I write something that is what I mean thundered Elgar and slammed the phone down. The young reader couldn't wait for the premiere. Sure enough on the arrival of tuba con sordino a titter went round the audience, convinced that Elgar wanted some brand of mocking humour. Con sordino was removed from subsequent editions of the score.
Henry Geehl would have covered Anne Dudley's reworking with quite a lot of blue pencil. Elgar himself was unhappy with the attachment of A.C. Benson's words to his march. The librettist was a close relative of the Archbishop of Canterbury and thus more powerful than the modest composer. The Elgar tunes are dignified and noble in their quiet way, but if you lift them above mezzo forte you enter the world of vulgarity with nobs on. Poor Elgar. No respect.
Hubert Parry may be a minor composer, but William Blake is a major poet. Suffice it to say that Jerusalem got buried under more intolerable trash from Errolyn Wallen's instrumentation: totally unfocused in a hymn which is all about focus.
However, the evening ended with Britten's arrangement of the National Anthem, which begins as a quiet prayer for our Queen and rises slightly to extoll that good lady's graciousness. And one or two of those Britten twisted are-you-still-listening? harmonies. I fancy Her Majesty would have approved
The Last Night of the Proms is available on BBC iPlayer.
Jack Buckley