Germany Met Stars Live in Concert [5] – Joyce DiDonato in Bochum (a second review): Joyce DiDonato (mezzo-soprano), Carrie-Ann Matheson (piano), Il Pomo d'Oro. Live stream (directed by Gary Halvorson) from Jahrhunderthalle, Bochum, Germany, 12.9.2020. (RP)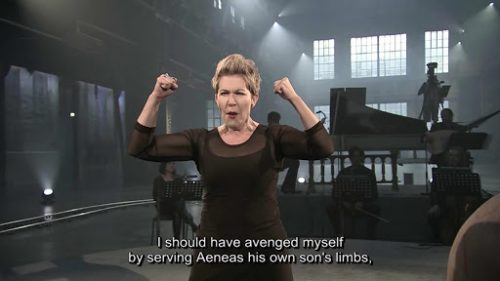 Monteverdi – 'Addio Roma' (L'incoronazione di Poppea), 'Illustratevi, o cieli' (Il ritorno d'Ulisse in patria)
Berlioz – Didon's Final Scene (Les Troyens)
Mahler – 'Ich bin der Welt abhanden gekommen' (Rückert-Lieder)
Donizetti – 'Deh! tu di un umile preghiera' (Maria Stuarda)
Trad. – 'Oh Shenandoah'
Handel – 'As with rosy steps the morn' (Theodora), 'Dopo notte atra e funesta' (Ariodante)
Kenyatta Hughes – 'I Dream a World' (arr. Craig Terry)
Cesti – 'Intorno all'idol mio' (Orontea)
Mozart – 'Voi che sapete' (Le nozze di Figaro)
Louiguy – 'La vie en rose' (arr. Craig Terry)
Ginestera – 'Canción al árbol del olvido' Op.3 No.2
Rogers & Hammerstein – 'You'll Never Walk Alone' (Carousel) (arr. Craig Terry)
Joyce DiDonato has afforded me two memorable musical experiences over the past six months of streamed performances (something that I had the luxury of avoiding until lockdown). First, there was her Romeo in Bellini's I Capuleti e i Montecchi from Zurich; and now an extraordinary offering presented by Met Stars Live in Concert, in which music, art, architecture, lighting and video united to create a singular experience for the viewer. Wagner coined a word for what was accomplished: Gesamtkunstwerk.
Just settling on a location was an indication of how uncertain life is at the moment. DiDonato originally planned on performing in Barcelona, where she lives, but a recent spike in COVID-19 cases there made it impossible. The next choice was gallery space near Antwerp, offered by her friend Axel Vervoordt, the Belgian interior designer and antique and art dealer, until it too became a hot spot for the virus.
Ultimately, DiDonato performed in the Jahrhunderthalle in Bochum in the Ruhr Valley, which was once the industrial heart of Germany but whose mining and steel industries are long gone. The complex, a former power plant with towering ceilings, massive windows and an exposed structural skeleton, has been transformed into a cathedral of culture,
For this concert, a stage was created which was dominated by clay spheres that are the work of Bosco Sodi. The Mexican artist is known for revealing the emotion imbedded in the natural materials in his large-scale creations. These orbs contributed an other-worldly atmosphere for the most sublime moment of the concert: Mahler's 'Ich bin der Welt abhanden gekommen', which was stunning for its simplicity and depth of emotion.
The three-part program – Loss and separation; The restorative power of nature; Unity and love – permitted DiDonato to perform in a variety of styles, ranging from the beginnings of opera as an art form to a song composed specifically for this concert. In arias of Monteverdi and Handel, she was accompanied by the excellent Baroque troupe Il Pomo d'Oro, with whom she recently recorded Handel's Agrippina. Her appearance in the title role of the opera was one of the highlights last season at the Met. Carrie-Ann Matheson was as emotive as DiDonato as she accompanied her on the piano in other arias and songs.
DiDonato sang the role of Sister Helen Prejean, C.S.J., in Jake Heggie's Dead Man Walking at the Houston Grand Opera in 2011, and she is scheduled to reprise it for the Met next year. The libretto is by playwright Terrance McNally, who died of complications from COVID-19 this past March. DiDonato conducted a short interview with Sister Helen in which they were joined by Kenyatta Hughes who, with just a two-week notice, composed a song to the Langston Hughes' poem 'I Dream a World' that was included in the program.
Sister Helen expressed gratitude for her story being turned into an opera, calling it the fullest art form that we have. This woman, who has been with countless men in their final moments awaiting execution, sent the message that violence doesn't solve human problems but only creates more divisions. Kenyatta Hughes was behind bars in New York's Sing Sing Correctional Facility for 13 years, questioning whether there was anything worth salvaging in him. Music answered that question.
DiDonato began with Ottavia's farewell to Rome in Monteverdi's L'incoronazione di Poppea. It was if the singer was struggling to even make a sound as she began to give voice to the lament. She ended with 'You'll Never Walk Alone' from Carousel, which is fast becoming one of the anthems of these difficult days. In between came much remarkable singing in a fascinating array of works, including 'Voi che sapete' from Le nozze di Figaro, the role in which DiDonato made her Met debut 15 years ago.
These are no ordinary times, and as DiDonato said there is no handbook to guide the performing arts going forward. When Peter Gelb and Christine Goerke appeared together without face masks in the video booth, Gelb explained that they had both tested negative in the last 24 hours. One constant throughout the Met Stars Live in Concert series, however, has been a Rolex advertisement that I never tire of seeing. It has the same classic style and content that the company has employed for years in advertising its products and championing the arts. Opera lovers the world over are indebted to Rolex for its commitment to the Met at a time when it is most needed.
Rick Perdian
For more on Met Stars Live in Concert click here.