United States From Stage to Screen: The Show Must Go On(line) – Various composers: Berkshire Opera Festival, streamed from 29 August to 4 September 2020. (RP)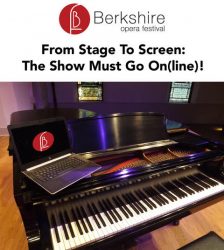 Mozart – 'Mi tradi' (Don Giovanni), 'O wie will ich triumphieren' (Die Entführung aus dem Serail)
Bellini – 'Vi ravviso, o luoghi ameni' (La sonnambula)
Puccini – 'Che gelida manina', 'O soave fanciulla' (La bohème)
Wagner – 'Du bist der Lenz' (Die Walküre)
Luna – 'De España vengo' (El niño judio)
Korngold – 'Mein Sehnen, mein Wahnen' (Die tote Stadt)
Rodgers – 'Some Enchanted Evening' (South Pacific)
Performers:
Sopranos – Joanna Latini, Natalia Santaliz, Laura Wilde
Tenor – Joshua Blue
Baritone – Brian James Myer
Bass-baritones – André Courville, John Cheek
Bass – Erik Anstine
Pianists – Christopher Koelzer, Ernesto Busigó, Michael Sherman, Carol Wong
Every cancellation hurts, but some just cut a little deeper. Berkshire Opera Festival should have been celebrating its fifth anniversary season this summer with a fully staged production of Mozart's Don Giovanni and a gala concert to mark the milestone. BOF Co-Founders Brian Garman and Jonathon Loy, Executive Director Abigail Rollins and their entire team had some tough calls to make as their options vanished even as Massachusetts emerged from lockdown. Originally, there were hopes that it would be possible to mount a semi-staged, concert version of Don Giovanni, but that was not to be.
An online performance – From Stage to Screen: The Show Must Go On(line) – was all that could be salvaged for this season. Hosted by Garman and Loy, the hour-long concert featured the singers who were to have appeared in Don Giovanni singing pieces filmed in their homes or BOF's home base at St. James Place in Great Barrington. It was fast-paced, full of exciting singing and at times remarkably intimate.
The only nod to what might have been was Joanna Latini singing 'Mi tradi', Donna Anna's bravura aria from Don Giovanni, which she did with dramatic urgency and melting lyricism. Laura Wilde was exultant in 'Du bist der Lenz' from 'Die Walküre'. Straying a bit from the operatic beaten track, Natalia Santaliz sang 'De España vengo' from the zarzuela El niño judio, in which she combined beautiful singing with the aura of a glamorous recording artist.
André Courville not only displayed his fine bass-baritone in 'Vi ravviso, o luoghi ameni' from La sonnambula, but also accompanied himself on the piano. From an apartment in Philadelphia, baritone Brian James Myer sang what has to be one of the loveliest arias ever written for lyric baritone, Pierrot's Tanzlied from Korngold's Die tote Stadt. The intimacy of the setting was perfect for the bittersweet emotions invoked by Myer.
Bass Erik Anstine sang a smooth, rich-voiced 'Some Enchanted Evening' from South Pacific, reminding the audience that it was the great Ezio Pinza who created the role of Emile de Becque and made the song a hit. Whether intentional or not, his choice highlighted a link between BOF and the great Italian basso: Loy was a protégé of Claudia Pinza, who had a brief career as an operatic soprano and an even longer one as a voice teacher in Pittsburgh.
Veteran basso John Cheek was to have performed the role of the Commendatore in Don Giovanni, but instead he gave a deliciously sinister account of Osmin's rage aria from Act III of Die Entführung aus dem Serail.
It must be something in their DNA, but tenors seem to embrace the realm of digital performance, and Joshua Blue was no exception. Some young artists' programs have included sessions on how to prepare for a digital audition. My immediate reaction is just ask a tenor. Blue's 'Che gelida manina' from La bohème was full of passion, molten sound and soaring high notes. It was the same when he and Latini joined forces for 'O soave fanciulla' from the same opera to conclude the concert. What a Don Ottavio he would have made.
When I returned to the US in 2018 after more than 15 years living abroad, any number of singers, press people and others in the know urged me to get to BOF's production of Rigoletto that summer. I did, and I returned last year for its wonderful Don Pasquale. If any small opera company is living up to its mission statement, it is BOF: it entertains and enriches the lives of people of all backgrounds throughout the Berkshire region by providing accessible and affordable performances of a broad range of operas with the highest artistic standards.
In this digital age, however, Garman and Loy should adjust their sights. A global audience is out there, eager for BOF's musically and dramatically compelling productions.
Rick Perdian
For more about the Berkshire Opera Festival click here.