United Kingdom Poulenc, Roussel, Mahler, Bridge, and Chilcott, Dame Sarah Connolly (mezzo-soprano) and Malcolm Martineau (piano): 16.9.2020 performance reviewed as a live stream (directed by Calum Wyllie) from the Wigmore Hall, London. (JPr)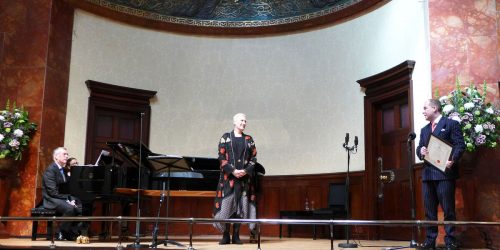 Poulenc – Banalités
Roussel – (Deux mélodies Op.20) No.3 'Le jardin mouillé' Op.3; No.3 'Nuit d'automne' Op.8; No.1 'Le bachelier de Salamanque'
Mahler – (from Des Knaben Wunderhorn) – 'Rheinlegendchen'; 'Das irdische Leben'; 'Wo die schönen Trompeten blasen'; 'Urlicht'
Bridge – (from 3 Songs of Tagore) – 'Day after day'; 'Speak to me my love'
Bob Chilcott – (from Sky Pictures) – 'Cloud Language'; 'Cloud River'
As we must now face the facts that classical music will never return to 'normal' for the rest of 2020 and – I suspect – most of the beginning of next year, watching in online will increasingly be the new normal. So, it was a great pleasure to look in at Sarah Connolly's return to the Wigmore Hall for the first time in over a year and looking fully restored to health after overcoming a cancer scare. Connolly is a singer with a social conscience, and it is to be expected that her programme would perhaps tangentially reflect the world as it currently is. What that actually is was only too clear with a small audience dotted around the Wigmore Hall and all wearing masks. The oddest outcome of all this was – as the BBC Radio 3 announcer revealed – that 'There'd normally be text and translations for the audience in the hall but due to the pandemic precautions they can't give out song sheets'. Seriously?? (Perhaps an epidemiologist will send a comment to explain this to me?) Oddly, this restriction appeared – at least for me – to afflict the Wigmore Hall's YouTube because there were no (working) subtitles though it was possible to download a pdf of the words from their website.
A significant moment in this concert was when John Gilhooly OBE (Director of the Wigmore Hall) presented Connolly with Honorary Membership of the Royal Philharmonic Society. This has been awarded since 1826 and presented 'in recognition of those who devote their lives to music, uplifting others in the music they create'. Amongst those who have received it ranges from Weber and Wagner to Dame Janet Baker and Stephen Sondheim. Gilhooly announced 'Today, on behalf the Society's Board and Advisory Council [as Chair of the RPS], we add Dame Sarah Connolly to this extraordinary roster … Your definitive performances in operas internationally are too many to mention and you are equally treasured of course in performances with the leading orchestras and on the recital platform. You are an outspoken champion for the value of music in our lives, for singers, and for a great many other causes.' Seen and Heard International adds our congratulations to that of the wider music world to Dame Sarah.
All Dame Sarah Connolly's remarkable qualities were (seen and) heard in this hour-long lunchtime recital of 16 songs in 3 languages. Connolly has the remarkable ability to not just sing the notes – as too many Lieder singer will only do – but convey true meaning and seemingly reveal a personal connection in the words she sings. Several times on this occasion Connolly appeared close to tears. Poulenc's Banalités opened the programme and her dark sounding mezzo voice was already in perfect focus for these occasionally tender and sad 1940 wartime songs to poems by Guillaume Apollinaire. Connolly took in her stride all Poulenc's mercurial shifts of mood. Particularly, there was a whiff of Gauloises to a slightly decadent 'Hôtel'; the gaiety of Parisian life to 'Voyage à Paris'; and 'Sanglots' ('Sobs') was suffused with a profound melancholy. Throughout it was as if Banalités was indeed a reflection of a lost world and this was highly appropriate for today if I'm not reading more into this than there was.
Three songs from Albert Roussel were equally interesting as the Op.20 ones were composed at the end of WWI and Connolly brought to 'Le jardin mouillé' ('Garden in the rain') and 'Nuit d'automne' ('Autumn night') a palpable sense of reminiscence and reliving happier memories. Malcolm Martineau is an accompanist who puts his singer in the spotlight and is content to be in the background most of the time, but he came to the fore with his tinkling accompaniment depicting the gently falling rain of the first song. 'The bachelor of Salamanca' – which tells of a soldier who risks jail by serenading a noble woman – challenged Connolly because of its rip-roaring nature but along with Martineau she clearly relished its rollicking rhythms.
More evidence of Connolly's virtues was apparent in a delightful rendition of Mahler's 'Rheinlegendchen' and she recounted the tale with wide-eyed innocence against Martineau's light-fingered treatment of the Ländler-inspired accompaniment. Connolly brought desperation and anger to 'Das Irdische Leben' which could not fail to resonate with its opening line of 'Mother, ah mother, I am starving' and ending with 'The child lay dead upon the bier'. Connolly brought something haunting and ghostly to the deep tragedy of 'Wo die schönen Trompeten blasen' with Martineau mimicking the trumpet calls. 'Urlicht' began with 'Man lies in direst need, Man lies in direst pain' as nearly every man, woman, and child in the world does at the moment so it brought this group to a supremely moving close.
Frank Bridge's Rabindranath Tagore 1922-24 diptych seemed lesser fayre compared to what had gone before. Because Connolly is undoubtedly a great singer-actor, 'Day after day' told of unrequited love and she brought yearning and passion to 'Speak to me, my love!'. Closing the programme were the premiere performances of Bob Chilcott's settings – written in lockdown – of poems by Charles Bennett. These will form a new song cycle written especially for Dame Sarah which is yet to be finished. 'Cloud Language' – I believe – began 'After a lifetime reading, I've started to see the sky as a blue page' and Bennett's texts are apparently 'weather-music'. Chilcott gives them a pastoral quality and it was all redolent of the impact of the human race on the environment and indeed 'Cloud River' included the line 'Breathe in, breathe out, how insubstantial we are'.
Jim Pritchard
Watch this on the Wigmore Hall's YouTube channel until 17 October. For more about events at Wigmore Hall click here.