United Kingdom Richard Strauss, Coleridge-Taylor, and Mahler, Elizabeth Llewellyn (soprano) and Simon Lepper (piano): Live-streamed (directed by Phil Glenny) from Wigmore Hall, London, 23.9.2020. (JPr)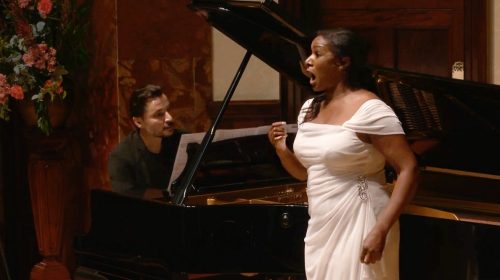 R. Strauss – 'Einerlei' Op.69 No.3; Acht Gedichte aus 'Letzte Blätter' Op.10 No.8; 'Allerseelen'; 'Nachtgang' Op.29 No.3; Acht Gedichte aus 'Letzte Blätter' Op.10 No.3; 'Die Nacht'; 'Ständchen' Op.17 No.2
Samuel Coleridge-Taylor – 6 Sorrow Songs, Op.57 – 'Oh what comes over the sea'; 'When I am dead, my dearest'; 'Oh roses for the flush of youth'; 'She sat and sang always'; Un mindful of the roses'; 'Too late for love'
Mahler – Rückert-Lieder
As much as I enjoyed Sarah Connolly's lunchtime recital last week (review click here) this one with British soprano Elizabeth Llewellyn making her Wigmore Hall debut was on another level because the extraordinary Simon Lepper proved himself to be a remarkable colleague. Lepper was not just content to pick at the notes – as some only will – but he impressively caught the mood changes of each and every song and throughout he was entirely on Llewellyn's wavelength and offered her insightful, energetic, and sensitive accompaniment.
Llewellyn began with a group of Richard Strauss songs, though her opening 'Einerlei' – surely a loving portrait of the composer's wife, Pauline – suffered just a touch from Llewellyn controlling her nerves. 'Allerseelen' ('All Souls' Day') saw her voice coming into better focus; it is a little sentimental but Llewellyn's closing 'Wie einst in Mai' was moving and – most importantly – beautifully controlled. Her soprano voice has the fullness and solid lower register Strauss demands and her interpretations – in good German – were confident and strongly characterised, exactly the way I like Lieder sung. 'Nachtgang' had a deep poignancy and Llewellyn brought some silvery tones to 'Die Nacht' which had a genuine feeling of unease.
The BBC Radio 3 announcer, Georgia Mann, explained how Samuel Coleridge-Taylor (1875-1912) 'was a significant figure in his own lifetime but who audiences today are only just getting acquainted with' and how the composer 'was descended from African-American slaves who were freed by the British and much of his success happened in the face of racial prejudice'. His 1904 6 Sorrow Songs 'were premiered in Croydon where the composer lived with his wife and two children'. Coleridge-Taylor made three extended visits to the United States between 1904 – when, in a rare event for someone of African descent, he met President Theodore Roosevelt – and his death. He was also nicknamed the 'African Mahler'. It was later written how during each trip 'he left young Negroes with new hope and broader vision' (Wendell Whalum, 1977).
Notwithstanding Coleridge-Taylor's commendable Black pride, his 6 Sorrow Songs are suffused with the perfumed lilt of Christina Rossetti's Pre-Raphaelite texts. 'Oh what comes over the sea' was plaintive and Llewellyn brought deep regret to 'When I am dead, my dearest' which ends with the lines 'Haply I may remember, and haply may forget'. 'Oh roses for the flush of youth' was elegiac, 'She sat and sang always' was full of wistful reminiscence with Llewellyn and Lepper performing it as one voice, and 'Unmindful of the roses' sounded suitably reflective. 'Too late for love' is the longest – and most sorrowful – of the six songs and Llewellyn brought intense sadness to words, such as, 'You should have wept her yesterday, wasting upon her bed: but wherefore should you weep today that she is dead?'.
The last Coleridge-Taylor song is mirrored by the music of the real Mahler where death is often a constant lurking presence. The Rückert-Lieder were composed during 1901 and 1902 to texts by Friedrich Rückert and were never intended as a cycle and so have no fixed order of performance. In the first song, 'Ich atmet' einen linden Duft', Llewellyn scaled down her glorious tone for the 'gentle fragrance' of 'Der Liebe linden Duft'. In 'Blicke mir nicht in die Lieder!' ('Do not look into my songs') the piano needed to buzz like mating bees, as Llewellyn sang 'When the rich honeycombs have been brought to daylight, you shall be the first to taste!' though this – surprisingly – possibly defeated Lepper. In 'Liebst du um Schönheit' Llewellyn's voice soared confidently up to the ecstatic final phrases, but what was even more remarkable were the long extended lines, for instance, at 'Liebe den Frühling' and 'Liebe die Meerfrau' in a most heartfelt rendition. 'Um Mitternacht' was sombre, telling as it does of the tragedy that was about to befall the soldier on watch. Llewellyn's 'O Menschheit' ('O Mankind') was redolently full of compassion and 'Herr über Tod und Leben' near the end was radiantly sung and rather transfigurative.
The most exquisitely beautiful of these songs – or possibly any song by any composer for that matter – is 'Ich bin der Welt abhanden gekommen' ('I am lost to the world'). It is remarkable how the music and poetry can express so much pain and suffering in such a serene – almost meditative – way and this heightens the emotions expressed. There was a spirituality to Llewellyn's singing that could only come from deep within herself. In fact, throughout the Rückert-Lieder there had been heartfelt sincerity and eloquence, with each song, as appropriate, fragrant, intense, flirtatious, or immensely moving. Overall, it was a deeply satisfying performance. In fact, so visceral was Llewellyn's 'Ich bin der Welt abhanden gekommen' that it was clear all concerned – soprano, pianist, and socially distanced audience – needed a long pause to gather themselves. There was time for an encore, and it was another Coleridge-Taylor song since Llewellyn said, 'I don't think you can have too much Coleridge-Taylor'. It was 'Big Lady Moon' from his Five Fairy Ballads. A whimsical work – and cheerier than most of her programme – so it was joyous ending to a memorable concert.
Jim Pritchard
For more about Wigmore Hall events click here.