United Kingdom Bruch: Nicola Benedetti (violin), Scottish Chamber Orchestra / Maxim Emelyanychev (conductor). 24.9.2020 performance from Perth Concert Hall, streamed as live on the Scottish Chamber Orchestra's YouTube channel. (SRT)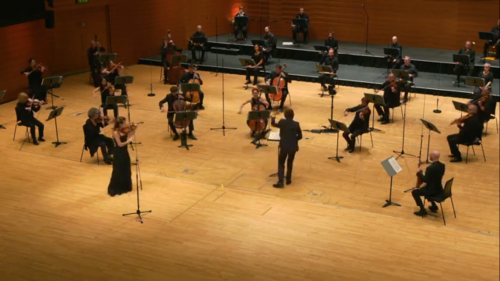 Bruch – Violin Concerto No.1 in G minor, Op.26
Positives first: the Scottish Chamber Orchestra are playing again. Praise be! Altogether, in one hall, performing an actual work of classical music, and sounding great. What's not to like? What is more, they are playing for their firecracker new music director, Maxim Emelyanychev, and they have even got superstar violinist Nicola Benedetti to play one of the core works of her repertoire, Bruch's First Violin Concerto.
And they did a great job! Benedetti knows this work so well she could doubtless play it backwards – poignantly, she was meant to be playing it with the orchestra on a US tour – and it plays to all of her strengths. She brings an improvisatory quality to the first movement, and an extrovert ebullience to the finale, while in the central slow movement she summons up sumptuous tone, with flowing legato giving the music a beautiful richness.
The orchestra respond in kind, no doubt delighted to be playing together again, and there is a great range of colours, culminating in a joyful finale. That's doubtless thanks in no small part to Emelyanychev's presence on the podium. An electric presence at any time, he galvanises them into an exciting performance of this old warhorse, making it sound unfeasibly fresh.
The filming is good, too. Naturally, it focuses a lot on the heroine, meaning that you don't see much of Emelyanychev, which is a pity because watching him is a huge part of the fun of any concert he directs. The sound is a little too cavernous for my taste, a natural consequence of playing in an empty Perth Concert Hall with social distancing, but these days you will take what you can get.
If I was complaining, then I would say it is rather thin gruel to offer only Bruch's Violin Concerto for the SCO's first reunited concert. When you have such a star team, surely it wouldn't have been asking too much for them to do an additional work, even if it is one of the repertoire staples they keep up their sleeves?
Speaking entirely personally, though, I couldn't help but feel a wave of melancholy as I watched it. This was supposed to be the first night of their season, when I should have been sitting in a full Usher Hall watching them in the flesh and hearing the roar of the crowd when they had finished. My phone pinged earlier this evening to 'remind' me about it, and the six months that have elapsed since I entered that date in my diary came crashing down on me with a terrible sense of sadness at all we have lost since then. What is even worse, there currently seems no imminent prospect of getting live music back, which hurts me more than I can say.
However, let us finish back on the positives: the SCO are still here, Emelyanychev and Benedetti are still playing, and even if we cannot see them in the flesh then we can watch them (for free!) like this in the comfort of our homes. Furthermore, I am told the SCO have more plans up their sleeve for an online season moving into the winter and beyond. So I will shake off my listlessness, focus on the positives, and thank God for the invention of broadband!
Simon Thompson
Available to watch on the Scottish Chamber Orchestra's YouTube channel.