Germany Marko Nikodijević, 7 Deaths of Maria Callas: Extra Choir of the Bavarian State Opera, Bavarian State Orchestra / Yoel Gamzou (conductor). Performed at National Theatre, Munich, 5.9.2020 and reviewed on ARTE Concert. (JPr)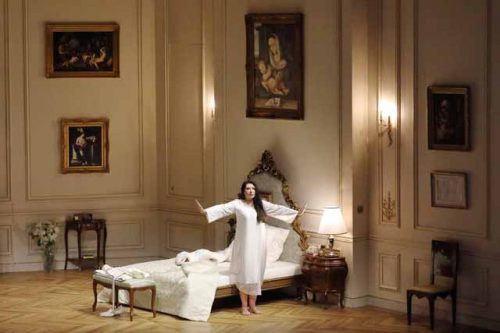 Production:
Director and Sets – Marina Abramović
Co-Director – Lynsey Peisinger
Music – Marko Nikodijević
Written by Marina Abramović & Petter Skavlan
Film director – Nabil Elderkin
Video Intermezzos – Marco Brambilla
Sound design – Luka Kozlovacki
Costumes – Riccardo Tisci for Burberry
Conception of the stage design – Anna Schöttl
Light – Urs Schönebaum
Dramaturgy – Benedikt Stampfli
Chorus master – Stellario Fagone
Cast:
Film actress and performer – Marina Abramović
Actor in the Film – Willem Dafoe
Carmen – Nadezhda Karyazina
Floria Tosca – Selene Zanetti
Desdemona – Leah Hawkins
Lucia Ashton – Adela Zaharia
Norma – Lauren Fagan
Cio-Cio-San – Kiandra Howarth
Violetta Valéry – Hera Hyesang Park
Marina Abramović's 7 Deaths of Maria Callas is described as an 'opera-project' and it deserves to be seen once though whether it has any great longevity and can be revived in coming years only time will tell. This multimedia work is described as follows: 'Seven stage deaths that mark the musical and dramatic climax of seven different operas – all of them arias that were of the utmost importance to Callas – are re-enacted. At the end of the evening, after seven films in which Marina Abramović appears seven times alongside Willem Dafoe, the performance artist herself enters the stage for one final re-enactment, that of Maria Callas's own death in Paris in 1977.' It proves to be the culmination of Abramović's lifelong fascination Callas who she calls 'The Tigress'.
Serbian Abramović is particularly well-known because of her extended performance at New York's Museum of Modern Art (MoMA). Abramović sat in silence at a wooden table across from an empty chair waiting as people took turns sitting in the chair and locking eyes with her. Over nearly three months – for eight hours a day – Abramović met the gaze of 1,000 strangers and many, apparently, were moved to tears.
Money has clearly not been an issue for the Bavarian State Opera's staging which has just had the delayed – for well-known reasons of course – world premiere of its co-production with Deutsche Oper Berlin, Maggio Musicale Fiorentino, Greek National Opera, and Opéra National de Paris.
It is an intriguing 90 minutes and perhaps no more substantial than that. We remember Callas, since Abramović – who looks rather similar to her heroine – pays her due homage; we perhaps feel affected by how her characters self-destructed on stage, as she did off it in her private life, but do we learn anything new about Callas, I don't think so.
Seven death scenes are acted out by Abramović as Callas and American film actor Willem Dafoe has a primal presence (mainly because of his granite visage) as – according to Abramović – Aristotle Onassis, and appears in the seven videos as a 'grim reaper'-like figure. The arias are sung live by seven different singers, standing plainly centre stage in front of a screen, and dressed as the maids who will later reappear to clear out Callas's Paris flat after her 1977 death.
Between what we hear we get Marco Brambilla's cloudscapes and Abramović intones some words (texts by her and Petter Skavlan) setting up each scene. It all begins: 'I am a flickering flame on a long candle exposed to the elements, to wind and rain, to love and hate, to sickness and health. The flame can warm me or burn me, it can light my way or be my guide, but when it goes out it cannot be relit. I go forever'. Throughout our focus is to the side of the stage where 'Callas' lies in her death bed and will for the next 60 minutes or so. There has been an atmospheric intro with the socially distanced, committed, and virtuosic, musicians under Yoel Gamzou tolling the death knell as a plaintive cor anglais is heard prominently.
Hera Hyesang Park sings Violetta's 'Addio, del passato bei sogni ridenti', Dafoe's 'Ari' is at Callas's bedside, curtains billow, candles go out and Callas dies. And so it goes on, more clouds, more words, this time including 'No, it's not dangerous to fall, it is when you land its gets dangerous' and in a foggy New York the Empire State Building is featured and it is probably that from which Callas is seen falling slowly onto a limo several stories below. The aria is Tosca's 'Vissi d'arte' sung by Selene Zanetti. Cue a thunderstorm and another darkly threatening musical interlude before Callas seated on a throne is shown 'strangled' by three pythons(?) and Leah Hawkins sings Desdemona's 'Ave Maria'.
Abramović then is being ironic as we hear Butterfly's 'Un bel di vedremo' and what we see are three figures – man, woman, and US flag-waving child – in hazmat suits in a wasteland. Callas removes her head covering and chokes in a poisonous atmosphere. Carmen's Habanera (Nadezhda Karyazina) sees Callas lassoed and then stabbed. 'Love becomes hate, hate becomes love, and death becomes the ultimate release' and Abramović as Callas presents a tour-de-force of mental disintegration. It is her wedding day, and there is a torn veil and she smashes a mirror, as well as, a vase of flowers. This is 'mirrored' in Lucia's mad scene (Adela Zaharia). Finally, there was an opportunity for some cross-dressing as hand-in-hand Ari in a glittering gold gown and Callas in 'black tie' walk into an inferno. Lauren Fagan sings Norma's 'Casta Diva' (Callas's signature aria). Fagan, Zaharia and Howarth were the standout performers.
It was now time for the long goodbye and with some hauntingly eerie electronic sounds from Nikodijević and some musical screams we seem to experience Callas's death throes. We soon see a stunning recreation of her Paris apartment where she lay dying in bed having been abandoned by all her lovers, companions and colleagues, 'My photographs, Luchino, Pier Paolo, Zeffirelli, Lenny, where are you all now?, Von Karajan, Serafin, Elvira, Franco, Giancarlo, Giovanni, Ari … it is me. Oh, Ari, it is me'.
There are thwacks on the bass drums, string glissandi, and some rather unintelligible words from the chorus but who can be heard repeating 'The rite is over'. Callas awakes, rises from her bed, roams about, smashes a vase of white roses and seems to be heading 'into the light' before simply exiting and allowing those seven 'maids' to tidy up and wreath everything in black.
It is still not the end as Abramović returns alone on stage and is now dressed in gold lamé as we finally hear Callas's own voice singing 'Casta Diva'. Abramović mimes the 'diva' and we realise how this part-music theatre, part-art installation, hasn't been so much about the singing as the myth created around the singer. As the music stops prematurely, the legend endures.
Jim Pritchard
7 Deaths of Maria Callas can be seen on ARTE Concert until 7 October 2020 (click here).