United Kingdom BBC Proms Live – Last Night of the Proms: Golda Schultz (soprano), Nicola Benedetti (violin), BBC Singers, BBC Symphony Orchestra / Dalia Stasevska (conductor). Broadcast live (directed for TV by Matthew Woodward) from the Royal Albert Hall, 12.9.2020. (JPr)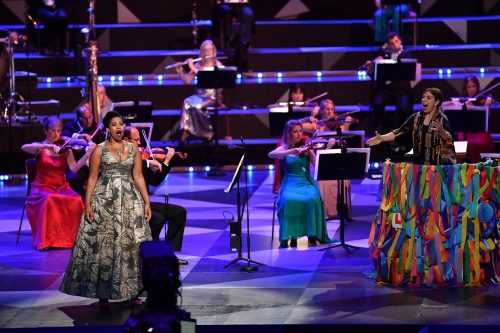 Mozart – The Marriage of Figaro (Overture); 'Deh vieni, non tardar'
R. Strauss – 'Morgen!'
Andrea Tarrodi – Solus (BBC commission: world premiere)
Sondheim – A Little Night Music – Night Waltz; 'The Glamorous Life'
Sibelius – Impromptu for strings
Vaughan Williams – The Lark Ascending
Errollyn Wallen – Jerusalem – our clouded hills (BBC commission: world premiere)
Henry Wood – Fantasia on British Sea-Songs (i. 'The Saucy Arethusa', ii. 'Tom Bowling', iii. 'Jack's the Lad', iv. Sequence of sea songs from around the UK v. 'See, the conqu'ring hero comes', vi. 'Rule, Britannia!')
Elgar – Pomp and Circumstance March No.1 in D major, 'Land of Hope and Glory' (arr. Anne Dudley)
Richard Rodgers – Carousel – 'You'll never walk alone'
Parry – Jerusalem
Unknown – The National Anthem (arr. Britten)
Katie Derham introduced this Last Night of the Proms by welcoming Dalia Stasevska as 'the youngest conductor of the Last Night since its founder Henry Wood in 1895 and she is just one of a wave of female conductors we've seen at the Proms in recent years … as its principal guest conductor she leads the BBC Symphony Orchestra through its 89th Last Night, but there's never been one quite like this before. Rather than our usual 300 or so musicians we've got just 65 to help ensure everyone is safely distanced … the stage has been extended for the BBC Symphony Orchestra and … in the stalls are the BBC Singers. The Royal Albert Hall would normally be filled to the rafters with revellers buzzing in raucous expectation of the night ahead. But even if none of that is feasible this year, tonight up and down the country we are still welcoming as many of you as we can into the programme … in the South Grounds of the Royal Hospital Chelsea [the] concert is being shown live on a giant screen to a socially distanced open-air audience of hundreds … we will also be dropping into the living rooms of some very familiar Proms fans watching at home [presenter/comedian Mel Giedroyc, ex-England footballer David James, soprano Lesley Garrett, musician Jacob Collier and his mum, Suzie] … we have asking you at home to send in video clips dressed in your finest Proms paraphernalia … here in the hall I have two special guests, star of stage and screen, Adjoa Andoh, and musician, presenter … and ex-Communard Reverend Richard Coles.'
It is a credit to Stasevska that she was still conducting after all the 'Rule Britannia!' furore and speaking in a sort video late in the event she did not refer to this of course but said how 'During this challenging time musicians have been longing so much to being able to play together again and to play live … Being able to play together again during these last two weeks has felt like taking water after a long thirst. I hope this concert brings us closer together, offering joy and comfort to us all and we are hoping to see you in person in 2021.'
I have never been a great fan of all the flag-waving, balloon-releasing, knee-bobbing, Last Night nonsense, notably from all the increasingly ageing Promenaders. Sadly, as the 100 minutes of the Last Night went on, I increasingly got the impression that everyone was just going through the motions. Apparently there was perceived to be a demand for a 'Last Night' and so we got this and it turned out to be a facsimile – more of a knock-off – of what we usually (for good or ill) see with too few highlights. The conductor's podium needs multi-coloured streamers and a 'L' plate (check) and the bust of Sir Henry Wood needs his Last Night chaplet (check).
The Last Night is supposed to be an 'end of term' party but there is nothing – absolutely nothing – to celebrate at the moment and the usual shenanigans should have been scrapped to provide a musical evening allowing some reflection on the world as it currently is and, as a result, a collective opportunity for remembrance of those – and all else – we have lost in recent months. Notably, the freedom to live our lives as many of us always have and would want to continue to.
Designed for viewers at home the interval-less programme was very insubstantial. It goes without saying that the reduced forces of the BBC SO sounded as though they played well for Stasevska. She was rather robotic in her direction though it cannot have helped that she was the focus of the cameras' attention for long periods during the broadcast. Long before the end ennui had set in for me. I began to muse how in times past the BBC wiped their videotapes clean and reused them thereby losing so much valuable material: perhaps someday soon they can press the delete button and wipe this whole thing from their digital archive (sorry!).
After a light-textured Overture to Le nozze di Figaro, soprano soloist Golda Schultz sang Susanna's 'Deh vieni, non tardar'. Schultz was shown saying this was the 'crazy little genius from Austria and some weirdo from South Africa coming together'. Schultz has a pleasant voice which was revealed – from the entirety of what she sang – to have a huge range but is grounded in warm mezzoish tones. She was clearly nervous – and why not? – during this and Richard Strauss's 'Morgen!' with orchestra leader Igor Yuzefovich's languid solo violin introduction proving a highlight of the entire concert. It was the teary Lesley Garrett's musings on 'Morgen!' that – from this point on – made me fast-forward all the chat and concentrate on the music. Garrett said she thought it was 'ravishing' but then we heard all about her singing the song at the funeral for Lord Harwood and how it was the 30th anniversary of when she had sung at the Last Night herself. I quickly tired of seeing her and the faces of any number of – increasingly 'merry' – others popping up during the music.
Next came the first of the Last Night's two new commissions and Andrea Tarrodi's Solus was apparently her musical response to the current Covid-19 pandemic. I wasn't watching this Prom alone and said before Solus began 'all new works start with the timpani' and this was no exception! The opening was very evocative and after a quiet, subdued, beginning this short piece from a Swedish composer paid rather more upbeat homage to a Finn, Sibelius, especially with the brass.
To celebrate Stephen Sondheim's ninetieth birthday this year we had Night Waltz and 'The Glamorous Life', as 'bleeding chunks' from A Little Night Music. Schultz seemed more at ease with the musical theatre idioms of 'The Glamorous Life' but it proved overall to be a pallid tribute to Sondheim and maybe the Proms will do better by him next year.
Sibelius's enchanting Impromptu for strings proved highly introspective and it was followed by an equally meditative The Lark Ascending. This Vaughan Williams Classic FM favourite initially began against a lurid backdrop of screens in the Royal Albert Hall seemingly showing the aurora borealis. Eventually the main ones featured hauntingly beautiful images from all four countries of the United Kingdom. It was like a meditative escape from our current nightmare into an idyllic – and less depressing – world. Benedetti is incomparable in this piece and was replacing the previously advertised Lisa Batiashvili. Her violin is the ascending bird, yet, Vaughan Williams's lark has a deep, otherworldly, lyricism and this was reflected in Benedetti's exquisite playing. There were gossamer-like whispers at the start, the folk-tinged central section, and the smallest threads of tone at the end when you almost experience the air beneath the lark's wings. It was the most ideal expression of solitary beauty in nature and perfect fitted those scenes we saw.
Then a misstep with composer Errollyn Wallen's new arrangement of Jerusalem, subtitled our clouded hills and dedicated, I understand, to the Windrush generation. With hints of blues and African rhythms and some new words – including references to the Commonwealth – the music and vocal lines frequently diverged, and it was not an easy listen despite Schultz's confident participation. Katie Derham was quick to reassure those watching that the original version would be performed later in the evening.
Then it was time to experience what all the fuss was about courtesy of the traditional Last Night fayre, thankfully now without any Promenaders' input. This is where that sense of 'going through the motions' came to the fore and what we heard – to my ears at least – from the BBC Singers and BBC Symphony Orchestra was rather lacklustre, not helped by the huge distances between the musicians themselves and also the singers spaced out in the stalls. 'Rule, Britannia!' was integral to Henry Wood's Fantasia on British Sea Songs at which point we (unavoidably) began to see a surfeit of landmarks lit up in red, white and blue, and much too much of some Chelsea Pensioners and others at the Royal Hospital. There was also some forced jollity – when they knew they were on screen – from the 'celebrities' at home. Much better was the music interpolated as the fourth part from Dundee (a piper), Tenby (a small folk band) and Belfast (a flautist). Kudos again to Igor Yuzefovich who tried valiantly to enter into the former spirit of things with his violin solo during 'Jack's the Lad' (the Hornpipe). Prior to that there had been an elegiac solo cello for 'Tom Bowling'. 'Land of Hope and Glory' was performed in Anne Dudley's reduced orchestration and failed to lift the spirits. Schultz sang a 'You'll never walk alone' of heart-wrenching poignancy mainly because that song often has a personal meaning to many people (including me!) and finished with a Jerusalem which was now back to its usual self.
Britten's arrangement of The National Anthem concluded proceedings and was more mournful than stirring. Was that the idea or just the perfect summation of all that had gone before?
Jim Pritchard
The Last Night of the Proms, together with all the other live Proms from this season, as well as, selected concerts from previous seasons, are currently available if you click here.