United Kingdom Dove, Haydn, Roxanna Panufnik, Shostakovich: Sacconi Quartet (Ben Hancox & Hannah Dawson [violins], Robin Ashwell [viola], Cara Berridge [cello]), streamed live from Wigmore Hall, London, 23.9.2020. (CS)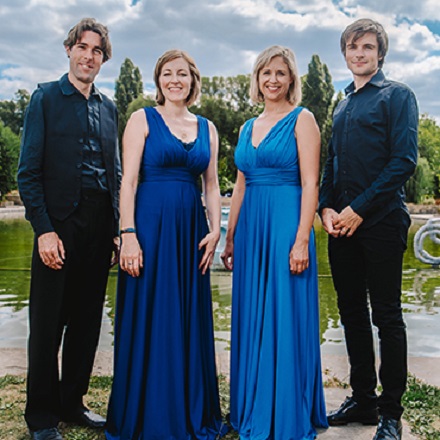 Dove – Out of Time
Haydn – String Quartet in D major Op.76 No.5
Roxanna Panufnik – Heartfelt (live performance première)
Shostakovich – String Quartet No.8 in C minor Op.110
Another Covid-cancellation: travel restrictions prevented Quatuor Danel from performing at Wigmore Hall (the concert will be rescheduled) but I'm sure that no-one would have complained that the Sacconi Quartet had stepped in to fill the gap – not least because their programme was characteristically diverse and imaginative, and included a live performance premiere of Heartfelt by Roxanna Panufnik.
Jonathan Dove's Out of Time – commissioned for the Vanburgh Quartet by Elizabeth Allsebrook, in memory of her husband, Peter, and described by the composer as 'a serenade for someone I never met […] not his musical portrait, but [it was] suggested by his irresistible, infectious energy, and by his departure.' – is becoming something of a calling card for the Sacconi Quartet. I heard them perform Dove's characterful miniature at Wigmore Hall in May 2018 and, before that, at Kings Place in October 2017.  'Quite Fast' was deliciously light – a sort of 21st-century Mendelssohnian fairy-caper – with splashes of colour and melodious interjections.  The blending and melding were impressively uniform.  The gentle upper-strings' meanderings were kept buoyant by Cara Berridge's rounded, tender pizzicato in 'Slow', but there was a touching vulnerability and fragility about this movement – a poignant eloquence that seemed almost painfully apt.  The brief 'Stomping' seemed to dance with more grace than I remembered from previous performances, confidently carving its way forward, but stylish rather than overly assertive.  There was a lovely airiness of texture in 'Lively' as the voices interlocked in a lacy fabric of undulating fragments, while 'Fast' nudged its way ever onwards, invigored but free, and vistas opened – the pianissimos whispered, the collective vibrato was intense and focused – in elegiac contemplativeness.
I think that Haydn's Op.76 No.5 was the first string quartet that I learned in earnest, as an enthusiastic youngster invited to play second fiddle with some older school fellows (I probably didn't make a very good job of it!).  So, it has a special place in my heart.  And, it touched a nerve of nostalgia when Ben Hancox explained to the audience that it was the first quartet that the Sacconi had ever played when they formed in 2001, when they were students at the Royal College of Music.  The Allegretto was genteel, initially, but the spaciousness allowed for crystalline racing staccato scales and rapid interplay, while retaining refined stylishness.  It's hard to be certain about matters of balance, and tone quality and timbre, when listening online to a streamed performance, but I did feel that Hancox might have striven to sit more strongly and brightly at the top, though the ensemble accord was flawless.  The Largo evinced dignity and composure: what a lovely relaxed and gracious ensemble tone and manner the Sacconi garnered.  Here, Hancox's unmannered eloquence and Berridge's natural songfulness framed supremely controlled sustained utterances in the inner voices.  Swaying between elegant lucidity and more shadowy melancholy – played by the Sacconi in a sustained 'half-voice', not tentative, but delicate and restrained – this movement seemed to me to be more profound, probing and philosophical than I remembered.  Warm sunshine flooded back with the Menuetto; the hemiola off-beat accents were playfully teasing, and the minor-key snarlings of the Trio aptly refrained from baring their teeth too ferociously.  The Presto combined the froth of rustic exuberance with the slickness of aristocratic sophistication.  I don't think I've heard the Sacconi play Haydn, or music from the Classical era, with such imaginative insight, musical drama and persuasiveness.
Roxanna Panufnik's Heartfelt, which was commissioned by the Sacconi Quartet, had a virtual online premiere.  It was streamed in July 2020, and reviewed by my Seen and Heard colleague, Colin Clarke – who explained the context which informs the three movements, described the work as 'shot through with a poignancy that is infinitely touching', and felt that 'Panufnik judges atmospherics such as asynchronicity perfectly, just as she does the music blossoming out into consonances.'
The tremolo pizzicatos at the start of the first movement, 'Uzbek Processional', saw the violinists strum, pluck and pick like guitarists, as Hancox's right foot tapped to the beating of his heart.  As a violinist (of sorts), I often feel that I neglect to practise pizzicato, and seeing and hearing how the Sacconi increased the intensity, driving towards the arco pulsings, confirmed my sense of inadequacy in this regard!  The Quartet's unison energy pushed compellingly forwards, carried forth also by a strikingly communicative solo by Hannah Dawson, before slithering pianissimo glissandi brought the players to a point of tremulous rest.  'Lament for a Bulgarian Dancing bear' was unbearably (sorry) poignant: tentative motifs evoked movements disjointed and a heartbeat disturbed: a natural life force disrupted.  Robin Ashwell's beautiful melodising seemed to articulate the bear's inner soul; passed to Berridge, the melody deepened into darkness.  The ensemble's full and pulsating vibrato created an emotional intensity which rendered inner suffering in palpable terms.  And, the pained eloquence only intensified, as the reiterations became both more formulaic and more torturously laboured.
And there was more torture and angst in Shostakovich's Eight String Quartet: after all, this was a work which the composer himself admitted that he could not hear without breaking down in tears.  There was a certain glassiness about the DSCH motif at the start of the Largo: the absence of vibrato enhanced the sense of introspection and the players, leaning in towards each other, seemed embraced by and embedded within the music.  The Allegro molto exploded with fury, but the string tone was warm and full: this was a tremendously rich release of repressed energy, all wiry lines and feverish repetitions.  The Allegretto brought forth Hancox's musical intelligence and innate acuity: focused and crisp, he led the players into the alluring 'waltz' which had something of a devilish allure – guileful, sneering and snapping.
The penultimate Largo was angry, but its violence was repressed.  As the intensity increased, the anger and despair acquired a paradoxical beauty.  The Sacconi made this music draining yet somehow inspiring; there was a persuasive momentum which seemed to convey the indomitability of the human spirit.  I don't think I've ever heard the Sacconi perform with more 'soul' than this.  No wonder they looked emotionally exhausted at the close.  How does one show one's appreciation of such impressive musicianship in our present circumstances?  The Wigmore Hall audience pondered in the silence and then rewarded the musicians with heartfelt applause.
Claire Seymour
This concert was streamed live on the Wigmore Hall website and is freely available until 24 October.