United Kingdom Mozart and Chopin: Tim Horton (piano). Streamed from St. Mary's Perivale, 1.9.2020. (JB)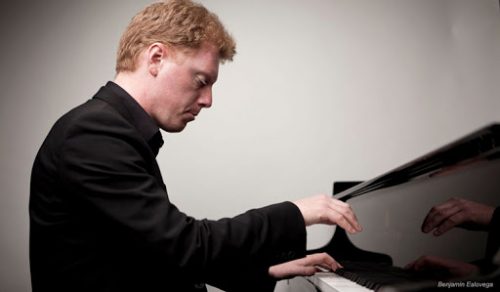 Mozart – Fantasia in C minor K396
Chopin – Ballade No.1 in G minor, Op.23; Ballade No.2 in F, Op.38; Ballade No.3 in A flat, Op.47; Ballade No.4 in F minor, Op.52
If you want to be a soloist there is no better preparation than immersing yourself in chamber music. Your ear quickly becomes trained to listen to the contributions of your colleagues – the only way you are going to understand how your own contribution is going to fit in to this ensemble.
Tim Horton is living evidence of this truism. Educated at Chetham's School of Music, Manchester, for gifted young musicians, then graduating at Trinity College, Cambridge, aged 20 in 1995, he then gained considerable know-how from Alfred Brendel, who nominated him to play concert engagements he was unable to fulfil himself. The Brendel steely precision is distinctly audible in the Horton delivery, albeit with some charming turns of corners – charm was never a Brendel priority – which are Horton's alone.
All this makes for a remarkable intimacy for musical delivery. The AD 1135 Ancient Church of St Mary Virgin of Perivale – to give it its full name, has been leased to Dr Hugh Mather, with his friends, for their admirable project of giving a platform to outstanding young musical talent. Perfect acoustics too in this intimate twelfth-century jewel. And a mere ten-minute walk from Perivale underground on the Central line. I haven't been there myself yet, but I hope that this omission may soon be rectified. This is my second report from St Mary's, both of them online.
Mozart's Fantasia in C minor K396 is probably the least performed of his three fantasias. It holds a good deal of musicological fascination. An earlier version was for violin and piano. In his indispensable tome, W. A. Mozart (1928, with the first English translation 2007, from Princeton University Press) Hermann Abert believes that K396 is one of Mozart's most impassioned and pensive keyboard pieces. 
Tim Horton scores highly on both the impassioned and pensive requirements, first as they operate as a dialogue, but more especially as the two become intertwined. There is chromaticism everywhere in the Fantasia (unusual for Mozart) – asserting, then immediately contradicting a tonal centre. Professor Abert goes on, not even a third-based self assured second subject allows more than a glimmer of light to enter the musical argument, even at the end when it returns to C major (p840). Mr Horton has a sympathetic feeling for this musical argument. He takes us with him on this awesome journey. Mozart – here like nowhere else – shows us how piano can be more powerful than forte.
Drama converses with lyricism in all four of Chopin's Ballades. And for the most part Tim Horton navigates these waters convincingly. Everyone knows how the long lines of Bellini's operatic arias were a great influence on Chopin's piano writing. But in the Ballades (the form was Chopin's invention, and would be copied by Liszt and Brahms, though in quite different registers) methinks I hear the aristocracy of the medieval courts with their troubadours recounting heroic tales of honour.
Remember too that Chopin, young, handsome, enormously talented, and battling with tuberculosis, which would kill him, premiered these compositions in the salons of the wealthy Parisians. Is it my imagination or is there some autobiography too that got into the Ballades? Schumann, I fancy, would have nodded agreement with that suggestion.
A few decades ago when Alan Rusbridger was Editor-in-Chief of The Guardian, (he is now Master of Lady Margaret Hall, Oxford) he was told by a number of pianists that Chopin's No.1 Ballade was the most demanding piano piece, technically and musically, in the pianist's repertory. He challenged himself to learn it within a year and then wrote a book about the experience. If I remember correctly, Alfred Brendel was one of his tutors. I don't know Mr Rusbridger and I haven't read his book. But the episode shows what challenging territory any aspirant would be entering.
The first thing that struck me in Tim Horton's number one Ballade, was his exquisite cantabile – not always easy to deliver from a Yamaha. He doesn't hold this joy close to himself: he floats it on high. Risky too. But every great pianist knows he must take risks. The problem here is to pass seamlessly from floating on high to melodrama. It has to be said that the roaring pianistic virtuosity came across with an overdose of showmanship. Possibly out of sheer relief that he had arrived in the right place. The musical mystery, which is also to be enjoined in the melodrama, got left out. On another occasion – and with a more sympathetic piano – I have little doubt that Horton would have given us sheer perfection. [I would take a bet that none of his teachers would have had to get across this complex difficulty to Alan Rusbridger.] It's all too easy to play the showy passages more like a Chopin Étude (study) than a Chopin Ballade.
Aha! But what is this? At the beginning of Ballade No.2 in F, Op.28, there is the most wonderful, prayerful calm. The ancient church's setting could not be bettered for this. Thank you for the intimacy you are giving us Mr Horton. I will immediately sign up to this religion. But O bloody hell! The piano is now being attacked by the mightiest aggression. Then returns the small, still voice. And here Tim Horton plays the card he has already played with the Mozart: he causes us to hear that the piano is more powerful than the forte. And for audience members we are handed a gift – as in all the best churches – that will stay with us for ever. (Some good news at this point: the concert is available on St Mary's website click here.)
In Ballade No.3 in A flat, Op.47, the sun has really come out. This is as near as Chopin ever gets to being jokey. The charm – Horton's as well as Chopin's – is to the fore. But dear me! You are not playing in the Royal Albert Hall Tim. This is a tiny, ancient church with its own enchanting mystique. It sometimes sounds like you forgot to take your hat off.
Ballade No.4 in F minor is my own personal favourite. Were I to take up a Rusbridger type of challenge, this would be my choice. It also sounds as though it might be Tim Horton's too. Even the agitato somehow has an intimate charm, it sounds as though it is speaking for itself. Great music often requires its performers to get out of the way of its expression: to let it speak for itself, to impose of oneself very little onto the printed score. Here, Tim Horton shows he can do this. John Ogdon, who regarded this as music's most challenging piece (not just Chopin's) said, It is unbelievable that it only lasts for twelve minutes, for it contains the experience of a lifetime. 
Jack Buckley
All St Mary's Perivale concerts remain available on their website (click here) and then watchable on YouTube for up to a month after the concert.