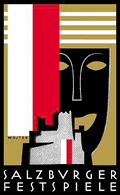 Austria 100th Salzburg Festival – Canto Lirico with Juan Diego Flórez (tenor) and Vincenzo Scalera (piano): 25.8.2020 performance from Grosses Festspielhaus, Salzburg, reviewed when streamed on ARTE Concert. (MM-B)
Beethoven – Three Songs – 'Adelaide', 'Der Kuss', 'Sad and luckless was the season' from 20 Irische Lieder
R. Strauss – Three Songs – 'Zueignung', 'Heimliche Aufforderung', 'Cäcilie'
Bellini – Sei ariette da camera – 'Ma rendi pur contento'; 'Almen se non poss'io' (solo piano); Norma – 'Me protegge, me difende'
Verdi – I due Foscari – 'Odio solo'; Romanza without words 'Il cielo d'Italia' (solo piano)
Lalo – Le Roi d'Ys – 'Vainement, ma bien-aimée'
Massenet – Manon – 'Ah, fuyez, douce image'; Thais – 'Méditation' (solo piano)
Mendelssohn – Lieder ohne Worte – 'Venetian Gondola Song' (solo piano)
Puccini – La bohème – 'Che gelida manina'
The Salzburg Festival 2020 – that was recently on with a reduced programme – has just ended. The performances are streamed via Arte.tv (click here) for free and some are a real treat. One of this year's most anticipated concerts was that of celebrated Peruvian tenor Juan Diego Flórez. The recital, named 'Canto Lirico with Juan Diego Flórez and Vincenzo Scalera' was performed (I must say to my surprise) in front of a live audience at the Salzburg Grosses Festspielhaus on 25th August. There were free seats between small groups of people and some were wearing masks but although people were separated and the auditorium wasn't full it certainly seemed to be at more than 50% capacity. This aside, the recital was a magnificent one, with Flórez in star form and Scalera rising up to the challenge.
It is difficult to write about an artist such as Juan Diego Flórez. I have followed his career since almost its very beginning and even had the pleasure of interviewing him in 2005, before he was famous, as part of the research for a novel I was then writing. Flórez's voice is extraordinary and unique, easily recognisable. It is a light tenor (tenore leggero or di grazia), which doesn't mean it hasn't power. It does have power and Flórez's projection technique is superb. His voice also has an irresistibly warm quality – unusual in many light tenors – and he has the rare and undefinable ability of floating a note in a profoundly sincere manner. His phrasing is elegant, the clarity of his enunciation has almost no parallel and his coloratura enviable. He made his name with the bel canto repertoire of the first half of the nineteenth century – Rossini, Bellini, and Donizetti – and has long been considered the Rossini tenor par excellence. Rossini tenors are a rare breed thus his easy high notes have almost become the stuff of legend. He has made some roles his own such as Count Almaviva in Rossini's Il barbiere di Siviglia, or that of Tonio in Donizetti's La fille du regiment – his signature piece being the aria of the famous nine consecutive high Cs, which some consider the Everest for a tenor. But Flórez can go higher than that. A high D or a high E flat are not unheard of.
The high notes are still there, perhaps slightly less easy than ten years ago, but at 47 years of age, Flórez's voice has changed and expanded, especially in the middle range. If anything, this makes listening to his singing even more exciting because it also gave him the opportunity of expanding his repertoire. I have been to many of his performances throughout the years and I must say that he rarely fails to dazzle, be it in an opera role or a recital. Especially the latter is never quite what one expects and always has an element of surprise. This one at the Salzburg Festival was no exception.
It was obvious from the start that a great deal of care went into the choice of programme for this recital. It showcased not only what we already knew Flórez can do, but also what we thought he couldn't, as well as his language prowess. Although noticeably Italian is more natural to him than any other foreign language, he also seemed comfortable in German and French.
Flórez presented a completely new programme of pieces that I have never heard him sung before. He began with three songs by Beethoven: 'Adelaide', 'Der Kuss', and 'Sad and luckless was the season' from 20 Irische Lieder. He has often said he struggles with German and doesn't take naturally to it, however it wasn't apparent. His diction was as clear as ever, the enunciation excellent, accentuating the correct syllables and with a very good pronunciation. Apart from a couple of minor glitches in one or two 'Rs' and 'ch' sounds – so small, only a native or someone fluent could notice – his German was very nearly perfect. He sang all three songs beautifully, with the right level of sentiment. His rendition of 'Adelaide' was one of the finest, most heartfelt I have ever heard. He followed Beethoven with Richard Strauss – again in German, performing another three songs: 'Zueignung', 'Heimliche Aufforderung', and 'Cäcilie'. Before he began with Strauss, I almost doubted his judgement but then he sang the first. 'Zueignung' was engagingly and fervently interpreted. He was exceptionally expressive in 'Heimliche Aufforderung' and 'Cäcilie', bringing the floating quality of his voice to full effect. By then he had the audience wrapped around his little finger, even before beginning the high power, show-stopping, rarely performed arias. They came next and how they did. It was one of those rare moments with a 'wow' factor where everything blended together to achieve the nearest to perfection one is likely to hear. First came Bellini with the arietta 'Ma rendi pur contento' from Sei ariette da camera, immediately followed by Pollione's cavatina and cabaletta 'Me protegge, me difende' from Norma. This is bel canto pure and simple, a familiar territory for him but two pieces I had never heard him sing before – neither in concert nor in the opera house. To say his performance of the two was extraordinary is an understatement. Spectacular and beautiful probably describe it better but it doesn't begin to do it justice. Then came another two arias, which again I have never heard him sing and that aren't normally part of his repertoire. First Verdi's 'Odio solo' Jacopo's cavatina and cabaletta from I due Foscari. Followed by 'Vainement, ma bien-aimée', Mylio's aria from Lalo's rarely performed opera Le Roi d'Ys. Both brilliantly interpreted, elegantly phrased, with warmth, feeling and impeccable clarity.
These were followed by two more pieces where yet again Flórez ventured into, for him, unchartered musical territory. First 'Ah, fuyez, douce image', Chevalier Des Grieux's aria from Massenet's Manon – extremely well sung with powerful dramatic expression and vocal colour quality. And finally, the last piece that ended the official programme, 'Che gelida manina', Rodolfo's famous aria from Puccini's La bohème. Splendidly delivered, it was also a clever choice for the end of the official programme, as it had the audience on their feet, shouting, clapping and stomping for more. A nice lead to the five encores that were to follow, but more of that later.
So far, I have only talked about the singer but this recital wasn't just a Flórez affair. He was accompanied on the piano by Vincenzo Scalera, almost always his pianist of choice. This doesn't happen by chance. To accompany a singer of Flórez's calibre, it takes a pianist of excellence, who is a soloist in his/her own right and who can also interpret the music rather than just play it. And Scalera has all these qualities in abundance. He performed various solos in-between clusters of songs or arias to give Flórez a little breather and to demonstrate his own attributes as a pianist. His first solo was the 'Venetian Gondola Song' from Mendelssohn's Lieder ohne Worte (Songs without Words). Closing your eyes, you could almost see in your mind the gondolas gently gliding in the canals of Venice. He also performed the arietta 'Almen se non poss'io' from Bellini's Sei ariette da camera and Verdi's romanza without words 'Il cielo d'Italia'. Both lovingly played and brilliantly executed. His final piece was the famous violin solo, in an arrangement for piano, 'Méditation' from Massenet's Thais. While Scalera excelled in all his solos, with this introspective piece, his interpretative skills really showed. He positively shone, giving an exquisitely beautiful rendition, with the right level of emotion, executed with elegance and sensitive delicacy. Simply marvellous and the audience responded accordingly.
After 'Che gelida manina' from Puccini's La bohème, Flórez returned for the encores, which added about an extra half hour to the recital. He came back on stage with his acoustic guitar – thus giving Scalera a well-deserved break – and accompanying himself, sang three songs from his customary Latin-American repertoire. And it is here that his totally relaxed interaction with the public demonstrates his star quality better than anything else he does. While tuning the guitar, he said it was new, so a bit more complicated and then asked the audience in a self-mocking tone whether they had liked his German. Of course there were laughs and applause. He then sang Gardel's tango 'El dia que me quieras', followed by Cortès 'Cielito lindo'. Here he got the audience to sing along the refrain, the bit beginning with 'Ay, ay, ay, ay'. The final of these songs was Mendéz's 'Cucurrucucu paloma'. He sang them all exceptionally well, visibly relishing pieces that, for him, are relatively easy to sing, and where he can relax using his native Spanish.
One would think this was definitely the end. Not so with Juan Diego. After yet another standing ovation, he returned with Scalera at the piano and delivered beautifully and spot on, without a glitch, his signature aria 'Ah, mes amis' from Donizetti's La fille du regiment – yes, the one of the nine consecutive high Cs, all ringing clear and precise across the auditorium. The audience didn't even bother sitting down. And, as if this wasn't enough, came the icing on the cake with a powerful, perfectly judged and executed Nessun dorma from Puccini's Turandot. An exhausting programme? Almost certainly. But did he show it? No. It just seemed he could have continued for another hour. He did not but the memory of this recital will definitely linger for a long time in people's minds. I don't know how other performances in this year's Festival are faring but, reading some of the comments on social media in Austria and Germany, I must say I tend to agree with them that Flórez's appearance at the Festival – and available to see until 29th November – was its 'Sternstunde' or in English, its defining moment.
Margarida Mota-Bull