United States Milhaud, Ravel, Gershwin, Bloch, Castelnuovo-Tedesco, Auerbach, Dorman, Robert and Clara Schumann, Brahms: Vadim Gluzman (violin), Ilya Shterenberg (clarinet]) Mark Kosower (cello), Angela Yoffe (piano), William Wolfram (piano). Streamed live from PianoForte Studios Chicago, 10 and 11.9.2020. (AK)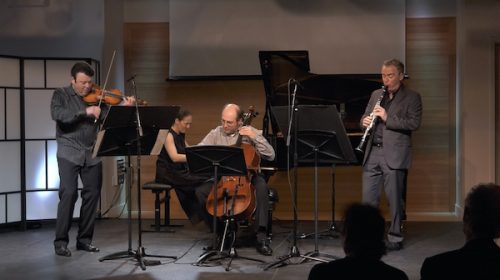 'Jewish Kaleidoscope' (10 September)
Darius Milhaud – Suite for Clarinet, Violin and Piano, Op.157b (1936)
Ravel – Two Hebrew Melodies for Cello and Piano (1914)
Gershwin – Three Preludes for Clarinet and Piano (1926)
Ernest Bloch – 'Baal Shem' Suite (Three Pictures of Chassidic Life) (1923)
Mario Castelnuovo-Tedesco – 'Figaro', Concert transcription after Rossini's Barber of Seville (1931)
Lera Auerbach – T'filah for violin solo (1996)
Avner Dorman – Dancing with the Torah witat Mount Meron, for Piano, Violin, Clarinet and Cello (2020, world premiere)
'Love Triangle' (11 September)
Robert Schumann – Three Fantasy Pieces for Clarinet and Piano Op.73 (1849)
Clara Schumann – Three Romances for Violin and Piano Op.22 (1853)
Brahms – Piano Trio No.1 in B major Op.8 (1854/1889)
I came across American-Israeli violinist Vadim Gluzman fourteen years ago, in the summer of 2006, in Budapest. He gave a splendid performance of Mendelsohn's youthful D minor Violin Concerto, accompanied by the Franz Liszt Chamber Orchestra. Since that Budapest encounter, I heard Gluzman several times; without fail, he always impressed with his innate musicality, artistic integrity, and all-round skills. The son of music teachers, Gluzman's career has progressed for all the good reasons while his artistry and vision continue to deepen.
The brainchild of Gluzman and his regular chamber music partner, the excellent pianist Angela Yoffe, North Shore Chamber Music Festival would have celebrated its 10th anniversary season this June but, owing to the coronavirus pandemic, the celebrations had to be cancelled. This exceptional and innovative festival now returned to Chicago (and to worldwide audiences online) with a series of six concerts – titled Onstage/Offstage – with the first two presented in September (10 and 11), to be followed by the remaining four in October (17) and in the Spring. (For more information click here.)
Curated and organised by Gluzman and Yoffe, the concerts have a clear focus on central themes: on 10 September they provided a 'Jewish Kaleidoscope', while on 11 September they drew attention to the possible 'Love Triangle' between Robert Schumann, Clara Schumann and Brahms. For these two concerts violinist Gluzman and pianist Yoffe were joined by also high calibre artist friends that is pianist William Wolfram, cellist Mark Kosower, and clarinettist Ilya Shterenberg.
In accordance with Covid-19 regulations, the number of the live audience at the apparently beautiful location in downtown Chicago, that is at the PianoForte Studios Chicago, had to be curtailed to fifty but, simultaneously with the live concerts, there was also online live streaming worldwide. The quality of the streaming was excellent: much as I would have liked to be present in-person, I did not feel deprived of the musical quality. Even the hospitality and enthusiasm of Thomas Zoells (the president of PianoForte Chicago) transmitted very well through the streaming: in his introduction Zoells recalled how he and his wife turned a once derelict car showroom into their dream of piano studios.
As far as I know, programme notes were not provided at these concerts. However, each item was introduced by one of the participating artists.
10 September; 'Jewish Kaleidoscope'
With one exception, all composers on this programme were Jewish and lived in or escaped to America. Ravel was not Jewish and did not live in America, but he made a highly successful four-month concert tour of America, as a pianist and conductor, in 1928.
The opening Milhaud Suite (for clarinet, violin and piano) was introduced by Gluzman; he drew attention to Milhaud's standing among 'Les Six' – a group of French composers who in the 1920s were guided by Cocteau – as well as to his periods in the USA. During the performance violinist Gluzman and clarinettist Shterenberg were standing, perhaps (but not necessarily) to visualise the special relationship of the violin and clarinet in this composition. For instance, the second movement ('Divertissement') of the four-movement suite starts with a twenty-bar dialogue for only violin and clarinet while the whole of the third movement ('Jeu') is scored again only for these two instruments. The chemistry between the two players provided true to life musical conversations, aided by pianist Yoffe with great sensitivity. The melody lines in the suite were sung as if by human voices, the realisation of the jazz elements of the third movement ('Jeu') as well as of the fourth ('Introduction et final') were a delight to listen to (and a reminder of Milhaud's visit to Harlem in the 1920.) The skilfully and tastefully manifested sense of humour of the players brought some light relief to our pandemic times.
Ravel's two Hebrew melodies ('Mélodies hébraïques') were composed for voice and piano in 1914. In 1924, Ravel's friend Lucien Garban made an arrangement of these two songs for violin and piano, but, at some point, also for cello and piano. The first song, 'Kaddisch' (Kaddish), is better known and is often performed. Being part of the Jewish liturgy, the Kaddish is an important and ancient Jewish prayer; it offers thanksgiving, praise, and a plea for universal peace. The second of Ravel's Hebrew melodies ('L'énigme éternelle') is lesser known but a worthy excursion into Hebrew melodies. Cellist Mark Kosower, accompanied by pianist William Wolfram, delivered Ravel's melodic lines with nobility and without any self-indulgence (the latter of which, I hasten to add, is often an unfortunate trap for performers).
Clarinettist Ilya Shterenberg's introduction to Gershwin's three preludes did clarify that these pieces were written for solo piano (1926) and that Heifetz made an arrangement for violin (1942), and later Charles Neidlich followed with a version for the clarinet (2014). In fact, James Cohn made an earlier clarinet arrangement (1987), but – unless I misunderstood Shterenberg's introduction – he played the Neidlich version. Interestingly, Shterenberg did not mention why he used two clarinets for the performance, one for the first and third preludes, but another for the second. I am also surprised that none of the live audience made any enquiry about this change of clarinets during the Q&A session on conclusion of the concert. I would have definitely asked if I was lucky enough to be among the live audience. The clarinet mostly takes the right-hand melody of the original piano version – occasionally also the left-hand melody, like in the second prelude – but there is also a bit of dialogue/distribution of melody between piano and clarinet. My guess is that the B♭ clarinet may be very tricky for the second movement's original left-hand melody, so it is swapped for an A clarinet. James Cohn's 1987 version specifies that the clarinet part doubles on the A Clarinet for the second prelude. As Shterenberg explained, Gershwin moulded classical lines and jazz; Shterenberg and pianist Wolfram did indeed bring out both elements eloquently.
Bloch composed his 'Three Pictures from Hassidic Life' (Baal Shem) in 1923, the year in which he received his American citizenship. It seems that the occasion prompted Bloch to musically declare his Jewish belonging. Nevertheless, he wrote that 'it is neither my purpose nor desire to attempt a reconstruction of Jewish music, nor to base my work on more or less authentic melodies … I am not an archaeologist; for me, the most important thing is to write good and sincere music.' Indeed, Baal Shem is good music on its own term and, with its technical demands (including great many double stops and plenty of virtuoso passages, right to the top of the violin) it needs top quality artists to do justice to it. In his introduction Gluzman mentioned that there may be some crossover between klezmer and classical style in this music. To me, in the first piece ('Vidui') Gluzman seemed the best violinist anyone could have dreamed of, his respectful but beautiful delivery of the second picture ('Nigun') was a masterclass against self-indulgence, the jubilation in the third picture ('Simchas Torah' or 'Rejoicing') was delivered by beautiful phrasing without any artificial artifacts. Angela Yoffe's sensitivity at the piano reminded me that behind every great man there might sometimes be a great woman. Yoffe, Gluzman's wife and chamber music partner, proves the dictum possibly true.
Castelnuovo-Tedesco's transcription of Figaro's famous aria ('Largo al factotum') from Rossini's Barber of Seville was composed for Heifetz as an encore piece. It shows off Heifetz's legendary virtuosity, with technical demands which only few can muster. Gluzman is one of the very few; his delivery was as breath-taking as joyous. Lera Auerbach's T'filah (Prayer) for violin solo was composed for Gluzman in 1996. He still plays the piece from the original manuscript – although, in fact, he plays from memory – but this short piece (of about 5 minutes duration) has been published by Sikorski and has entered the repertoire of many violinists; deservedly so.
Avner Dorman's 'Dancing with the Torah at Mount Meron' for Piano, Violin, Clarinet and Cello was specially commissioned for the current North Shore Chamber Music Festival by Joseph and Minna Pirogovsky. Furthermore, as Dorman said in a video interview shown at the concert, he composed the piece with Gluzman's violin playing in mind. An Israeli, now resident in the States, Dorman set to music the eponymous 1924 painting by the Israeli painter Reuven Rubin. Dorman said that the violin and clarinet were particularly suitable for Jewish/Chassidic music. Indeed, the two instruments in the piece sing beautifully in harmony and also dominate the fast virtuoso sections. The cello and piano parts are important but play supporting roles. All four players (Gluzman, Shterenberg, Kosower and Yoffe) brought that joyous moment of dancing with the Torah vividly to life.
11 September: 'Love Triangle'
The common thread in these three Romantic compositions presented was the relationship of Robert Schumann, his adoring wife (and fellow composer) Clara and Brahms who was devoted to both of them (and enjoyed the friendship of both). Pianist Yoffe took a backseat for this concert; the performances were delivered by Gluzman, Shterenberg, Kosower, and Wolfram.
As Shterenberg explained, Schumann's 'Three Phantasy Pieces' were composed in 1849, by which time Schumann was deeply disturbed, but the pieces – to be performed as one long piece without a break – contain happy music. Written for clarinet and piano, Schumann indicated that the clarinet part could also be performed on the violin or cello. Performing this composition, clarinettist Shterenberg and pianist Wolfram were a model of elegant and disciplined playing, with discreet agogics, skilful changes of dynamics and speeds between themes, and – crucially – with nothing forced.  Clarinets often shriek in passionate music, but this clarinet did not shriek, it just sang all way through.
Written and dedicated to the great violinist and her close friend Joseph Joachim in 1853, Clara Schumann and Joachim performed and even toured her 'Three Romances for Violin and Piano'. I think Wolfram probably generously appraised Clara Schumann in his introduction to these pieces but his verbal communication (or his use of microphone) was not as good as those of his colleagues. No problem, though, with his accompaniment to Gluzman's sensitive and caring performance of the Joachim part.
Composed in 1854, when the tragic events of Schumann's suicide attempt and his incarceration in an asylum were slowly unfolding, Brahms's Piano Trio No.1 in B major is his first piece for the genre but Brahms substantially revised it in 1889. The revision amounted to extensive reworking – only the second movement (Scherzo) remained untouched – so the Op.8 classification is slightly misleading. Kosower gave an excellent introduction, drawing attention to dualities between the passionate exuberance of Brahms's youth and the structural mastery of maturity, between the B Major/B Minor keys, between heroism and lyricism. The three players did full justice to this masterpiece: passionate but never over the top, with an exquisite realisation of the very lyrical third movement (Adagio) where the dialogue between the strings and the piano was as tasteful as beautiful. Kosower's dynamic range did not come over through streaming (on my laptop) as well as it most probably did at the live venue but I was happy and felt privileged to witness the trio's performance. It was also nice seeing Gluzman sitting – rather than standing as during at all other items he performed – and presenting his chamber music credentials with integrity, humility, and profound musicality.
Agnes Kory