United States Various composers, Lucas Meachem (baritone) and Irina Meachem (piano): Merola Opera Program Virtual Recital series, streaming from Mill City Museum, Minneapolis. 25.9.2020. (HS)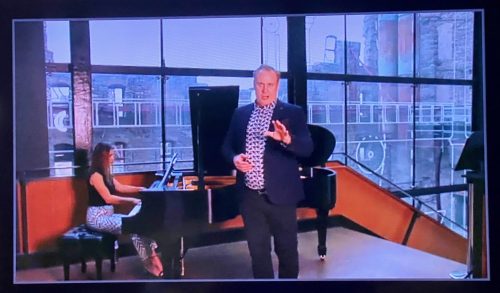 A live recital Sunday afternoon presented by Merola Opera, the long-established artist development arm of San Francisco Opera, showcased baritone Lucas Meachem in a recital as personable and appealing in content as his regular appearances on the opera stage have been. His wife, Irina, accompanied on piano and introduced a series of arias he has sung at SF Opera since his main-stage debut in 2005. Hence the recital's title, 'I Left My Aria in San Francisco'.
The 50-minute recital felt as much like a casual get-together with friends as it did a formal musical performance. Beamed on Zoom from a resonant loft space in the Mill City Museum in Minneapolis, the city where Lucas and Irina reside, the program featured arias from operas by Mozart and Donizetti to Tchaikovsky, Gounod and Korngold.
Meachem's debut on San Francisco's main stage came in a 2005 production of Eugene Onegin when, as an Adler Fellow, he stepped into the title role at the last minute. His performance here conveyed the condescending tone and sinuous melodic line of Onegin's response – in the Russian original – to Tatyana's letter, and it was on its way to becoming a highlight of this recital. Zoom connections being Zoom connections, a technical glitch interrupted the stream. Worse, Zoom's limited sound could only emerge from the tiny speakers on my laptop: the performance played out on the big screen of my television, but not the sound.
Having heard Meachem live in all of these roles, I can vouch for his voice's richness and his technical accuracy and flexibility. Blame Zoom if more subtle nuances of dynamics and tone lacked the emotional connection that might have lifted this performance from very good to superb. It was like hearing the concert on an old Philco radio.
That said, one musical highlight was 'Mab, la reine des mensonges', Mercutio's lively aria from Gounod's Roméo et Juliette. Meacham sang it at SFO most recently in the 2019 season opener, and this rendition had all the bounce one could want. Even better, in 'Mein Sehnen, Mein Wähnen' from Korngold's Die tote Stadt, the baritone's stately performance employed sweet, velvety pianissimo in the title words and opened it out with impressively executed sonic range.
Earlier works, including two Mozart arias, came off as more sturdy than elegant. 'Hai già vinta la causa,' the Count's Act III aria from Le nozze di Figaro, never quite revved up into the emotional frazzle it might have achieved, and 'Deh, vieni alla finestra,' the title character's serenade from Don Giovanni, started off too loud and forced before acquiring some allure. 'Bella siccome un angelo' from Donizetti's Don Pasquale, in which Malatesta suggests that the title character in his dotage consider a lovely young bride, could have had more sneaky intent.
The recital finished with a rousing art song, 'Love Let the Wind Cry' by Undine Smith Moore, a pioneering American composer whose life and music impressed the Meachems in their work with a foundation to bring to light American composers of color. Moore's three-minute exclamation of exultation certainly deserves more performance by lower-voiced singers.
Encores are rare in streamed concerts without audiences present, but the Meachems offered one anyway. We may associate the popular song 'I Left My Heart in San Francisco' with Tony Bennett's nubby tenor, but Meachem's resonant baritone gave it a different, and welcome, flair.
Harvey Steiman