Germany Wagner, Götterdämmerung: Soloists, Chorus and Orchestra of the Bayreuth Festival / Pierre Boulez (conductor). Filmed at the Bayreuth Festspielhaus in 1980 and reviewed on DG Stage on 30.8.2020. (JPr)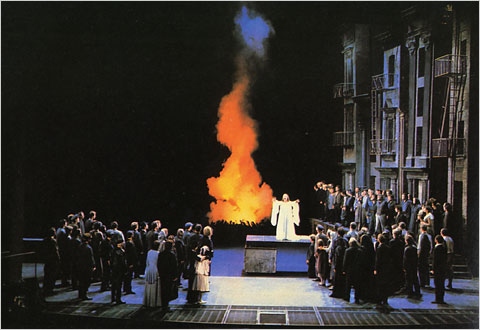 Production:
Stage Director – Patrice Chéreau
Set Design – Richard Peduzzi
Costumes – Jacques Schmidt
Lighting – Manfred Voss
Chorus Master – Norbert Balatsch
Video Director – Brian Large
Cast:
Siegfried – Manfred Jung
Gunther – Franz Mazura
Hagen – Fritz Hübner
Alberich – Hermann Becht
Brünnhilde – Gwyneth Jones
Gutrune – Jeannine Altmeyer
Waltraute – Gwendolyn Killebrew
First Norn – Ortrun Wenkel
Second Norn – Gabriele Schnaut
Third Norn – Katie Clarke
Woglinde – Norma Sharp
Wellgunde – Ilse Gramatzki
Flosshilde – Marga Schiml
It has usually been my policy in life never to look back and that has sneaked into my reviews – pre-pandemic – too and I don't often include much of 'I saw and heard' this then or him or her in that. With a long list of normal musical activities cancelled there has been a lot of archive performances to catch-up on and – overall – this has proved revelatory. The biggest disappointment has been this Patrice Chéreau Centenary Ring which is often spoken of in hushed tones but – even taking account of forty odd years of hindsight – proves a damp squib.
Any pretence Chéreau (and his set and costume designers) had at social commentary in his Ring – diluted as it was in Siegfried (review click here) – has all but vanished in Götterdämmerung where the director seems to have run out of any new ideas.
Everyone is in rather modern dress (well, what passed for modern in the 1970s!) rather than some of the Victorian dress seen before. Gunther wears black tie throughout and although Siegfried enters wearing a breastplate, he will later briefly be in black tie too. Hagen was dressed in a crumpled grey business suit with his tie loose at the neck. It is possible the Gibichungs themselves could have been factory workers and their families but were all in mostly modern dress with some bearing an eclectic assortment of weapons. There were some spears and, of course, Hagen needed one – whatever year this was supposed to be – otherwise there would be nothing to swear an oath on in Act II.
The Prologue began with three odd-looking Norns making something of a cat's cradle out of their rope of Destiny. Siegfried and Brünnhilde's ecstatic leave-taking included a final passionate embrace on the ground. For 'Siegfried's Rhine Journey' Brian Large's camera imaginatively pulls back to leave Brünnhilde's mountaintop eyrie behind before zooming in for the Hall of the Gibichungs which – with its series of columns and one chair – appeared to be situated on a quayside with a modern building in the distance across the 'Rhine'. As we would go on to appreciate more in Act II, Hagen is his 'father's son' and looks a lot like Alberich. Gutrune seems to be in white satin couture and this mimics something that looks like a white kimono that Brünnhilde wears throughout this Götterdämmerung. That Hagen is a bit of a brute is a given, however that Gutrune exhibits an eagerness to have sex with Siegfried isn't. As for Siegfried himself, he is clearly interested in Gutrune even before drinking the love portion she offers him; though from then on he will often put his hands to his head clearly trying to subdue some flashbacks he is having. Large's camerawork goes into reverse as we return to Brünnhilde. The Waltraute scene is not very interestingly staged but after Siegfried (disguised as Gunther) violently manhandles Brünnhilde as he removes the Tarnhelm he again seems to recognise – if only fleetingly – where he is.
Alberich is much more of an immediate presence at the start of Act II for 'Schläfst du, Hagen, mein Sohn?' with Hagen found at the end of a short pier and not long after Alberich takes an age to wander off. Gutrune is very suspicious of what Siegfried has got up to while he was away, but later – when she has been placated – they can hardly keep their hands of each other. Brünnhilde is reluctantly brought in and there is the immensely powerful image of her long hair covering her face. Brünnhilde's reactions throughout the rest of act appeared to me as if she was 'in another world'.
For the beginning of the last act we were back at the huge hydroelectric dam that featured in the opening scene of Das Rheingold (review click here) with three Rhinemaidens who now seem down on their luck. This Siegfried is initially keen to get rid of the ring but rejects their taunts of a curse. For Siegfried's death there is a white shroud on stage and a cage for a now dead woodbird. At the sight of the return of Siegfried's body to the Gibichung Hall Gutrune and Brünnhilde collapse to the floor simultaneously; whilst Siegfried's death throes keep Hagen from reclaiming the ring.
Chéreau and his team have as little luck bringing some coherence to the ending as anyone previously has. Perhaps Wagner demands too much and will anyone ever create a truly satisfying conclusion to Götterdämmerung? There should(?) be a funeral pyre, the Rhine is supposed to overflow the stage, Valhalla must be destroyed in a conflagration, the Rhinemaidens shown rejoicing and then drowning Hagen, with all of this going on more or less at the same time. From Chéreau much of this is hinted at amidst loads of billowing red smoke. A lot of people emerged earlier as mourners and – perhaps bringing this Ring full circle – these might be the proletariat who have finally brought about the downfall of a capitalist system. At the very end they lower to the floor but then rise to turn and face out to the audience as the music subsides and the lights on stage slowly fade.
If these operas were seen and heard like this in the Festspielhaus then it is the conductor and orchestra who are beyond criticism. Pierre Boulez brought the same refinement to Götterdämmerung as to the rest of the cycle. Tempos throughout were in the 'Goldilocks Zone', neither too slow, nor too fast. There was an unhurried inevitability to the way all the operas unfolded. Boulez did not strive for any undue profundity and was sensitive to the transparency of orchestral detail. He made sure the singers could be heard to their best advantage, though the recording might have had something to do with that.
It was left to some variable singing to explain my overall disappointment with this Götterdämmerung. Gwyneth Jones was a singer I heard live many times in subsequent years and got to know personally; if it was left merely to her looks, she would be the personification of Brünnhilde. Listening to her voice in 1980, it was big and when Jones had total control of it the sound could be spectacular. Yet, she seemed to go for volume above all else and her Brünnhilde often became difficult to listen to and the words unintelligible.
Manfred Jung seemed less at ease in Götterdämmerung than previously in Siegfried. He once again was a very physical actor and rushed around tirelessly, though this might have been at the expense of his singing which was often dry and monochromatic. I longed for some of the style and musicianship of much better Siegfrieds.
Fritz Hübner's Hagen impressively called the vassals (the phenomenal men of the Bayreuth Festival) and earlier, where some Hagens show self-doubt in the brooding 'dream scene', now there was none and only the certainty he could reclaim the ring. Hübner was well-matched with the equally leathery sounding Hermann Becht's returning Alberich and they both made their characters dramatically credible. Franz Mazura portrayed some of the complexities of Gunther as wavering between being spineless and ambitious, however, his gravelly singing suggested he was not at its best on this occasion. Jeannine Altmeyer once more made a considerable success of her bright-voiced, insecure, and volatile Gutrune. Gwendolyn Killebrew sang with perfectly projected tone as a rather understated Waltraute, whilst the trios of Norns and Rhinemaidens provided solid support.
Reminder: if you click here you can see the 1983 film The Making Of The Ring – Wagner's Tetralogy by Pierre Boulez & Patrice Chéreau (both this and the entire cycle are still available on DVD).
Jim Pritchard
For more about DG Stage click here.