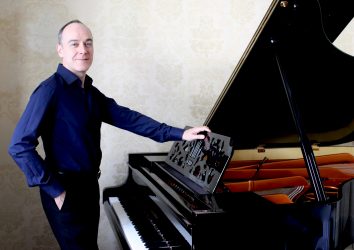 Leon McCawley is one of the UK's leading concert pianists. He has forged a highly successful career since winning first prize in the 1993 International Beethoven Piano Competition in Vienna and second prize at the Leeds International Piano Competition the same year. Since then, his concert performances and extensive discography have established him as a pianist of great integrity and variety, bringing freshness and vitality to Classical, Romantic and twentieth century repertoire.
Leon has received critical acclaim for his recordings. BBC Music Magazine described his CD of Haydn Sonatas Volume II for SOMM Recordings in the following terms: 'The sparkle of McCawley's touch is instantly apparent…most impressive throughout the disc is McCawley's command of subtle nuance and rubato without ever sounding self-conscious or mannered. This collection should stand high on any list'. Gramophone Magazine described his recording of Rachmaninov's complete Preludes in very favourable terms: 'Leon McCawley finds a delicate emotional fervour with no lack of drama in Rachmaninov's 24 Preludes, aligning himself with other celebrated performances on disc by Moura Lympany, Howard Shelley, Steven Osborne and Ashkenazy'.
McCawley has been praised for the purity of his lyrical and heartfelt playing. An acclaimed exponent of Mozart, he has performed and recorded (Avie Records) the complete cycle of Mozart piano sonatas in winning interpretations: 'There's absolutely no vanity in his playing, which is bright, clean and unfailingly communicative. In his hands the Mozartian oeuvre emerged with striking vividness' (International Piano). He has also done the world of Classical music a great service by recording the complete piano works of Hans Gál. His recording was listed as an Editor's Choice in Gramophone Magazine.
He has performed recitals at the London Piano Series at Wigmore Hall (where he is a regular performer), the International Piano Series at London's Southbank Centre, New York's Lincoln Center, Hong Kong Arts Festival and the Phillips Collection in Washington, DC. He can be frequently heard on BBC Radio 3, both in performance and interview with recent broadcasts including In Tune, Wigmore Hall Lunchtime Series and Performance on 3. He will next be performing at the Wigmore Hall on 10 October in a programme consisting of Schubert, Janáček, and Schumann. The concert will be live-streamed from the Wigmore Hall website and on their YouTube channel.
As a concerto soloist, Leon performs with many leading British orchestras, including the BBC Philharmonic, London Philharmonic, Royal Philharmonic, Royal Scottish National and Ulster Orchestras, Bournemouth and City of Birmingham Symphony Orchestras and Royal Northern Sinfonia. He made his sixth appearance at the BBC Proms in August 2019 performing John Ireland's Piano Concerto with the BBC Concert Orchestra and Bramwell Tovey which was televised on BBC4. Further afield, Leon has made concerto appearances with, amongst others, Cincinnati, Dallas, RTÉ National and St. Petersburg Symphony Orchestras, Malaysian and Netherlands Philharmonic Orchestras, Philadelphia Orchestra and Orquesta Sinfónica del Principado de Asturias and has worked with conductors such as Hans Graf, Miguel Harth-Bedoya, Andrew Litton, Kurt Masur, Sakari Oramo and Simon Rattle.
During the period of lockdown, Leon expanded his YouTube channel which now includes over sixty videos of his live concert performances.
I spoke to Leon about those teachers who have influenced him most, the impact of Covid on the Classical music industry and opportunities that are arising now the lockdown is being lifted, his forthcoming recital at the Wigmore Hall and some of his recordings together with new recording projects in the pipeline.
Robert Beattie: Your piano teacher at the Curtis Institute, Eleanor Sokoloff, died very recently at the grand old age of 106. Can you tell us about her and how she helped shape your development as a musician?
Leon McCawley: I was so very sad to learn of Eleanor Sokoloff's passing this July. She was an incredible life force, loved and cherished by so many students over the years, including myself. She was on the faculty of the Curtis Institute for over 80 years, surely a world record! She was such a wonderful and inspiring teacher during my years at Curtis (1991-5), taking over from my formative years with Heather Slade-Lipkin (who also sadly passed away back in 2017) at Chetham's School of Music in Manchester (1984-91) who had given me such a strong and solid foundation there. I felt incredibly blessed to have studied with Eleanor Sokoloff as her detailed but encouraging approach came at the right time in my development. There were so many opportunities to give concerts at Curtis and she was always there at the back of the hall, never missing a note and guiding me in the right direction. She introduced me in particular to the music of Schumann and shared her joy, love and enthusiasm for this remarkable composer, helping me to understand the spontaneous and fantastical nature of his writing. I learnt lots of repertoire with her, both solo and concerto, which prepared me well for my future career as a performer. During my time with her I succeeded in two international piano competitions (Beethoven and Leeds). I will miss her terribly but always remember her with the deepest affection.
RB: Since winning these top prizes at the Beethoven and Leeds International Piano Competitions back in 1993 you have been on the jury yourself for some competitions and you were the guest commentator on BBC 4 earlier this year for the BBC Young Musician Keyboard Final. How important are these competitions in launching the career of aspiring young pianists?
LM: I think competitions, although they can sometimes be controversial, are very important platforms for young pianists. They can help with repertoire building and offer valuable concert opportunities. There are many musicians (like myself) that do not have the right connections to forge a career without a competition success i.e. a wealthy patron, a powerfully influential mentor etc. The good competitions can really help you get onto the right stepping stone to develop a career but they are only the beginning and in the end it is up to the musician to try and find their own path, taking advantage of every situation that comes their way.
RB: You disagreed with the judges on Young Musician of the Year earlier this year, although you quite rightly acknowledged the exceptionally high standards among all the competitors. Do competition juries always come to the right decision?
LM: I think all juries are trying to make the right decision but if the standard is very high in a competition then making the right decision will always be a very subjective matter. Many juries aren't allowed to discuss together (according to some competition rules) and personal choices and preferences can often be varied. As a jury member it is important to acknowledge this aspect and respect the decision made. I have been on a few juries where my preferred choice has not been in line with the majority and not won the competition but that's life! What's fair, eh?
RB: Covid-19 has hit some industries more than others and the Classical music industry is one of those which have been most affected because of the lockdown arrangements. What opportunities have arisen during lockdown and are things getting better now that the lockdown is easing?
LM: Even though I have been counting my blessings, this year has been truly challenging and the worst year performance-wise since I first started performing professionally in my teens. My last performance was in February and since then all dates have been cancelled, postponed or rescheduled for future seasons. It took quite a while for me to take in the situation and adjust to not being able to perform in public, something that I have been doing regularly for well over 30 years. I decided to make a few lockdown videos from my home and the response from my supporters was really heart-warming. Even though it's been hard to get into a routine, not knowing when live concerts will resume, I have continued to be disciplined with my practice regime and have been preparing forthcoming repertoire, also using the time to learn other repertoire that I have not had the chance to study before. I am hopeful that my concert schedule will resume in 2021. Fingers crossed!
RB: You released a recording of Mozart's complete solo piano sonatas in 2006. You have now turned your attention to Haydn and have released the second volume of a prospective recording of his complete piano sonatas. What attracts you to this music and what comparisons would you make between the two composers?
LM: I must say that I am never happier when I am weaving a classical eighteenth century line at the piano! During the lockdown, whenever I was feeling really low I would just open up my Haydn sonata scores and play. There is so much joy and humour in the music and it just makes me so happy that you cannot stop smiling, in awe of the score! With Mozart also, there's something so ideal about the writing that you don't want to change a note. What a gift for melody Mozart had and the keyboard music truly sings like his operas. There's perhaps more innovation at work in Haydn's sonatas: often they are more experimental in form than Mozart's but I still love them both in their own way and they make ideal partners in recitals. I am planning to perform a four-programme series of concerts highlighting the late sonatas of Haydn, Mozart and Schubert in 21/22 season in several recital venues including Wigmore Hall (all being well!).
RB: I am a huge fan of your recording of Hans Gál's piano works. How did you come to record this music and how does Gál's piano music compare with that of other contemporary composers?
LM: I am glad to hear this! Recording the three-disc set of Gál's complete piano music back in 2004 was a real labour of love. I was introduced to the music through the composer's daughter, Eva whom I met after a concert in York. I was really intrigued by it and this interest led to the suggestion of a recording through the help of the newly formed Hans Gál Society. I was delighted to give world-première recordings of his piano music (produced and engineered by Gál's grandson, Simon Fox-Gál) that span most of the 20th century from his early Sketches (composed in 1910 when he was 20) to his 24 Fugues Op.108, composed in 1979 towards the end of his long and highly productive life. Gál remained steadfast in his compositional style which never wavered. There is great strength and conviction in his writing, inspired by the counterpoint of Bach and Brahms' romanticism but you hear a unique voice at work: always transparent, optimistic (despite experiencing great sadness in his life) and expertly crafted.
RB:  You will be giving a concert at the Wigmore Hall on 10 October which will be live-streamed via the Wigmore Hall website.  Can you tell us about the programme and what draws you to these pieces?
LM: I am delighted to finally have the opportunity to perform again at Wigmore Hall and this date is a rescheduled performance of my cancelled recital in April. The programme will feature Schubert's A major Sonata D664, Janáček's On an Overgrown Path and Schumann's Kreisleriana. All these composers have a gift for melody and lyricism, a love of nature that is infused into their music as well as having rhythmic vitality which attracts me greatly. There are many similarities in these composers and you can hear the influences, for example, of Schubert on Schumann and, even though Janáček found his own individual voice there are similar elements in his music to the narrative style of Schumann, both composers interweaving their own personal life and deeply felt emotions through their work.
RB: Janáček's piano music is being performed more and more frequently nowadays and I am always struck by how unique and innovative it is. Does the music pose interpretative and technical problems?
LM: It is immensely personal, highly-charged, deeply emotional music and I agree, Janáček's sound-world is unique. His piano music does pose interpretative challenges but perhaps fewer technical ones since it is not overtly virtuosic and often introspective. I try to interpret his music in a similar way to Schumann: imagining the narrative, telling a story, almost as if the notes are written words from a personal diary: the mood can change suddenly as the page is turned. His music is very visual, particularly in the On an Overgrown Path series, and I think you need to be imaginative and open to the many possibilities, since there is always something that is ambiguous and elusive in his writing.
RB: Can you tell us when the next volume of Haydn piano sonatas will be released and do you have any other recording projects in the pipeline? 
LM: Yes, the third volume of Haydn sonatas for SOMM Recordings will be released on 20th November this year (Vol 2 review). I am very excited about this and thank SOMM immensely for continuing to support my playing: this will be my ninth disc for the label. My next project will be more Haydn sonatas for SOMM, Volume 4 which I am planning to record later this year for release next autumn. Can't wait! And who knows what's in store after that? Watch this space!
RB: Thank you very much for speaking with Seen and Heard and all the best with your future projects.
For more information about Leon McCawley click here to visit his website.
For more about the 10 October Wigmore Hall concert click here.