United Kingdom BBC Proms Live – Martinů, Adams, Higgins, Barber, Copland: Natalya Romaniw (soprano), BBC National Orchestra of Wales / Ryan Bancroft (conductor), Hoddinott Hall, Cardiff. Broadcast on BBC Radio 3 and BBC iPlayer, 8.9.2020. (RP)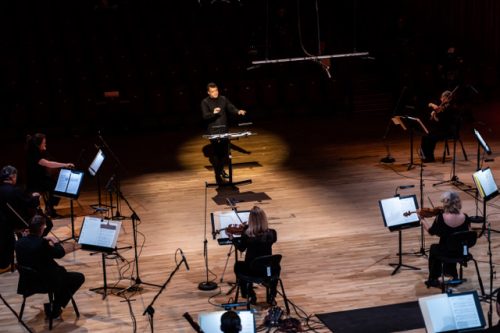 Martinů – Jazz Suite
Adams – Chamber Symphony
Higgins – Rough Voices (BBC commission: world premiere)
Barber – 'Knoxville: Summer of 1915'
Copland – Appalachian Spring
British composer Gavin Higgins's Rough Voices made an impact in this mostly American concert, which marked the Proms debut of Ryan Bancroft, the new Principal Conductor of the BBC National Orchestra of Wales. Like most of the composers commissioned to write works for this Proms season, Higgins was asked to respond in some way to the COVID-19 pandemic. The result was eight minutes of music as powerful as the message it conveys.
Higgins was born in Gloucester into a family of brass-band musicians. He studied both French horn and composition, but the latter won out. He has received commissions from the BBC Symphony Orchestra, the London Philharmonic Orchestra, Manchester Camerata, London Sinfonietta and many other organizations. His first opera, The Monstrous Child, debuted at the Royal Opera during the 2018/19 season.
Rough Voices was inspired by a battle cry for the working class, the poem 'Tough' by Tony Walsh (aka Longfella):
They don't like it when we make it despite all their ifs and cuts
They don't like it when we take it as our right to shake things up
They don't like it when rough voices start demanding better choices
But it's tough, we've had enough and we are coming
Higgins's creative process for this new work was driven by concern about the disproportionate impact of the pandemic on those living in poverty, on issues ranging from mental health and loneliness to education, housing and joblessness. His fear, shared by many, is that an entire generation of brilliant musicians will be lost as a result of the pandemic, especially those coming from less privileged backgrounds. Rough Voices is music of anger and despair; orchestral screams punctuate a chorale played by the strings. Incessant, repetitive rhythmic figures drove the work to a quiet, hauntingly beautiful conclusion.
As is the case with so many musical organizations, arts institutions and foundations around the world, the BBC is capturing this crisis in music through these commissions. The remarkable works that have poured forth from composers in lockdown have channeled the fears, frustrations and hopes of so many. If there is a silver lining to this cloud, Rough Voices is part of that fabric.
For an American critic, the rest of the program was a bittersweet reminder of what was lost this summer. Any other year, the music that the young California-born Ryan Bancroft conducted so expertly and with such sensitivity would likely have been heard in outdoor venues large and small across this country. The first half was bold and electrifying, while the final two works from the mid-twentieth century were perfumed with nostalgia, evoking the passing of what many deemed as a simpler, better way of life.
The concert opened with America's musical gift to the world – jazz – as distilled by Bohuslav Martinů, who called his Jazz Suite a 'violent blow against the soft lyricism of impressionism'. Composed in the late 1920s in Paris where the Czech composer made his home, the four-movement work may have been revolutionary then but comes across today as fresh, original and exciting.
John Adam's Chamber Symphony, composed in 1992, was a surprise. Rather than the expected exercise in subdued, measured minimalism for which he is famous, the three-movement work is boisterous and eclectic, resounding with the sounds of trumpet, trombone, drums and synthesizer. Chamber Symphony was Adams's response to Arnold Schoenberg's 1906 Chamber Symphony, kicked up a notch or two by incorporating the energy and sounds of the cartoon music that he heard coming from his son's room.
'Knoxville: Summer of 1915' was Samuel Barber's elegiac lament evoking not only simpler times, but also the passing of a generation; it is dedicated to Barber's father who was gravely ill at the time and did not live to hear it performed. Barber set a 1938 prose poem by James Agee which describes a long summer evening spent with family as a child in Knoxville, Tennessee. Originally scored for sopranos, soloist and orchestra, Bancroft conducted the version that Barber later arranged for chamber orchestra and professed to prefer.
It took time for Welsh soprano Natalya Romaniw to settle into the work. Her precise diction and fast vibrato cut against the dreaminess of Barber's ethereal, luminous orchestration. Midway through the piece Romaniw relaxed, and transparent, shimmering sounds instantly transformed the performance, which became as light as a balloon floating through the air on a summer evening.
It is a paradox that music embraced as quintessentially American was composed by Aaron Copland, a Jewish homosexual who, during the Red Scare of the 1950s, was called before the House Un-American Activities Committee because of his progressive political views and involvement with communist-leaning organizations. Due to the controversy, A Lincoln Portrait was withdrawn from the 1953 inaugural concert for President Eisenhower, and Copland's works were banned from performance at US embassies and cultural sponsorship abroad. Cancel culture is nothing new.
Bancroft and 13 players from the BBC NOW gave a sparkling account of Copland's Appalachian Spring in its original version for chamber orchestra. The opening soft passages took one's breath away, woodwinds chirped brilliantly, and the strings in the final statement of 'Simple Gifts' were bold and glorious. It was a performance devoid of sentiment but full of profound emotions. Joy resounded through every note, capturing the emotions of musicians sitting far apart in an almost empty hall and performing together for the first time since March.
Thanks to the BBC, this concert from Hoddinott Hall in Cardiff is available for the world to experience.
Rick Perdian
This concert is available if you click here.  All of the 2020 Proms concerts can be accessed on BBC Sounds or watched on BBC iPlayer until Monday 12 October.