Composer Sarah Kirkland Snider, who lives with her husband, Steven Mackey, a professor of music at Princeton University, and their two school-age children, has been navigating lockdown with all that entails. In addition to those demands, there is the relentless onslaught of the daily news cycle that has also consumed her. Once the reality of 2020 hit, Snider's urge to compose slipped away and for a few months she took a hiatus from it, focusing instead on tasks that needed less emotional energy, such as creating a new website, revising earlier works and doing research for her next opera.
2020 was to have been a big year for Snider, who has received commissions from major orchestras in the US and Europe, and whose music has been performed in concert halls around the world. In June, Forward Into Light was to have been premiered by the New York Philharmonic. Commissioned by the orchestra, the work commemorates the 100th anniversary of the ratification of the Nineteenth Amendment to the US Constitution that enfranchised all American women, declaring for the first time that they, like men, deserve all the rights and responsibilities of citizenship.
Snider is realistic and is gutted to think that she might not hear the NY Phil perform Forward Into Light for some time to come. The intention is to reschedule it, but there is no telling when, or what New York City's cultural landscape will look like, let alone what the orchestra's constraints will be, in the future. If any work would resonate with the moment, Forward Into Light, if only for its title, would seem to be it.
June was also to be the month that the recording of Snider's Mass for the Endangered was to be released, the fourth of her works to be issued in a partnership between New Amsterdam and Nonesuch Records. The project, however, was delayed, and the recording was released on 25 September 2020.
Mass for the Endangered was commissioned by Trinity Wall Street (an Episcopal parish that has been an integral part of New York City's history for more than 300 years) in response to composer Danny Felsenfeld's suggestion that the church get composers to reimagine the Mass. With the support of Julian Wachner, Director of Music and the Arts at Trinity, the project went forward, and Snider was one of five composers chosen to write a Mass written on any topic, with any text. Trinity's only stipulation was that the Gloria, Sanctus and Benedictus employ the traditional Latin so that they could be sung in church services.
Snider asked the author, poet and musician Nathaniel Bellows, who is not only her friend but a frequent collaborator, to write the text. Knowing that whatever would interest him would likely speak to her, she asked him to propose a topic. Bellows responded with two words – 'endangered animals' – and she leapt at the idea. Bellows and Snider are both inspired artistically by the natural world and have bonded over the role that it plays in their respective creative processes, so it was fitting that it would be the focus for the Mass they would create together.
As they began work on it in 2017, the Trump Administration had just withdrawn from the Paris Climate Agreement, an ambitious global action plan to fight climate change that nearly 200 countries signed in 2015. With the dramatic increase of devastating weather events, Bellows and Snider were grateful for the opportunity to express their grief, alarm and desire for change. The result was a celebration of, and an elegy for, the natural world – animals, plants, insects, the planet itself – as well as an appeal for greater awareness, urgency and action regarding climate change.
The Choir of Trinity Wall Street, acclaimed as one of New York's finest and most exciting vocal ensembles, premiered Mass for the Endangered in April of 2018. Snider has substantially revised it for the recording, adding an Alleluia and giving greater prominence to the male voices throughout. She has only praise for the Trinity singers and Wachner, but logistical reasons precluded their involvement in the recording, so she turned to Gabriel Crouch and the British early music ensemble Gallicantus.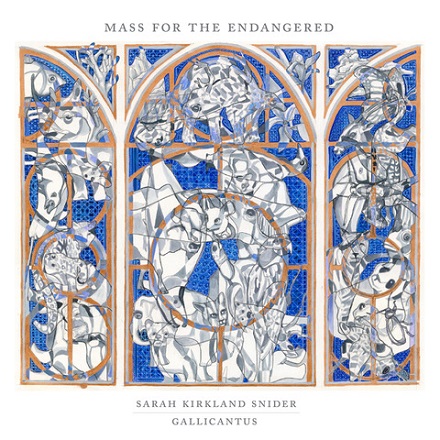 When Snider heard Gallicantus in Princeton, she was blown away: 'The English choral tradition has an incredibly special attention to detail – to text and to blend – and Gallicantus is a radiant example of it'. She found a kindred spirit in Crouch, notably in the care and intelligence that he brings to everything he does. Proximity has likewise played a role, as Crouch is Director of Choral Activities at Princeton University. Some may recall that as an eight-year-old chorister at Westminster Abbey, Crouch performed a solo at the wedding of HRH Prince Andrew and Miss Sarah Ferguson in 1986.
The sensibilities that Snider attributes to Crouch are also evident in the text and music of Mass for the Endangered. The only real departure from the Catholic tradition is that the appeal for mercy, forgiveness and intervention is directed to Nature itself rather than God. Scored for SATB choir, strings, woodwinds, harp, piano and percussion, Snider's Mass is embedded with the mysticism, sonorities and spaciousness found in church music throughout the ages that imbue it with a sense of timelessness. What's more, it sounds, feels and sings like a Mass, resulting in music that is not only beautiful, but fit for liturgical purposes.
There is a joy and simplicity throughout Mass for the Endangered that prevailed in the music of the Roman Catholic Church after the reforms of Vatican II, albeit Snider's music is artistically leaps and bounds from what was then the norm. Texturally, Bellows hearkens back to Eucharistic Prayer III from the Episcopal Church's Book of Common Prayer, especially the phrase 'At your command all things came to be: the vast expanse of interstellar space, galaxies, suns, the planets in their courses and this fragile earth, our island home'. Then again, the environmental movement was is its nascency in the 1960s and 1970s, so is it any wonder that the sensibilities are the same, whether intentional or not.
Bellows created the cover art for the recording which, like the Mass itself, combines the past with the present. It is a triptych of endangered flora and fauna that evoke medieval Christian altarpieces and stained-glass windows.
Snider is currently working on an opera about Hildegard von Bingen, the twelfth-century German Benedictine abbess, writer, philosopher, Christian mystic, visionary and polymath, who is one of the best-known composers of sacred monophony, as well as the most-recorded in modern history, Snider, however, has found composing to be more difficult and complicated than before, and she is building a shed in her backyard where she hopes to work in relative solitude and quiet.
Nonetheless, it is a halting process, and at times Snider feels as if she is learning to compose again from the ground up. She is confident, however, that she will once again lose herself in composing music – 'baby step by baby step, error by error, lesson by lesson' – as she has done so brilliantly time and time again.
Rick Perdian
For more information on Sarah Kirkland Snider's Mass for the Endangered, click here.