United Kingdom Live from London – Choral Dances: VOCES8, St Anne and St Agnes Church, London, 5.9.2020. (CC)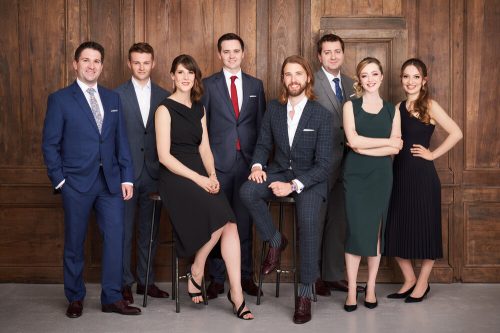 Britten – 'Choral Dances' from Gloriana
Nat King Cole (arr. Clements) – 'Straighten Up and Fly Right'
Berlin (arr. Clements) – 'Cheek to Cheek'
Rachmaninov – 'Bogoroditse Devo'
R. Panufnik – Love Endureth
Weelkes – 'As Vesta was from Latmos Hill descending'
di Lasso – 'Dessus le Marché d'Arras'
Rusby (arr. Clements) – 'Underneath the Stars'
MacLean (arr. Morgan) – 'Caledonia'
Van Morrison (arr. L'Estrange) – 'Moondance'
Demetrio/Beltrán (arr. L'Estrange) – 'Sway'
Van Heusen/Cahn (arr. Clements) – 'Aint' That a Kick in the Head'
A bit of a change this week: VOCES8 was kind enough to invite me to their centre, aka St Anne and St Agnes Church in Gresham Street in the City of London. It's a lovely space – incredibly the sound is even more beautiful than we hear on the expertly produced videos. It was also fascinating also to see the control room: the sound engineer David Hinett (whose name might be best known through many Hyperion discs) was in charge. Choreography – not the dancing of the title, sadly, but the changing personnel between pieces – was impeccably managed.
A programme built around the idea of dancing gives plenty of scope for repertoire, and this was diverse, to say the least, from di Lasso to Rusby from Van Morrison to Weelkes.
The sheer joy of the 'Choral Dances' from the second act of Britten's opera Gloriana seemed, if anything, emphasised in performance by a small group. The exuberance of the fine-tuned cries of 'Gloriana' in 'Time and Concord', and the beauty of the chordal sequences of 'Concord' combined into a potent experience. The sheer flexibility of the two voices of Eleonore Cockerham and Andrea Haines was a clear highlight of the evening, their tuning enabling Britten's blissful dissonances to speak with maximal potency.
A change to swing for 'Straighten Up and Fly Right' (complete with Swingles-like singer-generated percussion) featured the suave voice of tenor Blake Morgan; VOCES8 was perfectly in style and seemed to have a ball, especially the mimed 'double-bass' riff from Jonathan Pacey. With the decidedly non-COVID-secure title of 'Cheek to Cheek', Irving Berlin's classic received a beautifully slow, socially distanced rendition, the speed emphasising the deliciously warm harmonies.
The 136th Psalm forms the basis of Roxanna Panufnik's Love Endureth, with the key of F sharp major as a sort of place of safety in the storm, Eleonore Cockerham providing an almost Allegri Miserere-like moment in her stratospheric ascents. The groups current Composer-in-Residence, Roxanna Panufnik's refreshingly original harmonic language and the evident way she speaks from the heart make for a potent combination, enabling a real sense of ecstatic climax. A previous concert of her music by the Sacconi Quartet (review click here) had confirmed her status as a major composer of today; Love Endureth seems to state she is as confident in vocal music as she is instrumental.
Thomas Weelkes's six voice 'As Vesta was from Latmos Hill Descending' describes not only the descent of the Goddess Vesta and her nymphs, but also the ascent of the rising Orianna (again, Elizabeth I) and her shepherd; and then their meeting. Thence to Northern France, the marketplace of Arras, and the intervention of a would-be lover from Spain; Orlando di Lasso's deliciously light touch in 'Dessus le Marché d'Arras' came across beautifully.
Kate Rusby's 'Underneath the Stars' was remarkable in its use of inter-phrase silences, poignant and telling; it was notable, too, for the sheer accuracy of the vocal attacks (and a particularly eloquent bass solo from Jonathan Pacey).  
Blake Morgan, of VOCES8 (ex-Chanticleer – a group who will give the concert on October 3), arranged 'Caledonia' imaginatively and beautifully. Perhaps this was a very slow dance, but it certainly offered contrast. The final trio of pieces were really VOCES8 with their hair down; Chris Moore superbly slick and smooth in 'Moondance', a terrifically warm 'Sway' both those in arrangement by Alexander L'Estrange) with Van Heusen and Cahn's 'Ain't that a kick in the head', the perfect close to the programme.
One encore: originally written for the Swingle Singers, Ben Parry's infectious arrangement of Duke Ellington's 'It don't mean a thing if it ain't got that swing'.
The next concert, Where all roses go, is given by Apollo5 on 12 September.
Colin Clarke
For more about Live in London click here.