The King's Singers partner with IDAGIO for a digital concert series and launch The King's Singers New Music Prize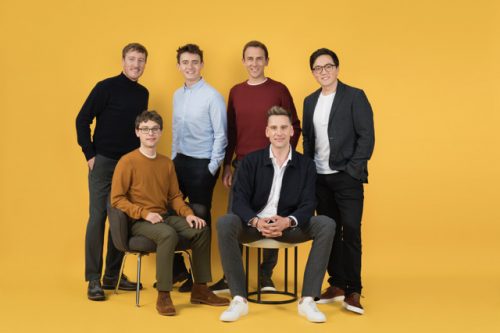 The King's Singers Digital Tour
Following the success of 'Back in Harmony in July 2020', second only in popularity to Yo-Yo Ma's summer concert, The King's Singers will again partner with the streaming site IDAGIO in four 60-minute concerts entitled 'The King's Singers Digital Tour'. The series runs from October to December via IDAGIO'S Global Concert Hall. Tickets are Euro 9.90 and each concert will be available to view for 24 hours.
The first concert, 'The Library Live' on 2 October, coincides with the release of The King's Singers' new EP, The Library, Vol.2, and celebrates the richness of their expansive library of close-harmony arrangements from 1968 to present day. It will feature many of their personal favorites, including British folk songs 'Danny Boy' and 'Greensleeves', as well as recent arrangements of contemporary works from The Beatles, James Blake, James MacMillan, Bob Chilcott and John Rutter and classic songs from Disney movies.
The King's Singers will perform music from an array of communities, countries and genres on 24 October in 'Heiwa'. Unable to complete their tour of Japan, their second concert will include world premieres of two commissions by Japan's foremost contemporary choral composers, Makiko Kinoshita and Eisuke Tsuchida. Heiwa, a Japanese term that translates into peace and harmony, guides the theme of this concert – an exploration of music's power – through Japanese music and culture.
In earlier times, darkness fell on composers who, due to their religious beliefs, had to write music in hiding. It also enfolded people forced into exile, for whom music became a welcome balm. The third concert of the tour, 'Out of Darkness', to be streamed on 27 November, features music by Tallis, Gombert, Debussy, Rorem, Legrand and Jacob Collier. The program reflects the shadow that is still hanging over a world in quarantine and explores how music has assisted people in coping with these times of uncertainty and isolation.
'The King's Singers Digital Tour' concludes on 22 December with the six men bringing comfort and festive cheer to all. 'Christmas with The King's Singers' will mark the end of a challenging year with a program of holiday songs and carols for people of all ages, faiths and nationalities.
For more information on The King's Singers Digital Tour, click here.
The King's Singers New Music Prize
In association with the Washington National Cathedral and Walton Music, and through the generous support of The King's Singers Global Foundation and Ronald C. Gunnell, the group has launched The King's Singers New Music Prize to recognize, develop and encourage a spirit of musical creativity in today's world.
Entry is free, and composers are invited to submit pieces by 16 October. The primary aim for the New Music Prize is to encourage creativity, both in emerging and experienced composers. The ensemble also wants to help composers develop their craft by offering a series of free digital masterclasses with leading composers from around the world.
The King's Singers have partnered with publisher Walton Music to offer the opportunity have the four winners' works made available for performance, along with a $1,500 prize and the goal of premiering them in Washington National Cathedral on 28 February 2021, if circumstances permit. The winning composers will also be provided with a recording of their composition, captured on this celebratory occasion.
For more information on The King's Singers New Music Prize, click here.
Rick Perdian