United Kingdom BBC Proms Live – Beethoven, Barber, Bridge, and Rachmaninoff: Sheku Kanneh-Mason (cello) and Isata Kanneh-Mason (piano). Pre-recorded on 6.9.2020 and later broadcast (directed for TV by Matthew Woodward) on BBC Four. (JPr)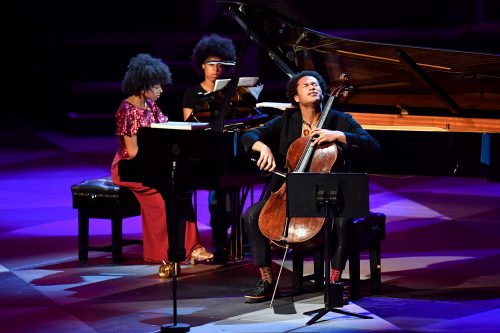 Beethoven – Cello Sonata No.4 in C major, Op.102 No.1
Barber – Cello Sonata
Bridge – Mélodie
Rachmaninoff – Cello Sonata in G minor
The remarkable Sheku Kanneh-Mason and his equally remarkable nuclear family have become like personal friends to those with an interest in classical music or, alternatively, the happiest of success stories. We have become so familiar with their family home in Nottingham that I can almost believe I had actually been there myself. On BBC iPlayer you can still see 2016's Young, Gifted and Classical: The Making of a Maestro and Alan Yentob's 2020 This House Is Full of Music in his Imagine series. And you can even read about them all in House of Music: Raising the Kanneh-Masons written by Kadiatu – their justifiably proud mother – which has recently been published (Oneworld Publications). Now there was much to celebrate in this BBC Prom showcasing Sheku's cello and Isata accompanying him on piano (with younger sister Konya turning the pages). These are just three of seven amazingly talented Kanneh-Mason siblings.
It firstly must be admitted that the barnlike Royal Albert Hall is not the best venue for a cello/piano duo. These are exceptional times of course and there was no audience and it was simply a recital for BBC Radio 3 and BBC Four. However, the Royal Albert Hall is big enough to have allowed for socially distanced audiences had the BBC shown more ambition. Though this is the UK we are talking about, so at a time when other European countries are bringing back live audiences to many of their concert halls and theatres, the day when concert- and opera-going will return here to near-normal seems as far off as ever, despite some interesting initiatives
'It is just our favourite music for cello and piano' said Sheku. Tom Service set what we would see and hear in context, saying how what we need most right now is 'the sounds of human contact and relationships made and renewed through the bonding power of music. And every note of tonight's Prom is created through the intensity of friendships and family, inspiring the composer (whose music we'll hear) and the musicians (playing it) … [They have] chosen this music especially for us, pieces whose power of emotional connection they need to share with us all tonight … Good relationships are at the heart of this concert of music by Beethoven, Barber, Bridge and Rachmaninoff, every piece being played tonight was either dedicated to or written for a friend of the composer.'
Beethoven's C major Cello Sonata was composed in 1815 and dedicated to Countess Marie von Erdődy, a confidante and close friend. Each of the two movements gets a slow introduction and that for the Andante is the most substantial and we hear the cello on its own followed by a complementary phrase on the piano, with both extended rhapsodically until interrupted by the fortissimo arrival of the first Allegro vivace. The sonata continued like this with the duo coaxing slow and quiet notes from their instruments, often followed by flourishes of more rapid, louder ones. Sheku and Isata smoothly handled any tempo and tone shift like the prodigies they undoubtedly are. Often the sonata has a faltering, rhythmic quality, notably for the cello part in the second movement. Sheku surmounted each transition with consummate ease, including passages where it forced him to practically slash his cello's strings (visibly taking toll of his bow) and it all built towards an exhilarating finale.
It must be admitted that the music is probably better heard than seen; in this case there was a dichotomy in playing styles with Isata seeming remarkably laidback and drawing extraordinary vibrancy from her piano, whilst Sheku is much more intense. I must admit Sheku might divide opinion with his closing of the eyes, swaying of the body, and rather trance-like countenance at times. I believe this is probably because he genuinely loves the music he is playing and just gets lost in the moment.
In the Beethoven – as elsewhere in their programme – Sheku and Isata often played music where they sounded as if they were matching each other note for note. Unsurprisingly, the two musicians were perfectly in sync and even when their notes diverged the unspoken musical bond between the two of them remained palpable.
Samuel Barber's Cello Sonata was composed in 1932 when the composer was still a Curtis Institute student, and indeed, the score was dedicated to his composition teacher, Rosario Scalero. When it was premiered in March 1933, Barber was at the piano with Orlando Cole, his colleague and friend, as cellist. There is more than a hint of Brahmsian romance to it; though the shift in emotions are more volatile with darker passages and then more exalted ones going back and forth with occasionally some more modern sounding music in the mix. Obviously Sheku's playing displayed his signature full, rich tone and polished phrasing. Isata responded characterfully to all the sonata's epic sweep and it became noticeable how the balance of the sound engineer's recording was favouring – at least to my ears – the piano over the cello. This became a feature of the remainder of the concert.
Isata's sensitive playing would then be heard providing the foundation to Frank Bridge's 1911 Mélodie and complementing Sheku's burnished and varied sound. Bridge was Benjamin Britten's composition teacher, and I wonder how many musical ideas passed from teacher to student? Mélodie is dedicated to the cellist Felix Salmond, Bridge's friend, and cello and piano proved inextricably linked in this very short, gentle, yet slightly sorrowful, early work.
Rachmaninoff's Cello Sonata in G minor was completed in 1901 when the composer, apparently, was recovering from a major bout of depression and creative ennui. Its dedicatee was another friend, and yet another cellist, Anatoly Brandukov who gave its first performance. For a cello sonata Rachmaninoff has given equal prominence to cello and piano and Sheku and Isata's approach was perfectly suited to that. The sonata is full of light and shade and its major themes often drive relentlessly on and surge through Lento, Allegro scherzando, Andante, and Allegro mosso movements, ending with a technically demanding vivace. Sheku and Isata's sound was transparent, and only occasionally did piano cover the cello once again. Isata's playing was particularly virtuosic and Sheku's expression was – as ever it seems – excellent, thanks to his clear articulation and natural vibrato. My lasting impression was of the perfect harmony between brother and sister in a work that at times was a – sometimes quixotic and passionate – extended song with words.
Jim Pritchard
For more about the BBC Proms click here.