United Kingdom Lachenmann, Schubert, Liszt: Francesco Piemontesi (piano). Wigmore Hall, London. Live stream from Wigmore Hall, London, 28.10.2020. (CC)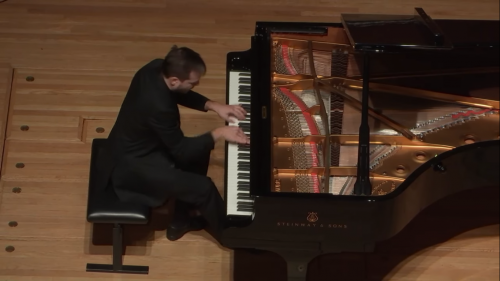 Lachenmann – Five Variations on a Theme of Schubert (1956)
Schubert – Piano Sonata in G, D 894, 'Fantasie' (1826)
Liszt – Piano Sonata in B minor, S 178 (1853)
Part of his Schubert Sonata cycle at Wigmore Hall, this recital acted as a reminder of the stature of this young Swiss pianist. Francesco Piemontesi's recording of the first two books of Liszt's Années de pélèrinage (Years of Travel, 'Suisse' and 'Italie') has already spoken volumes as to his maturity as an interpreter; this concert provided yet more proof. There is a Alfred Brendel-like meeting of musicality and intellect in Piemontesi that provides much hope in a world where thought and reflection are at a premium.
Lachenmann's theme is Schubert's Waltz in C sharp minor, D 643. Born Stuttgart in 1935, Lachenmann's music has a deserved reputation of difficulty, for audience as well as performer. This was his first published piece and in terms of extended techniques and the suchlike is relatively restrained. The skittish first variation scampered wonderfully in Piemontesi's performance, bass crisp, and this variation, marked 'Rasch' contrasts hugely with the 'Ruhig' that follows, a variation not without wit in Piemontesi's account. It is only a staging post: the angular, staccato, martellato third variation, virtuoso and positively scintillating here, leads to a 'Schwungvoll' that brings us back much closer to the Schubert original. A remarkable 'Sehr ruhig und ausdrucksvoll' takes the music down to its bare bones, a shadow of the waltz it once was. Remarkable music in a peerless performance of great understanding.
Schubert's G major Piano Sonata, D 894, is a work of utter transcendence, suffused with peace. It needs an interpreter who has the ability to project a sense of radiant tranquillity over the long term, and Piemontesi is clearly one such; his sense of pulse and rhythm is rock steady, his harmonic awareness complete. The second movement (an Andante) exuded nobility, its climactic crests reminding us that the expansive terrains of the slow movements of Schubert's very last sonatas are just around the corner. Piemontesi's ability to create power at the higher end of the dynamic spectrum without breaking tone was a real boon here. Listening to his way with the Menuetto and his realisation of Schubert's voice-leading makes one wonder about Piemontesi's Bach … how right, too, seemed the charming innocence of the Trio. The finale is an Allegretto, suavely witty (how wonderful was Piemontesi's staccato touch here); and yet here Piemontesi highlighted the mastery and even occasional daring nature of Schubert's writing, especially from a textural viewpoint.
Liszt's B minor Sonata is a huge challenge, not only technically but also intellectually. Piemontesi accorded it all the weight it deserves from the opening; it was clear this was to be no mere virtuoso account. Projecting the forward-looking, visionary aspects of the score without going to the extremes of Maurizio Pollini in this regard, Piemontesi's reading located the lyrical heart of the work as much as its barnstorming side. With climaxes carefully prepared, oases given the perfect amount of space to speak, this was a powerful performance, gripping from first to last.
One encore, 'Au lac de Wallenstadt', the second piece from the first book of Liszt's Années de pélèrinage, the flowing left hand the perfect foil for the flowing right-hand melody. All three books of the Années de pélèrinage remain undervalued to this day, so Piemontesi's championing of them is all the more welcome (we just need a Book III now). That same sense of textural awareness we heard, particularly in the Schubert G major Sonata, resurfaced here.
Nice to have a camera at Wigmore Hall that allows for an aerial view of the pianist's hands; it is worthwhile underlining the excellence of these streams and the hall's generosity in making them freely available (click here), although do note there is the option to contribute.
Colin Clarke