United Kingdom Opera North's Switch ON: Live from Leeds: Soloists, Suzy Klein (presenter), The Chorus of Opera North, Members of the Opera North Music Staff (David Cowan [Head on Music] and Oliver Rundell [chorus master]), Members of the Opera North Orchestra (Leader, David Greed and Katie New [violins], David Aspin [viola], Daniel Bull [cello], Dan Storer [double bass]). Live-streamed (directed by Peter Maniura) from Leeds Town Hall, 30.9.2020. (JPr)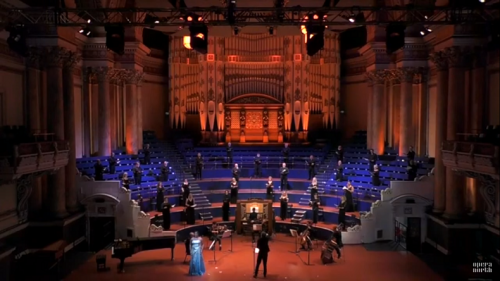 Handel – 'Happy We' from Acis and Galatea
Will Todd – Song of our Heartland (extract)
Beethoven – 'O wär' ich schon mit dir vereint' from Fidelio
Jasdeep Singh Degun – Arya: Concerto for Sitar and Orchestra (extract arranged for string quintet)
Puccini – 'O buon Marcello, aiuto!' from La bohème
Humperdinck – Hansel and Gretel (extract from Whistle Stop Opera's adaptation, written, directed and narrated by John Savournin)
Schubert – 'Der Neugierige' from Die schöne Müllerin
Dvořák – Scherzo and trio (from String Quintet No.2)
Mascagni – Easter Hymn ('Regina Coeli') from Cavalleria rusticana
As Opera North's website explained the company was celebrating its return to live performance with this special concert – lasting only a little over an hour – launching their new Switch ON season initiative. Live-streamed from Leeds Town Hall it was hosted by BBC Radio 3's Suzy Klein and showcased the Opera North's upcoming programme (for more details click here) through live musical performances, interviews, and filmed extracts. We heard from Opera North's General Director Richard Mantle about his hopes for the future; from rapper and playwright Testament about his Orpheus in the Record Shop (part of Connecting Voices; a collaboration between Leeds Playhouse and Opera North); from Leeds-born and raised Jasdeep Singh Degun there was news of his new sitar concerto; and John Savournin introduced his Whistle Stop Opera project (aiming to bring opera to new audiences). It is possible to still watch the whole event on YouTube (click here) where you can see and hear all this full.
Opera North's outreach activities seem innovative and exciting and we saw an extended extract from Song of Our Heartland, a new community opera (from an idea by Caroline Clegg and libretto by Emma Jenkins) commissioned by Northern Heartlands. It tells of how 'following the death of Harold, a former miner and railway signalman, his wife Lilian, daughter Jacqueline and granddaughter Skylar face a stark choice. Should they move away to find jobs and new opportunities, or stay to face an uncertain future? Forced to remain by Harold's death and driven by her grandad's spirit, Skylar fights to save the things which are most important to her; the school choir and the abandoned Moonlight Ballroom Theatre'. Following the cancellation of performances planned earlier this year, Song of Our Heartland has now been finished digitally. It will be premiered at Shildon Railway Museum in County Durham in October and then become available on the Opera North website. In every regard it will be criticproof given the obvious commitment of all those involved and from the snippets of music we heard there seemed strong hints of Britten and Tippett – to my ears at least – in Will Todd's music.
Equally fascinating was being introduced to Jasdeep Singh Degun as he explained how 'Ayra' (the title of his new concerto) was Sanskrit for 'diamond' and not meant as 'aria' (described as something Italian for a 'single voice'). Yet Jasdeep revealed how the sitar can act as that single voice since players 'try to emulate the vocals by bending the strings' and this was, he said, 'a very nice parallel'. Sitting cross-legged, Jasdeep's sitar seemed an extension of his whole body which he appeared to be breathing life into. What we heard was the first movement of Ayra reworked for a chamber ensemble and I was drawn in by the elegiac, slightly otherworldly, sounding music and it made me eager to hear the whole original work.
The musical programme was curated by Opera North's Head of Music David Cowan, and both Cowan and chorus master Oliver Rundell were often involved throughout as either conductor or accompanist of much that we heard performed live. The five members of the Opera North Orchestra were admirably virtuosic throughout, not least when they had their moment in the spotlight playing the lyrical and very accessible Scherzo and trio from Dvořák's Second String Quintet that was given a very buoyant rendition.
All we heard was, in fact, yet another – too frequent these days – musical 'curate's egg'. Though it started well enough, and it seemed were going to head into the still-uncertain future with a greater sense of optimism than some of these similar concerts have allowed us recently. Handel's 'Happy We' was a good start since the company will perform Acis and Galatea at Leeds Playhouse in November and the duet was joyfully sung by Amy Freston (soprano) and Nicholas Watts (tenor), supported by a socially distanced chorus. Fflur Wyn (soprano) delightfully sang Marzelline's 'O wär' ich schon mit dir vereint' from Beethoven's Fidelio, also something that will be put on in concert performances later in the year.
It seems impossible after months blighted by a respiratory disease to get away from La bohème and Mimì's tubercular coughing! On this occasion the duet for Mimì (a deeply affecting Katie Bird) and Marcello (a stoic Tim Nelson) was shorn from Act III. Unfortunately, the presentation on YouTube had no subtitles for the live music and here – and elsewhere – those watching in would have needed to really know their opera!
It was difficult to discern why Schubert's 'Der Neugierige' from Die schöne Müllerin got into the musical programme. 'I will ask my little brook if my heart has lied to me' sang Nicholas Watts as Schubert's young journeyman miller in untranslated German. It was pleasant enough but an odd inclusion, nonetheless.
All was redeemed spectacularly as chorus, the small group of musicians (with Oliver Rundell on Leeds Town Hall's impressive organ) and fronted by Elizabeth Llewellyn as Santuzza ended the short proceedings in a glorious blaze of sound. Even with the reduced choral forces 'Regina coeli' was incredibly beautiful and Llewellyn's increasingly impressively soprano voice must have resonated effortlessly around the concert hall – and it certainly resounded from my TV – as she clearly poured her soul into Mascagni's music.
Jim Pritchard