United Kingdom New Dark Age – The Knife of Dawn and A New Dark Age: Soloists, Orchestra of the Royal Opera House / Jonathon Heywood (conductor, The Knife of Dawn), Natalie Murray Beale (conductor, A New Dark Age). Live-streamed from the Royal Opera House, Covent Garden, 24.10.2020 (JPr)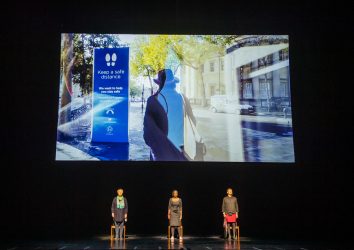 Production:
Director (The Knife of Dawn) – Ola Ince
Director (A New Dark Age) – Katie Mitchell
Libretto (The Knife of Dawn) – Tessa McWatt with poems by Martin Carter
Composer (The Knife of Dawn) – Hannah Kendall
Composer (A New Dark Age) – Missy Mazzoli, Anna Meredith and Anna Thorvaldsdottir (to various texts)
Designer – Vicki Mortimer
Lighting designer – Adam Silverman
Sound designer – Simon Hendry
Video designer (The Knife of Dawn) – Akhila Krishnan
Video director (A New Dark Age) – Grant Gee
Casts:
The Knife of Dawn – Peter Brathwaite (baritone), Nia Coleman (soprano 1), Sarah Dacey (soprano 2), Beth Moxon (alto)
A New Dark Age – Nadine Benjamin, Anna Dennis (sopranos), Susan Bickley (mezzo-soprano)
Ensemble (A New Dark Age) – Nia Coleman, Iúnó Connolly, Hannah Cooke, Beth Moxon, John Bowen, Julian Gregory, William Gaunt and Robert Macdonald
Once again, the Royal Opera's artistic ambitions transcended what we really need at this moment which is to have our souls and spirits lifted rather than for them to add to the current all-pervading gloom and doom of life. The Knife of Dawn brought us some more soul-searching on Britain's – admitted often less than glorious – colonial history. Martin Carter was a famous Guyanese poet and political activist. Independence was a rocky road for British Guiana due to the controversial People's Progressive Party and Carter was imprisoned twice by the British, firstly in 1953 for 'spreading dissension' and then the following year for taking part in a PPP procession.
The most famous political prisoner in all opera is, of course, Florestan in Beethoven's Fidelio (review click here): seeing another character starving in a righteous cause and quest for justice was powerfully symbolic, regardless of how little I knew of the historical events in advance of watching The Knife in Dawn. In the state we all are in our current pandemic-blighted world hearing passages like 'I wish this world would sink and drown again so that we can build a Noah's Ark and send another little dove to find what we have lost in floods of misery' provided much cause for reflection!
Ola Nice's staging is basically a simple affair with a metal bed, a line of uneaten meals and a video screen with frequent images (from Akhila Krishnan) of an eclipse. There is much of Carter's own poetry interlaced into Tessa McWatt's libretto during which he proclaims 'Starvation will be my best poem' and 'My death will be my people's cause to arms'. A lack of food causes Carter to hallucinate and we hear from a trio of disembodied voices – representing his wife and daughter, other political campaigners, and Guyanese slaves from the distant past – which torment Carter and push him to the brink of madness.
At approaching an hour, The Knife in Dawn outstays its welcome and dilutes its impact. Hannah Kendall's tinkly minimalistic music – well-played by a small ensemble under Jonathon Heywood – mostly has a certain inherent spare simplicity and probably does not rise to the heights Carter's courage and idealism (and poetry?) deserves. Peter Braithwaite makes a totally credible Carter in a role that demands mainly Sprechstimme from him and there was a powerful sense of conviction to all he sang/spoke during his monologue. Who could not fail to be moved by the emotional intensity Braithwaite brings to passages such as 'It's not the lack of food killing me now. No, it is a bigger hunger' and his concluding 'I am no soldier, I come to you in particular gladness, I am my poem.'
Following Kendall's The Knife of Dawn more female composers were featured in A New Dark Age and there was a mash-up of works from Missy Mazzoli, Anna Meredith, and Anna Thorvaldsdottir into a cantata which is a requiem for the world we have lost in 2020. Katie Mitchell has singers Susan Bickley, Nadine Benjamin, and Anna Dennis (all superb) socially distanced across the stage, occasionally sitting on chairs and/or masked, in what is simply the clothes they might wear for a rehearsal. On the screen behind them there is projected in black-and-white haunting images of their journeys – mostly by train, tube, and walking – to their artistic home at the Royal Opera House. Grant Gee's film show a lonely, barricaded, empty city lacking the hustle and bustle of former times. Signs about sanitising your hands, keeping your distance, and stopping the spread of coronavirus abound as they pass through a dystopian London. I was gripped by a deep sadness watching all this as I am someone who has not been to London since March and was used to being there at least once a week before then!
The music had an overarching mournful quality, and this was emphasis by Anna Dennis's high, incredibly pure, and oddly eerie, soprano voice. Musically notable was an urgent interlude for a journey on the underground which sounded – from Natalie Murray Beale and her orchestra – like Philip Glass on steroids and some moments of quasi-medieval plainchant from Thorvaldsdottir. It all ends terribly bleakly with Meredith's 'Heal You' sung a cappella and – from the same composer's 'Low Light' – a rather chilling harpsichord(?) and strings postlude. On the screen we see three ghostly masked figures fading away to make this an incredibly poignant ending to this elegy for those who have died before their time during this pandemic.
I had felt in desperate need of seeking some solace after all this sadness but the unfortunate laughter I heard from the audience on the live stream after the final curtain call quickly made me pull myself together!
Jim Pritchard
For more events at the Royal Opera House click here.