United Kingdom Tom Smail, Blue Electric: Soloists, Chorus / Gabrielle Teychenné (conductor). Playground Theatre, London, 28.10.2020. (MB)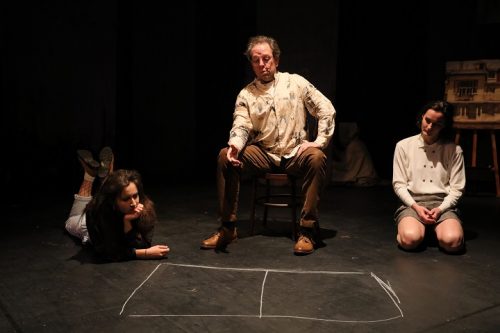 Production:
Director – Orpha Phelan
Designs – Eloise Philpot
Lighting – Peter Vocka
Creative consultant – Madeleine Boyd
Cast:
Maya – Mimi Doulton
Bella – Camilla Seale
Leon – Jonathan Brown
Sarah – Helen Charlston
Samuel Beckett – Christopher Bowen
Barbara – Emily Wenman
One step forward, one step back? Who knows any more, given the catastrophic chaos of 'tiers'? Operatic life we snatch where we can — and are all the more grateful for it. Since my final full-scale, staged opera, Carmen in Berlin on 7 March, I have now been to three opera performances: Holst's half-hour Savītri (outdoors); Tristan und Isolde (in concert performances, with piano trio); and now Blue Electric from composer Tom Smail and librettist Alba Arikha, drawing on her memoir Major/Minor. This was staged, with soloists and a small chorus, at the Playground Theatre in North Kensington, but with electronic orchestral sound: another innovative way to make opera work in such difficult circumstances.
An expanded, two-act version of a shorter work-in-progress given by Tête-à-Tête in 2018, Blue Electric focuses upon the relationship between the bullied child, Maya, and her father, Leon, as Maya grows up, emerges as a woman rather than girl, and learns of Leon's thwarted adolescence as a Holocaust survivor. Many operas — perhaps most famously, those of Verdi — have such a father-daughter focus, but not in this particular context of discovery of self, other, and history. Narrative is clear, each scene playing its part in construction of the greater whole. Music, of course, plays its role, here suggestive perhaps of Smail's work as a composer for film and television. The scene is set, has its own flavour — even tintà — within a tonal language often reminiscent of the earlier twentieth century.
It takes dramatic flight above all in grateful vocal writing, whether for solo voices, ensemble, or for chorus. Of these, first among equals was Mimi Doulton as Maya. Her vividly human portrayal, vulnerable, yet drawing upon strengths of human reserve, quite rightly seemed to inspire those around her. Jonathan Brown's tortured artist — and human — Leon, Camilla Seale's sprightly Bella (sister), and Helen Charlston's Sarah (mother) also stood out from a cast that was impressive throughout. Conductor Gabriella Teychenné's task might have been thought thankless, but she ensured fine co-ordination between stage and relayed orchestral score. Orpha Phelan's unfussy production proved resourceful and suggestive in equal measure.
Without in any sense wishing to elide or to compare entirely different situations, certain ideas, as ever, seem to speak with particular directness to us now: loneliness, internalisation, depression, depriving the young of their youth, fears for a future destined for many to be eternally traumatised by the past. Necessary compromises to perform in front of an audience at all, but also the heightened meaning of the very experience of performance, also inevitably play their part. Was it mere coincidence that the final scene, in hospital, portraying Leon's final hours, brought to mind a more overtly tragic version of Stravinsky's Rake's Progress? Perhaps, perhaps not. We all make connections as and when we will, as and when we need. From the chaos of tiers, then, to the iron tragic-social order of tears, longstanding agent of catharsis
Mark Berry