Italy Met Stars Live in Concert – Diana Damrau and Joseph Calleja: Roberto Morschi (piano). Broadcast live (directed by Gary Halvorson) from Capella Palatina in Caserta, Italy, on 24.10.2020. (JPr)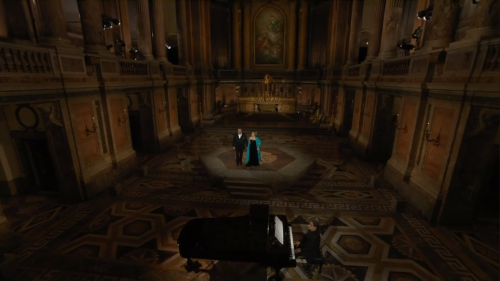 Programme:
Puccini – 'Mario! Mario!'; 'E lucevan le stelle'; 'Vissi d'arte' (from Tosca)
Donizetti – 'Una parola, o Adina … Chiedi all'aura lusinghiera' from L'elisir d'amore
Verdi – 'Ma se m'è forza perderti' (from Un ballo in maschera)
Rossini – 'Bel raggio lusinghier' (from Semiramide)
Bizet – 'La fleur que tu m'avais jetée'; 'Parle-moi de ma mère' (from Carmen)
Kálmán – 'Höre ich Zigeunergeigen' (from Countess Maritza)
Lara – 'Granada'
De Curtis – 'Non ti scordar di me'
J. S. Bach/Gounod – 'Ave Maria'
We were in the Palatine Chapel of the Royal Palace of Caserta (the world's largest royal palace) with all its neoclassical and baroque splendour. It was an impressive setting for the resumption of the Met Stars Live series after an unplanned four-week hiatus. Diana Damrau and Joseph Calleja performed on a hexagonal plinth in the centre of the nave with Roberto Morschi at the piano looking somewhat isolated from them. I don't know what Covid-19 guidelines are in force in Italy, but this was the only example of social distancing we saw as Damrau and Calleja interacted as we would normally expect them to! Such a wonderful concert deserved more than Morschi's solo piano – regardless of how good he was – and needed a small instrumental ensemble had one been available. It was interesting to hear from Calleja how 'These events are not easy. It's beautiful here but there is wind and pigeons flying around!'.
It was intriguing to listen to the Met's general manager Peter Gelb explain how the German soprano Diana Damrau was 'now exploring new repertory, I don't know if she'll ever sing Tosca on the stage of the Met but she's singing it today and she's also singing Semiramide which she's never sung anywhere before, as well as [Micaëla from] Carmen. So that's a brave, courageous, act from a brave and courageous singer.' Regardless of how successful she may – or may not – have been it was an honest and intriguing experiment. Given the opportunity to speak to us watching online Damrau concluded 'You are in the first row, we are socially distanced, but we are connected, and our souls can be connected. We just need to see the light at the end of this tunnel … We want to send you joy and inspiration, have fun, enjoy and let it into your hearts.' It indeed was a heart-warming concert due to Damrau's obvious enthusiasm, but especially thanks to Calleja's contagious love for the music he was singing and his sheer joy at being able to sing it which radiated from his open face.
Starting with Tosca's 'Mario! Mario!' there was some beautiful legato singing from 'The Maltese Tenor', impassioned when necessary, but mostly carefree with easy top notes and you could just luxuriate in the remarkable quality of his timbre. Calleja's beautiful lyrical singing was a highlight of this duet but later in 'E lucevan le stelle' there was the first of several controlled and resplendent diminuendos. As for Damrau she seemed to be channelling Angela Gheorghiu as a peevish diva, and I wonder if there were a few – totally understandable – initial nerves to overcome. After her quietly understated but deeply affecting 'Vissi d'arte' I certainly would be interested to see and hear Damrau sing Tosca on the opera stage, even if it is not at the Met! She certainly seemed to enjoy herself immensely too and there were ever-changing adornments to the elegant black evening dress she was wearing. These began with black and white puff sleeves as Tosca and then a succession of colourful wraps and shawls with or without equally fashionable brooches.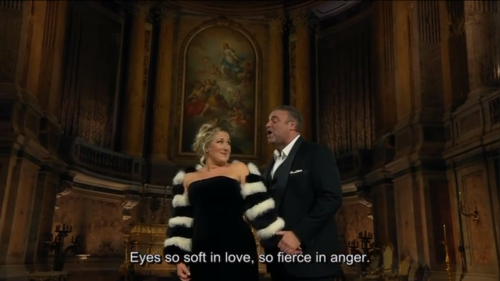 Damrau brought a warm tone – with just a hint of steel – to all she sang. I appreciated the honesty of her response to the changing moods of her music and she was better to listen to than watch because of the intensity of her performance. As Semiramide she made light of the challenging coloratura and thoroughly embraced Kálmán's gypsy music, twirling away during 'Höre ich Zigeunergeigen' as the virtuosic Morschi's hands skittered over the keyboard.
As for Calleja, if opera singing were as easy as he makes it seem wouldn't more make a successful career of it? If there was to be a new iteration of The Three Tenors he could substitute for Luciano Pavarotti (Jonas Kaufmann would replace Plácido Domingo and we can debate who could be the third, Piotr Beczala perhaps?). For Riccardo's renunciation of love from Verdi's Un ballo in maschera ('Ma se m'è forza perderti') Calleja expressed his character's despair and resolution in equal measure and there are just a couple of words needed for his rendition of Don José's 'Flower Song': exquisite and fragrant. Calleja's solo contribution was topped off by the over-familiar 'Granada' sung with practiced elan and panache.
The two singers' differing styles imbalanced their duets at times, but this is just a minor quibble in their outstanding programme. While Calleja would be an ideal Nemorino in L'elisir d'amore, Adina's fickleness didn't seem to come easy to Damrau and nor did she totally convince as an innocent country girl during the Carmen duet 'Parle-moi de ma mère'. Damrau joined in with Calleja's typically heartfelt 'Non ti scordar di me' ('Do not forget me') and their voices blended meltingly – and movingly – for a plaintive rendering of the Bach/Gounod 'Ave Maria'. Calleja introduced this by saying 'We thought it fitting – both of us – to finish with a prayer. A prayer for things to return to normality, a prayer to all of you not to forget us, not to forget the Arts, the Arts indeed matter a lot'.
Indeed, but it was left to the engaging presenter in New York, Angel Blue, to express what many of us were thinking by concluding 'We join Diana and Joseph in praying for the victims of the pandemic'. Although I am in no way religious even I muttered a quiet 'Amen to that!'.
Jim Pritchard
For more about Met Stars Live in Concert click here.