Switzerland Donizetti, L'elisir d'amore: Soloists, Philharmonia Zurich / Nikolas Nägele  (conductor), Zurich Opera, Zurich, 23.10.2020. (JR)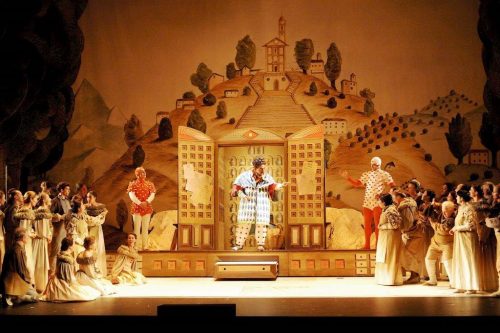 Production:
Director – Grischa Asagaroff
Set and Costume design – Tullio Pericoli
Set assistant – Gigi Saccomandi
Lighting – Jürgen Hoffmann
Cast:
Adina – Mané Galoyan
Nemorino – Mauro Peter
Belcore – Samuel Dale Johnson
Dulcamara – Erwin Schrott
Giannetta – Erica Petrocelli
Dulcamara's assistant – Jan Pezzali
I ought to have realised something was wrong when I saw no credit given to a chorus master in the production members listed as being responsible for this run of revival performances. The cast list did mention – in tiny print – that this would be a version without chorus, but I had spotted no reference to this in advance publicity nor on the opera house website. Instead, a handful of extras came on stage, but they did not sing; either the orchestra played, or the soloists sang the parts normally sung by the chorus. I felt distinctly short-changed, but these are, I admit, hard times for opera houses.
There were, at least, visual glories to behold. This Grischa Asagaroff production stems from 1995 and has been revived a number of times. It is easy to see why. The set (perfectly described a few years ago as a 'confection' by a fellow critic) is made up of a series of beautiful paintings, in illustrative style, by Italian painter Tullio Pericoli, now in his eighties. They depict typical Italian (possibly Tuscan) landscapes, hilltop townscapes and a multi-coloured abundance of cakes and fruit. There is much wit in the drawings, much humour in the costumes (the soldiers suffer from a surfeit of red and white pompoms) and the occasional gag such as a wild boar scuttling across the stage when the curtain opens and, less appropriately, in the middle of the main love scene between Adina and Nemorino. Costumes, also conceived by Pericoli, are similarly multi-coloured (the shoes are an absolute delight) for the main characters and varying shades of faded ochre for the farming community. Dulcamara and his assistant are dressed as clowns.
There were some glorious voices, too. Uruguayan resonant baritone Erwin Schrott is well known at all the major opera houses, chiefly for his fine interpretations of Don Giovanni and Figaro. His Dulcamara is also part of his stock repertoire and he commands the difficult text with ease (though I have heard the list of ailments for which his elixir is proclaimed to be beneficial delivered faster) and is a fine actor and singer. Young Armenian soprano Mané Galoyan impressed with her stage presence and high notes. Swiss tenor Mauro Peter has a loyal fan club in Zurich; a shame a frog in his throat always affected his top notes – his middle range is honey-toned. Samuel Dale Johnson, an Australian baritone, was first-rate as Belcore, very solid tone, perfectly fine acting. Erica Petrocelli filled the minor role of Giannetta with distinction, though she was hardly audible when the orchestra was on full pelt or the main characters were singing. The volume control is one area where the coronavirus has had a negative impact, the orchestra has to be piped in from a rehearsal studio up the road and a sound engineer at the back of the stalls has to take the place of the conductor when volume needs to be adjusted. The orchestra's turning of the pages was often disturbingly loud.
The silent role of Dulcamara's assistant was played by Jan Pezzali, a Swiss mime artist. He was spectacular, and often threatened to steal the limelight from the singers. Lithe and nimble, with superb comedic skills, he was a delight to watch throughout.
Podium rising-star Nikolas Nägele conducted admirably, as far as one could tell from long range. Once or twice co-ordination between singers and orchestra lapsed, but we can put that down to the coronavirus-imposed electronic link. Nägele, now Kapellmeister at the Deutsche Oper Berlin, was assistant to Christian Thielemann for Die Walküre in Salzburg a few years ago, and assistant to Plácido Domingo for Tristan und Isolde at Bayreuth.
Somehow the whole performance felt distinctly sad and lacking, the main protagonists unrelaxed, just because there were no villagers on stage at crucial moments, the opening 'Bel conforto al mietitore' chorus in particular was a limp affair; there was hardly anyone on stage with whom Dulcamara could interact.
John Rhodes