United Kingdom Debussy and Liszt, Kirill Gerstein (piano): 2.10.2020 performance live-streamed from Wigmore Hall, London, and available until 1.11.2020. (CC)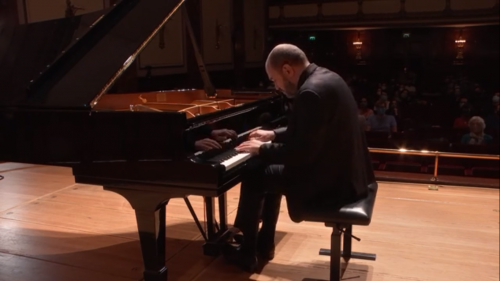 Debussy – Études, Books I & II, L136 (1915)
Liszt – Piano Sonata in B minor, S178 (1853)
Komitas – Dances (1906): No.4, Shushiki; No.2, Unabi (encore)
Russian-born Kirill Gerstein is now an American citizen and resident in Berlin, where he teaches at the Hanns Eisler Conservatoire. A sequence of rather nice introductory talks from Gerstein himself, in lieu of programme notes, enabled us to enjoy the pianist's own insights on the music he played. The Debussy was described as the composer's 'lockdown' project, due to WWI, and was finished around September 29, 1915, so around this time of year.
Debussy's Études were dedicated to Chopin, but Gerstein sees an homage to Liszt also. Gerstein also referred to the 'tomato-throwing against the Czerny-like study figures' in the First Etude ('pour les cinq doigts d'après Monsieur Czerny') which he dispatched not only with consummate ease but also with an awareness of these opposing forces.
The Second Etude, 'pour les tierces' (thirds) is, for many, 'pure' Debussy, and certainly in Gerstein's hands the emphasis was on beauty. When the etude in fourths comes in, we really feel the change of harmonic scenery, almost orientalist here at times. The close of this etude really revealed, too, how superbly prepared the piano was in terms of tuning and weighting: exquisite control led to an exquisite result, the arrival at the warmer arena of the sixths for the Third Etude feeling like a real plateau of calm.
Gerstein's performance projected the true genius of late Debussy: the octaves etude, the fifth, was a tour de force in myriad ways, not just technically; and while there was no doubting the decibel level, Gerstein avoided breaking the tone of his instrument. Smoothness of execution in 'pour les huit doigts' (for the eight fingers) actually had the effect of highlighting the modernity of this Sixth Etude. From the finger-twisting 'pour les degrés chromatiques' through the ornate 'pour les agréments', full of subtleties, Gerstein was able to move like a chameleon from one etude to the next. No missing the repeated note etude (No.9), here playful, occasionally verging on the violent; but it is Gerstein's fascination with sonority, arguably the equal of Debussy's fascination, in Etude No.10 ('pour les sonorités oppossés') that reveals the jewel in his crown. The mystery and explorative aspect of late Debussy is there for all to revel in; Gerstein presents the music in all of its complexities. And if there is a touch of headiness around, it certainly gained legs in 'pour les arpèges composés' where Scriabin is surely just around the corner.
The final etude ('pour les accords') is always a risk, those leaps perilous in the extreme. Gerstein took risks; and as befits a live performance; not all worked, but none of them disturbed the sense of rightness this performance exuded. Intelligence meets technique meets consummate musicality: quite a combination.
The Liszt Sonata, as Gerstein pointed out called by Claudio Arrau the '33rd Beethoven Piano Sonata', formed the second half, the idea being that formally Beethoven got more and more adventurous, until in Op.111 you have a dichotomy of two movements, then Liszt takes the ball and presents a one-movement sonata in four sections/movements. The same intelligence we heard in the Debussy ran through Gerstein's Liszt Sonata. Nothing overtly showy, despite the technical challenges; and much beauty to the sound – no wonder Gerstein referenced Claudio Arrau in his spoken introduction. The occasional headiness pointed forwards in time (to late Debussy, funnily enough, or so it seemed by the sonata's placement in the programme) while granitic block chords seemed to bring us back down to earth. Pedalling was clearly carefully considered; a superb Liszt sound, beautifully deep and burnished when need be, but virtually no blurring. And a near-perfect closing pages, hanging in the air for a seeming eternity.
A fascinating reading that in its intellectual integrity found analogies with Pollini, without going as far as highlighting the gestures and techniques that were to suffuse Liszt's late output (remember Pollini likes to preface the Liszt Sonata with some of those late pieces, such as Nuages gris).
Interesting that Gerstein had programmed Komitas's Two Armenian Dances in his Wigmore recital in February last year. As he said, there are very few pieces that one can play after the Liszt Sonata, but the pair he chose seemed just perfect, atmospheric and, of course, highlighting the troubles between Armenia and Azerbaijan right now. The music is restrained, the elegiac melodies singing their own poignant story.
Gerstein is a pianist who can embrace a huge variety of repertoire, as his recent disc of Adès's In Seven Days and other piano works on Myrios Classics reveals and, indeed, his Gramophone Award-winning disc of Adès's Piano Concerto with the Boston Symphony. One should also note, in these times when the internet becomes a beacon of solace for the concertgoer as was, that a whole sheaf of interviews entitled 'Kirill Gerstein invites', part of his work at the Hochschule für Musik Hanns Eisler in Berlin are available here. Gerstein's collaborators include Ian Bostridge on Winterreise, John Deathridge on Wagner and Schubert, Thomas Adès on 'Roots, seeds & live cultures', and Iván Fischer on the future of the symphony orchestra.  Iván Fischer returns on 7 October to discuss Monteverdi.
Colin Clarke