United Kingdom Garsington Opera's Fidelio: Soloists, Garsington Opera Chorus, Members of the Phiharmonia / Douglas Boyd (conductor). September 2020 performance filmed (directed by Sonia Lovett) in the Garsington Opera Pavilion, Wormsley, and reviewed when streamed on OperaVision, 23.10.2020. (JPr)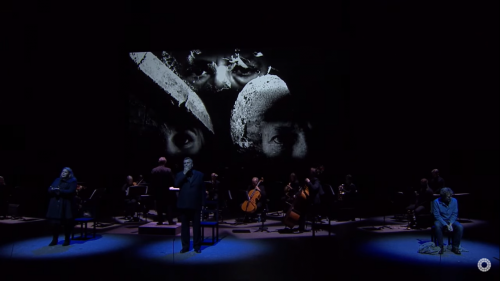 Production:
Stage director, Lighting & Projection designer – Peter Mumford
Associate Video designer – William Reynolds
Assistant Conductor & Chorus master – Jonathon Swinard
Assistant director – Cecilia Stinton
Reduced Orchestration – Francis Griffin
Cast:
Leonore – Katherine Broderick
Florestan – Toby Spence
Rocco – Stephen Richardson
Pizarro – Andrew Foster-Williams
Marzelline – Galina Averina
Jaquino – Trystan Llŷr Griffiths
Fernando – Richard Burkhard
First Prisoner – Richard Pinkstone
Second Prisoner – Thomas D Hopkinson
That Garsington Opera was able to resurrect a concert performance of Fidelio during this pandemic-afflicted Beethoven anniversary year was nothing short of miraculous and the event is somewhat critic-proof as a result. Fidelio is an opera I return to time and again hoping to enjoy it more than I often do, and I was pleasantly surprised how Peter Mumford's not quite a semi-staging had much to commend it.
Fidelio is Beethoven's sublimely simple story about the struggle for political liberty, a faithful wife's bravery, and the triumph of the human spirit. It is part-Singspiel (think Mozart's The Magic Flute), with both song and dialogue; part-opera seria; and part-rescue opera. Regardless, its themes resonate more than ever in 2020 with our freedoms severely restricted by governments and tinpot local politicians who are interfering in our lives in previously unimaginable ways.
The dialogue always causes a problem: at Covent Garden recently (review click here) director Tobias Kratzer even added more text. This time all the singers did was sing and Fidelio was much the better for it. The downside was that it turned it into more of a 'numbers' opera than it usual is. In Act I there is the Jaquino/Marzelline duet, Marzelline's aria, a quartet, Rocco's 'gold' aria, a trio, a march, Don Pizarro's 'vengeance aria', another duet, Leonore's big scena, a chorus for the prisoners ('O welche Lust'), later a love duet ('O namenlose Freude!' and the finale. In Act II, there is Florestan's scena, Leonore and Rocco's grave digging duet, another trio and finally a dramatic quartet when Pizarro nearly dispatches Florestan. All this is followed by a trumpet call after which our hero and heroine are saved when Minister of State, Don Fernando, arrives to joy and relief all round. There is a love duet ('O namenlose Freude!) and the chorus sings Leonore's praises. It is Beethoven's vision of how love and justice can triumph in the end and points – rather optimistically – to a much fairer world for all in the future.
Garsington Opera did very well as social distancing guidelines impeded all that we saw; from the thirteen equally spaced members of the Philharmonia to the six chairs similarly separated across the front of the concert platform. On a screen to the rear of the musicians were projected brick walls, barbed wire, prison cells, staring eyes and much other eclectic imagery. Mostly in black-and-white there were flashes of blood red during Pizarro's machinations. It also was used to explain what was going on in the absence of any other exposition from the characters. It all began with Florestan's 'letter' to Don Fernando: 'I am writing to you about a matter of great concern. It has come to my attention that the prison governor Don Pizarro has been abusing his position and imprisoning many of our friends and colleagues in order to promote his own political ambitions.' We read 'his letter was intercepted' and how the following night Florestan was abducted and incarcerated in a deep dungeon 'in isolation and near starvation'. His wife Leonore suspects the worst and 'disguising herself as a youth named Fidelio she obtained a job at the prison.'
This was my first 'visit' to the Garsington Opera Pavilion with its panoramic glass sides looking out on the picturesque grounds of the Wormsley Estate. Annoyingly applause interrupted the 'numbers' early in the performance but oddly this stopped suddenly. Near the beginning Jaquino sings – referring to Marzelline – 'Where was I? She's not looking at me'. All the Covid-19 restrictions notwithstanding, it was an unashamedly old-fashioned evening with the singers – who (chorus apart) knew their roles – oddly dressed in what looked like their rehearsal clothes. There were no props and, of course, no interaction between the singers who remained in (mostly) squares of light throughout the opera, or a small blue circle for the 'dungeon'. There were five chorus members on stage (3 men and 2 women) but 15 pre-recorded, it seems, in closeup on Zoom during lockdown for the Prisoners' Chorus.
Frances Griffin's reduced orchestration took some getting used to and – under Garsington Opera's artistic director Douglas Boyd's measured tempi – initially the small orchestra just sounded like a wind ensemble but as the opera went on the lack of a full string sound mattered less and less. I am loath to criticise the cast as I was not there in person to see and hear them, but the seven principals were not all ideally suited to their roles. During Marzelline's 'O wär ich schon mit dir vereint' Galina Averina sounded like a proto-Leonore and did not have the usual soubrette sound we have come to expect. When Averina sang in unison with Katherine Broderick's Leonore their voices sounded remarkably similar in timbre. Broderick sang warmly throughout and excelled in the more reflective passages of her big moments such as 'Abscheulicher!' and its follow up 'Komm, Hoffnung' however there were inescapable moments of strain at the top of her voice. It may have been the fault of a semi-staging but her Leonore never seemed on the edge of despair over her husband's fate as she must be.
The grizzled features of Stephen Richardson suited Rocco but he (over-)acted better than he sang the role and he looked and sounded like Alberich from Wagner's Ring. Andrew Foster-Williams's baritone lacked any real menace for Pizarro's 'Ha, welch ein Augenblick' and he was nothing more than a pantomime villain. Trystan Llŷr Griffiths sang vibrantly the little he got to contribute as Jaquino. Another singer making the most of not much was Richard Burkhard as a conciliatory – and firmly sung – Don Fernando. Toby Spence's opening 'Gott!' had little visceral impact but he got through the challenging tessitura mostly unscathed and this is to his credit because it has defeated several heroic tenors I have heard.
In the end there was no lack of dramatic momentum and passion from Douglas Boyd and his Philharmonia instrumentalists and all credit to the small chorus – onstage or online – whose full-voiced commitment made up their lack of numbers, especially, during the life-affirming ending.
Jim Pritchard
For more about Garsington Opera click here. This Fidelio is available to view until 22 April 2021 and is free to watch online with no registration required.