United States Various, Fanm d'Ayiti: Nathalie Joachim (vocals, flute and electronics) and Spektral Quartet (Clara Lyon, Maeve Feinberg [violins], Doyle Armbrust [viola], Russell Rolen [cello]). Filmed for Cal Performances at Black Ensemble Theater, Chicago, reviewed as a live stream (14.10.2020) and available on demand through 12.1.2021. (HS)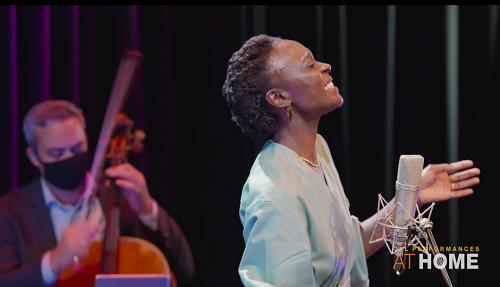 Traditional – 'Papa Loko' (arr. Joachim)
Pradines – 'Manman m voye m peze kafé', 'Legba na konsole' (arr. Joachim)
Joachim – 'Madan Bellegarde', 'Suite pou Dantan'
Traditional – 'Lamizè pa dous', 'Fanm d'Ayiti' (arr. Joachim)
Classical music fans may not encounter Haitian music often, but Nathalie Joachim's original works and arrangements based on the island nation's folk music make a strong case for it. Her hour-long concert, Fanm d'Ayiti ('Women of Haiti'), shimmers with music of beauty and heart.
She recorded these pieces with the Chicago-based Spektral Quartet for an album released last year and nominated for a Grammy Award (in the World Music category). This performance, streamed from Black Ensemble Theater in Chicago, was captured on video in September exclusively for Cal Performances at Home. Its live stream debut delivered enchantment, musical depth and honest power.
Born in Brooklyn, Joachim was inspired to explore her Haitian roots after the death of her grandmother, Ipheta Fortuma; they would sing with each other when they visited. 'It was our way of telling each other stories, and her way of passing on a centuries-long cultural practice of oral history', she writes in a touching program note.
The songs, all in Haitian Creole, a variant of French, often carry hidden meanings. 'Madan Bellegarde' (based on lyrics by Fortuma, to which Joachim wrote her own music), says, 'She is condemned before sinners/She is not condemned before God'. The music follows a deceptively sweet pentatonic scale, gaining harmonic complexity as the string quartet expands on the material.
Joachim, who has her own duo, Flutronix, and played flute with the contemporary sextet Eighth Blackbird, wields a voice of winsome naturalness and clarity. In this work she uses her singing voice, flute and subtle electronics to broaden the range of the eloquently lovely echoes and countermelodies she writes for the strings. First violin Clara Lyon interpolates high-range comments, and violist Doyle Armbrust carries sung melodies with burnished tone.
The program opens with the quartet laying down a gauzy veil of high harmonics under the voice of the late Emerante de Pradines, in which the 98-year-old singer reminisces about a golden age of Haitian women singers. After a tap on her laptop, a gently thumping rhythm emerges to underlay the haunting minor-key 'Papa Loko', a traditional Haitian song to the wind.
That leads to an arrangement of Pradines's 'Manman m voye m peze kafé', about a young girl arrested when she is sent to the market for coffee, concerned only about what her mother will say. Another Pradines song, 'Legba na konsole', also travels in a minor key.
'Madan Bellegarde' finds Joachim adding her flute to the mix, and her 'Suite pou Danton' follows with significantly more uplifting music. Especially rewarding, the Alleluia weaves in a recording of a children's choir from the family's home town of Danton. The result is positively joyful.
The concert concludes with two traditional songs, 'Lamizè pa dous' ('Misery is not sweet') and 'Fanm d'Ayiti'. Joachim sets the final stanza, 'Women of Haiti stand/Like all valiant women/To reclaim our rights/To say freedom lives', to strains more wistful than joyful. Perhaps it's an acknowledgment of how much work is yet to be done.
The video uses closeups and fresh angles to highlight the individual musicians, who play on a small stage against a curtain lit in purple. Although the names of each piece appear on screen, there are, unfortunately, no translations of the lyrics. These appear in the program notes, however, available online with the streamed video (click here). They are worth following.
Harvey Steiman