United States Live from London – Chanticleer's Love Always: Live-streamed from San Francisco, California, 3.10.2020. (CC)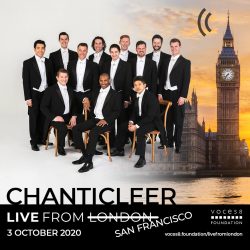 Rachmaninov – 'Otce nas'
G. Walker – 'O Praise the Lord' (Psalm 117)
Trad (arr. Jennings) – 'Wondrous Love'
Palestrina – 'Fratres, ego enim accepi'
Lusitano – 'Ave, spes nostra'
Trad (arr. Jennings) – 'There is a Balm in Gilead'
Sametz – 'Birds of Paradise'
Sibelius – 'Rakastava'
Alber (arr. Maddux) – 'Rescue'
Merrill (arr. Maddux) – 'I Wanna Dance with Somebody (Who Loves Me)'
S. Wonder (arr. Hinman) – 'I Believe (When I Fall in Love It Will Be Forever)'
The all-male choir Chanticleer brought its first performance since March, streamed from California under the most stringent of protocols, including regular Covid-19 testing.
Founded in San Francisco in 1978, Chanticleer has an extensive and successful discography. Its repertoire is rooted in the Renaissance, but as the present programme demonstrates, by no means restricted there. The performance space looked vast, like a hyper-modern warehouse, enabling the glorious glow of Rachmaninov's 'Otce nas' ('Our Father') to blossom forth, beautifully balanced. This is a Stateside group, so naturally that characteristically Russian bass-led sound is somewhat lightened, but the result was equally satisfying. Moving without break into the world of the fabulous but under-represented composer George Walker and his 'O Praise the Lord' worked beautifully. Walker's works have appeared occasionally at the Proms (his Lyric for Strings in 2017 with Chineke!) and I have enjoyed his works elsewhere (see this listing which reproduces one of my reviews). A work not only of clear faith but also of clear joy, it seemed to find its complement in the traditional 'Wondrous Love' in an arrangement by Joseph H. Jennings.
A setting of Christ's text from the Last Supper, Palestrina's 'Fratres, ego enim accepi' finds Chanticleer very much on home ground, revelling in the composer's invention. It was however the next piece that was the real discovery of the concert: the sixteenth century African-Portuguese composer Vicente Lusitano's 'Ava, spes nostra', a devotional hymn to the Virgin Mary, is previously unrecorded. Slow moving, devotional and in its slowly wafting harmonies and in its own way absolutely as profound as Rachmaninov's 'Otce nas', Lusitano's piece adds an extra layer of harmonic warmth. The final 'Alleluia' is both haunting and perfectly judged, the Spiritual 'There is a Balm in Gilead' rose like a phoenix from the ensuing silence. This latter is a great setting, rejoicing in the power of the unison as well as the more complex harmonies.
I am not really aware of too much of Lusitano's music being available, except for his 'Heu me Domine' on a Sony Vivarte disc by the Huelgas Ensemble (Cançoes, Vilancicos e Motetes Portugueses).
A new commission and world premiere, Steven Sametz's 'Birds of Paradise' was originally intended to have received its first performance in June; lovely to have it here at last (understandably, June was not possible). Virtuoso in its interaction between solo singers and groups of singers, active, fluttery, it is a splendid celebration of our 'silver and golden winged' feathered friends, including cuckoo calls, whistles, and imitations of birdcall. A choral aviary, it is a virtuoso showpiece for choir; it sounds fun to perform, and there was no doubts of Chanticleer's sense of joy. It was technically impeccable, too.
Sibelius's 'Rakastava', while undeniably of that composer in its language (and sung in Finnish here), is another piece that seems to link back to the dense mysticism of the Rachmaninov. Lighter harmonies, less bass-rooted, for sure, but the parallel remains on an emotional level. It was also the perfect complement to the outgoing shenanigans of Sametz's piece. The piece by ex-Chanticleer member Matthew Albert (in an arrangement by Maddux), Rescue, was the only miscalculation of the evening. An examination of love, it is a lovely, melancholy piece in and of itself but seemed somehow out of place.
The opening of 'I Wanna Dance with Somebody (Who Loves Me)' is certainly very different from the Whitney Houston version (frankly, I prefer the choral one!); impeccably written for choir, fun yet with an extra layer of tenderness. Finally for the programmed repertoire, a Stevie Wonder number, dispatched with the same levels of imagination and confidence by Chanticleer. But it was good there was an encore that took us back to the more reflective side: 'O Shenandoah', a poignant song of longing.
Colin Clarke