United Kingdom Benjamin, Mendelssohn, Mozart: IMS Prussia Cove (Anthony Marwood & Mathilde Milwidsky [violin], Timothy Ridout & Eivind Ringstad [viola], Rebecca Gilliver & Sinéad O'Halloran [cello], Mishka Rushdie Momen [piano]), live-streamed from Wigmore Hall, London, 1.10.2020. (CS)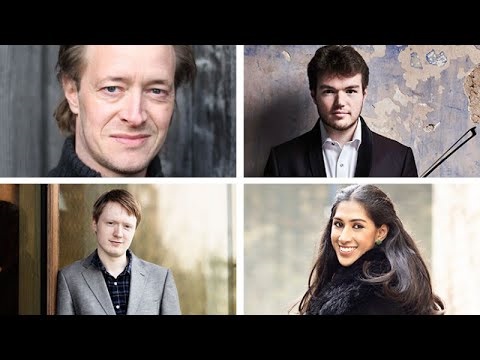 Benjamin – Viola, Viola
Mendelssohn – String Quartet No.6 in F minor Op.80
Mozart – Piano Quartet No.2 in E flat K493
Each September, 120 or so musicians gather at the International Musicians Seminar Prussia Cove and spend three weeks working together, under the prevailing mentorship of Artistic Director Steven Isserlis, exploring over 60 works of chamber music, some of which are then performed in nine public concerts.  But, since it's 2020, things have inevitably been different.  This year, a group of 18 musicians was able to meet for one week, to study and work on ten chamber compositions, and two socially distanced performances were presented, one in St Mary's Church in Penzance (which was live-streamed) and the other in St Hilary Church.  Both performances were filmed and recorded, so that they can be shared with wider audiences.
Fortunately, IMS Prussia Cove was still able to travel to Wigmore Hall for its annual London concert, which normally concludes the autumn tour.  The concert opened in thrillingly dramatic and energised fashion with George Benjamin's Viola, Viola, a work which was commissioned by the late Toru Takemitsu in 1995 for the opening of Tokyo Opera City, where it was premiered by violists Noboku Imai and Yuri Bashmet.  In the programme note in the Faber study score, Benjamin describes Viola, Viola as challenging possible preconceptions of the viola's melancholy persona and having 'a completely different instrumental character – fiery and energetic'.  He set out 'to conjure an almost orchestral depth and variety of sound': as well he might, given that the first two viola players to perform it needed to fill a 1,600-seat concert hall.
There are only 552 seats in Wigmore Hall – and, of course, many of them had to be left unoccupied on this occasion – but that did not deter Timothy Ridout and Eivind Ringstad from presenting Benjamin's explosive score with tremendous vitality and immediacy.  Think of Benjamin and one often thinks firstly of harmonic richness, complexity and delicacy, but it was the polyphonic verve and kaleidoscopic colour of Viola, Viola which most excites.  With each player requiring three music stands for their six, outsize pages of music, Ridout and Ringstad engaged in an intense, quasi-improvisational conversation – baiting, daring and complementing one another, as the motifs, textures and rhythms ricocheted back and forth, like a live-wire dance.
The musicians' tone palettes and bow strokes were perfectly matched, the synchronisation of the incredibly complex motifs flawless.  The opening exchange of 'A's, a sort of preliminary 'tuning' which rocked across several strings, was focused and controlled but it was also an invitation to unleash passionately glowing multiple-stopped chords, glittering ponticelli scampers, low drones that were fraught with intensity, and cantabile reflections – often roving high – which twisted around each other with expressive freedom.  There was a persuasive sense of journeying towards a clear 'end': and, in the closing moments the frenetic alternation of arpeggiation and chordal outbursts cleared into a pizzicato conclusion of striking beauty and resonance.  The slow stratospheric melody was punctuated by violent percussive snaps and gracious harp-like sweeps which saw both players' arms surge through huge arcs into the air.  Ridout and Ringstad may have had stared at their scores, and each together, with fierce concentration but it was clear they were having a tremendous time.
Mendelssohn's Sixth String Quartet has plenty of drama too, though its passions are fuelled by tragic seriousness: the work is thought to be an expression of the composer's feelings following the death of his sister, Fanny, and was written shortly before his own death in 1847.  Eivind Ringstad returned to the Wigmore Hall platform alongside violinists Anthony Marwood and Mathilde Milwidsky, and cellist Rebecca Gilliver, to perform the Op.80 Quartet.  The fp attacks at the start of the Allegro vivace assai were ferocious, the rapid semiquavers dry and pained: this was the expression of a heart and mind unrelentingly anguished and agitated.  The musicians shoved Classicism and elegance rudely from the stage in the first subject and if there was a settling, a slight regaining of equilibrium, for the more lyrical second subject it was challenged by the throbbing impetus that the players sustained: pressing onwards, urgent, unstable.  But, however far Mendelssohn's unusual chromatic twistings sometimes threatened to drive the players from a sure centre, the musicians' technical assurance and clarity of enunciation ensured that there was never any sense of lessening coherence.  And, there were moments of relaxation and rhythmic elasticity which contrasted with the unforgiving, angry harshness of grief.
If the Scherzo had a Mendelssohn-ian 'lightness' it was of the bitterly mocking or wryly reticent kind, and it was more frequently pushed aside by the brutal honesty of the dark and terrible utterances that dominated – all stabbing motifs and breathless repetitions.  The low-pitched unison 'dance' of the viola and cello in the Trio was aptly dull and sulky; no wonder the paired violins couldn't be cajoled to develop the material more warmly.  At the close the music dissipated, Mendelssohn's pizzicatos offering only a half-hearted final cadence.  But, in the Adagio the composer's soul was bared: the anger banished, now there was simply sadness.  The movement is spacious but here the rhythmic impetus was maintained, banishing sentimentality and allowing an honest voice to speak.  This was beautifully sincere and expressive playing, often with a quite restrained vibrato but always with truly eloquent phrasing and a sense of ensemble accord.  Rebecca Gulliver laid secure foundations for her fellow musicians and the inner melodising and commentary of Milwidsky and Ringstad spoke clear and true.  This was a perfect balance of introspection and communication.  And, in the Finale, excepting some occasional stricken utterances, discipline kept submission to furious despair just about at bay, without lessening the rawness.  As the dynamics withdrew and the textures became more sparse, there was a sense of almost self-destructive emotions being strenuously kept in rein.  The Classical clarity of the music was strongly evident even as Romantic extroversion threatened to break forth – until the final bars in which Marwood's racing, climbing outbursts released his fellow players, who finally shook an angry fist at the world and at fate.
In some ways this recital was a journey backwards, through time, and from freneticism through angry grief, to relaxed, genial expansiveness.  After some swift house-keeping, Marwood and Ridout were joined by cellist Sinéad O'Halloran and pianist Mishka Rushdie Momen to perform Mozart's Piano Quartet No.2 in E flat K493.  In the opening Allegro they enjoyed Mozart's infinite lyric invention and comforting musical dialogues: the gracious string phrasing, Marwood's eloquence, the piano's sparkling, youthful clarity, and the general tenor of certainty and assurance were uplifting – and it was lovely to see the players smile and so obviously relish their music-making!  The harmonic explorations through more tempestuous minor-key landscapes in the development section generated fresh interest and excitement.  The balance was superb: allowing the strings' counterpoint to speak without undue weight or emphasis.
The Larghetto moved forward fluently, the piano being more frequently juxtaposed with the collective strings who sang with fine ensemble accord.  Accents were warmly pressed, ornaments were crisp and unfussy.  A controlled sense of restlessness and searching was introduced in the development, which found resolution in the recapitulation through increased imitative conversation between the piano and strings, though the players did not neglect the occasional shadowy corners of the movement.
The Allegretto is the sort of music that makes one believe that all must be right with the world.  The performers raised the questions that Mozart poses, but the answers they found were readily forthcoming and unwaveringly assured.  This was chamber music of scope, freedom and joy: listening to this wonderfully confident and poised performance, I wished that in the past, as a violinist, I had more frequently explored Mozart's piano quartet repertoire – something for post-Covid days, perhaps.
Claire Seymour
This concert was live-streamed through the Wigmore Hall's channel and can be accessed for 30 days after the event by clicking here.